Shopping Cart
Your Cart is Empty
There was an error with PayPal
Click here to try again
Thank you for your business!
You should be receiving an order confirmation from Paypal shortly.
Exit Shopping Cart
We have a little obsession with gold lately.  Ok....maybe a BIG obsession.   We've been using gold everywhere......from our new logo, our own jewelry and throughout our most glamorous candy buffets.  
And gold weddings?  We absolutely love them!  The ONLY thing we like better than a gold wedding is a GOLD & BLUSH Wedding.    Our sweet clients, Kim & Scott had a beautiful gold and blush wedding & we created the most elegant gold & blush candy table that anyone has ever seen.  It was over-the-top gorgeous.
We covered the table with white & pink candies and chocolate - White Chocolate Covered Oreos, White Chocolate Covered Pretzels, White Kit Kats, Pink French Macaroons, Pink M&M's, Sour Watermelons & more.  We used our Gold Crystal Chandelier Stands throughout the table & custom embossed their candy favor bags in gold.  We even made a Gold Tulle Table Skirt for the candy table as we wanted everything to be just perfect for our new friends, Kim & Scott.  
In addition to the candy table, we created a large box filled with fun candies to place on the kid's table at the reception (this prevents the kids from digging into the candy table before it's open).   The kids were in heaven.
So, here it is.......Kim & Scott's Gold & Blush Candy Table at the 
The Simsbury Inn
  in Avon, Connecticut.  We hope you enjoy!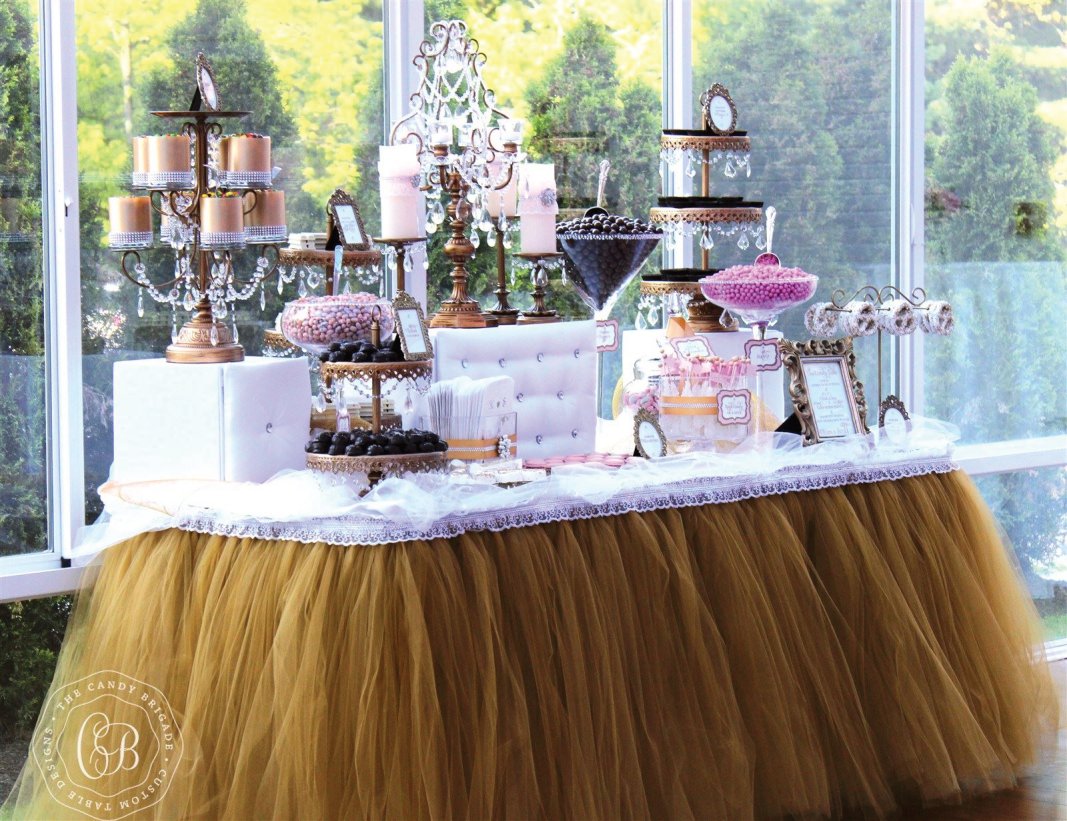 Beautiful light pink French Macaroons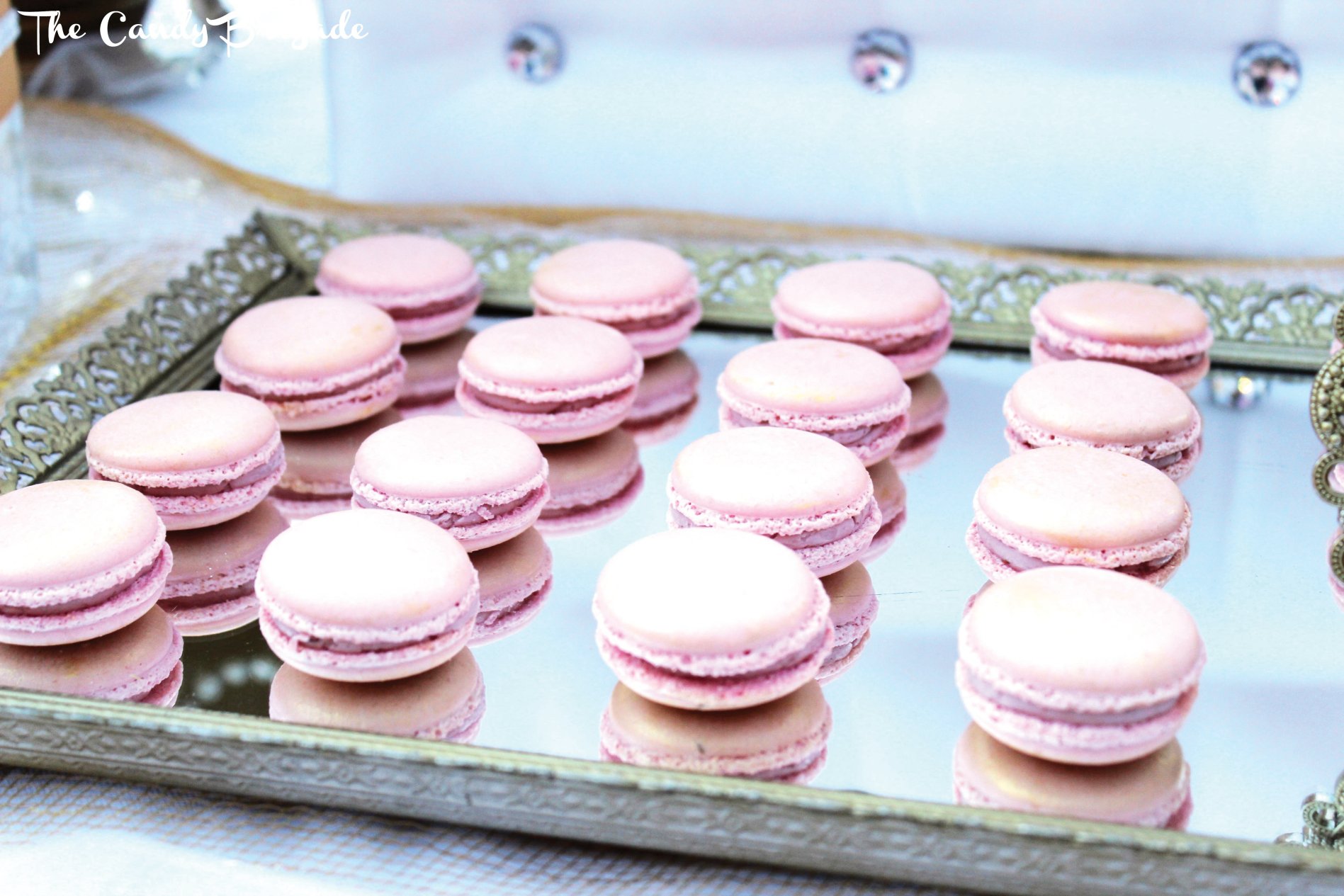 Custom Embossed Favor Bags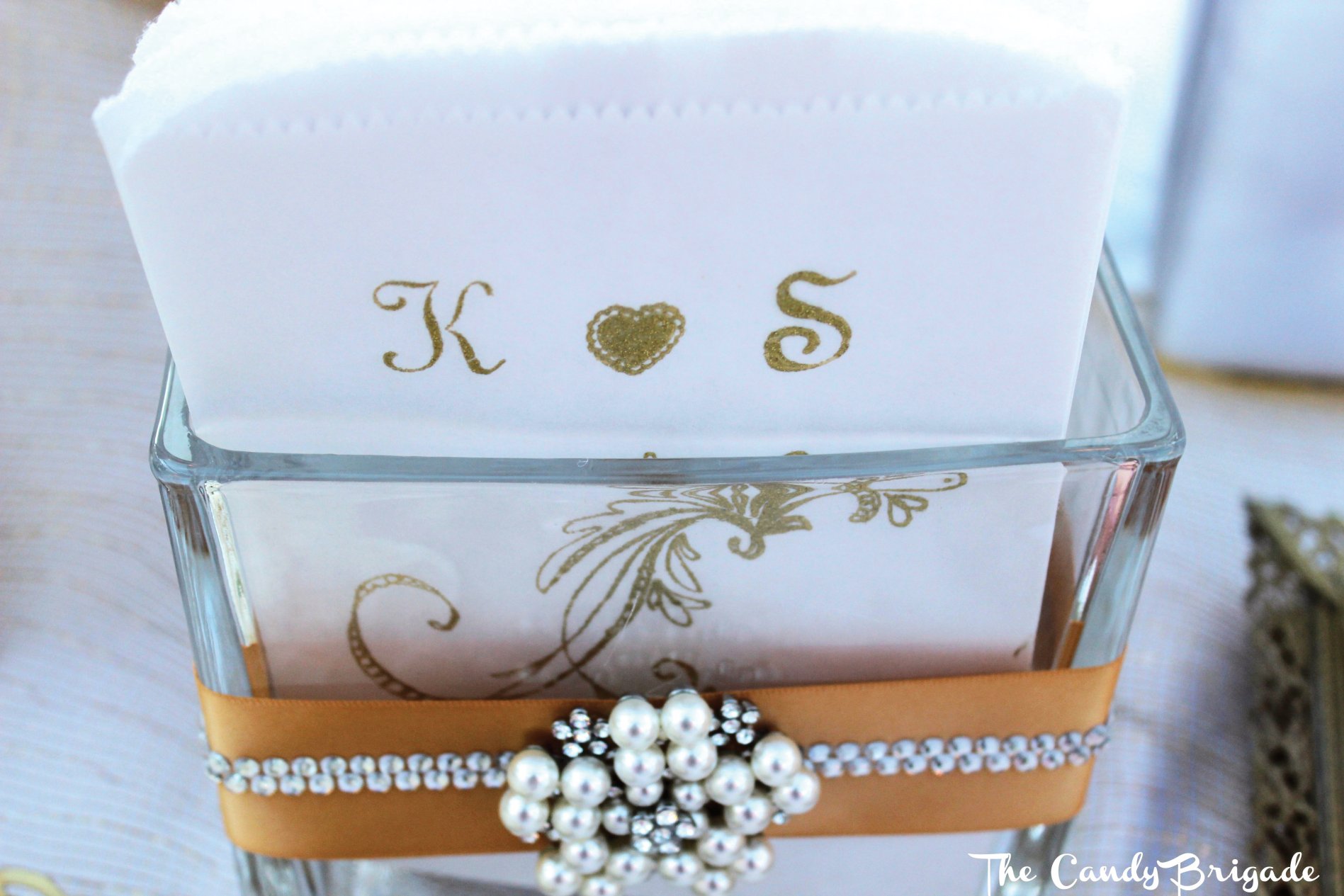 White & Gold Chocolate Covered Pretzels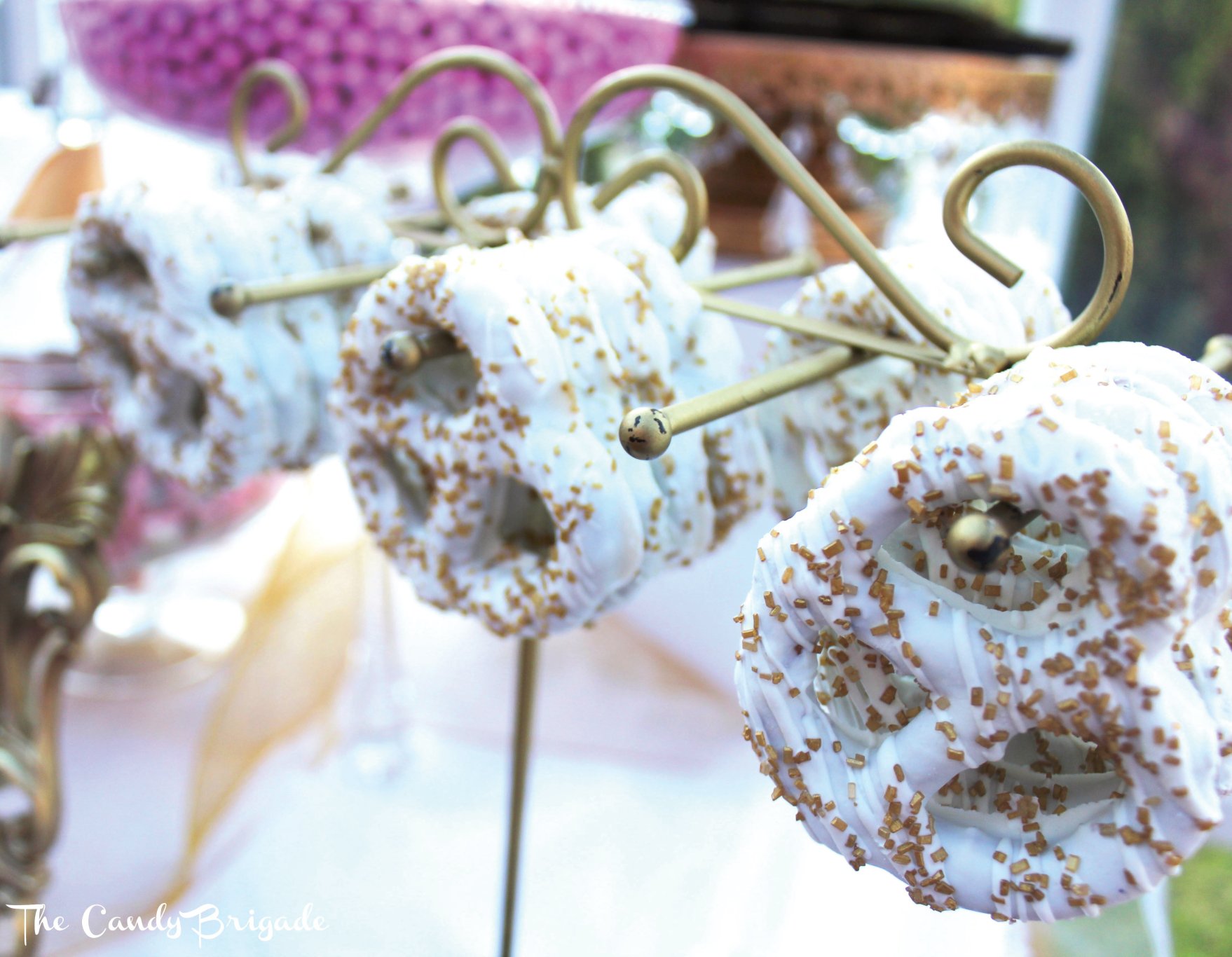 More pics of the sweets table....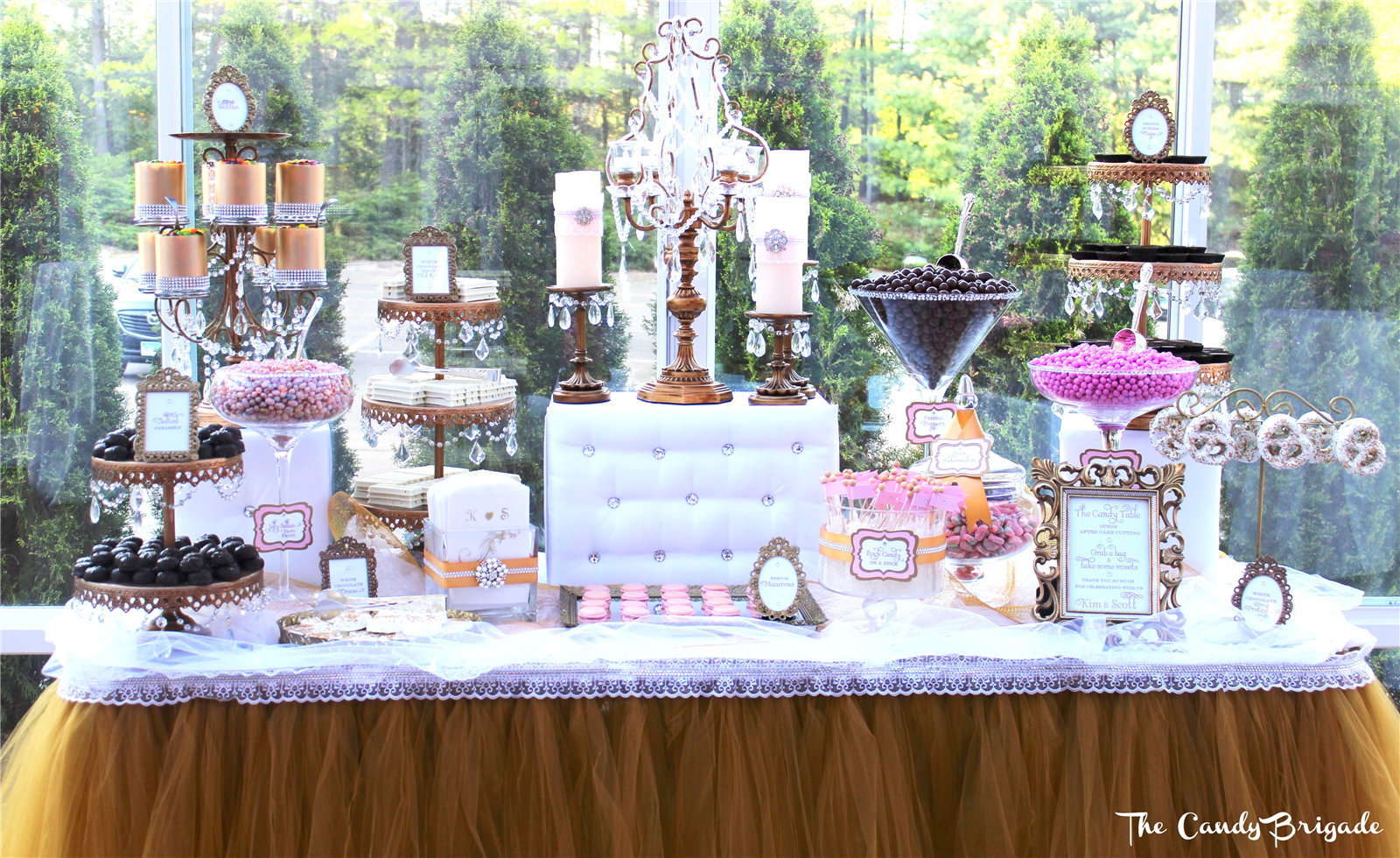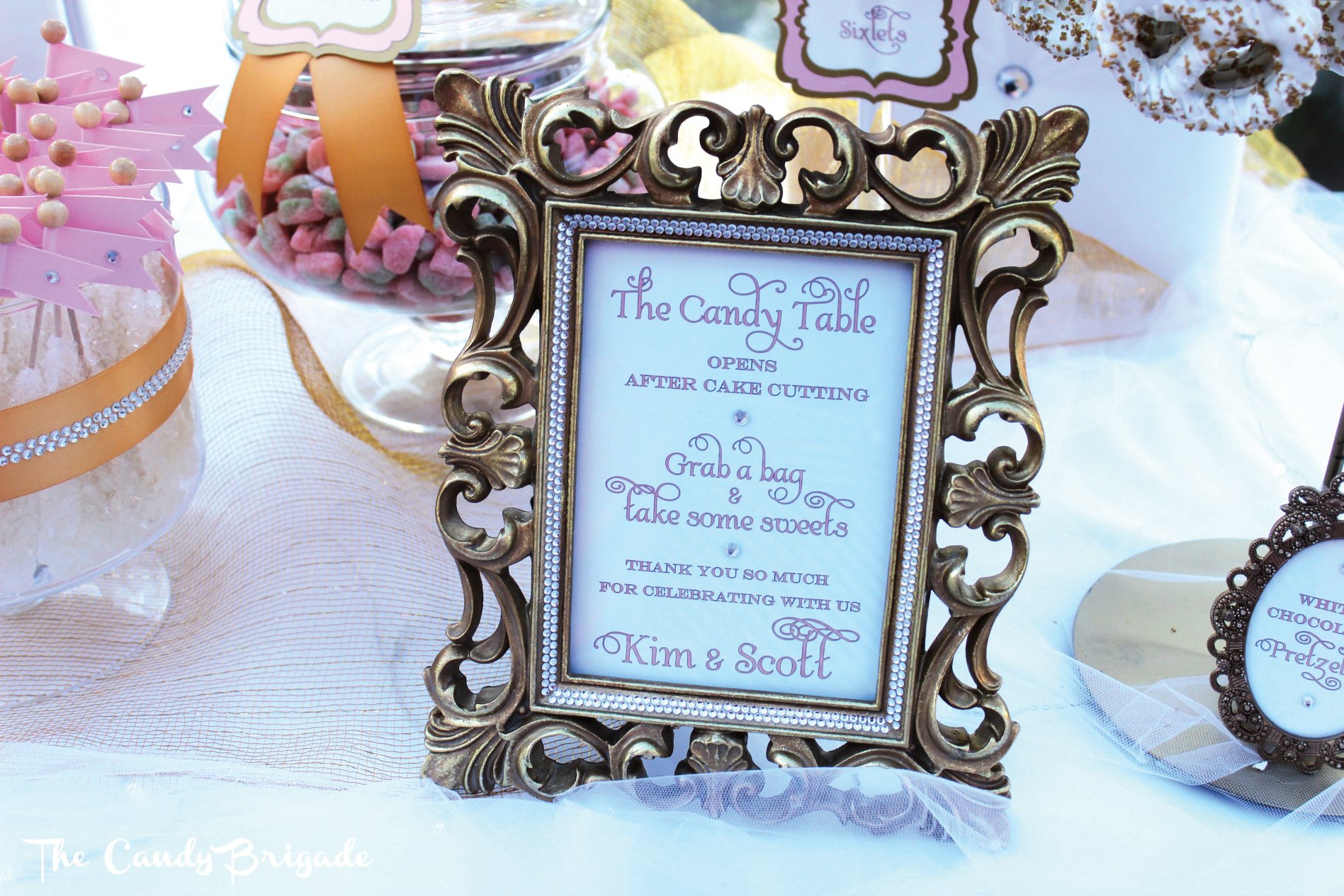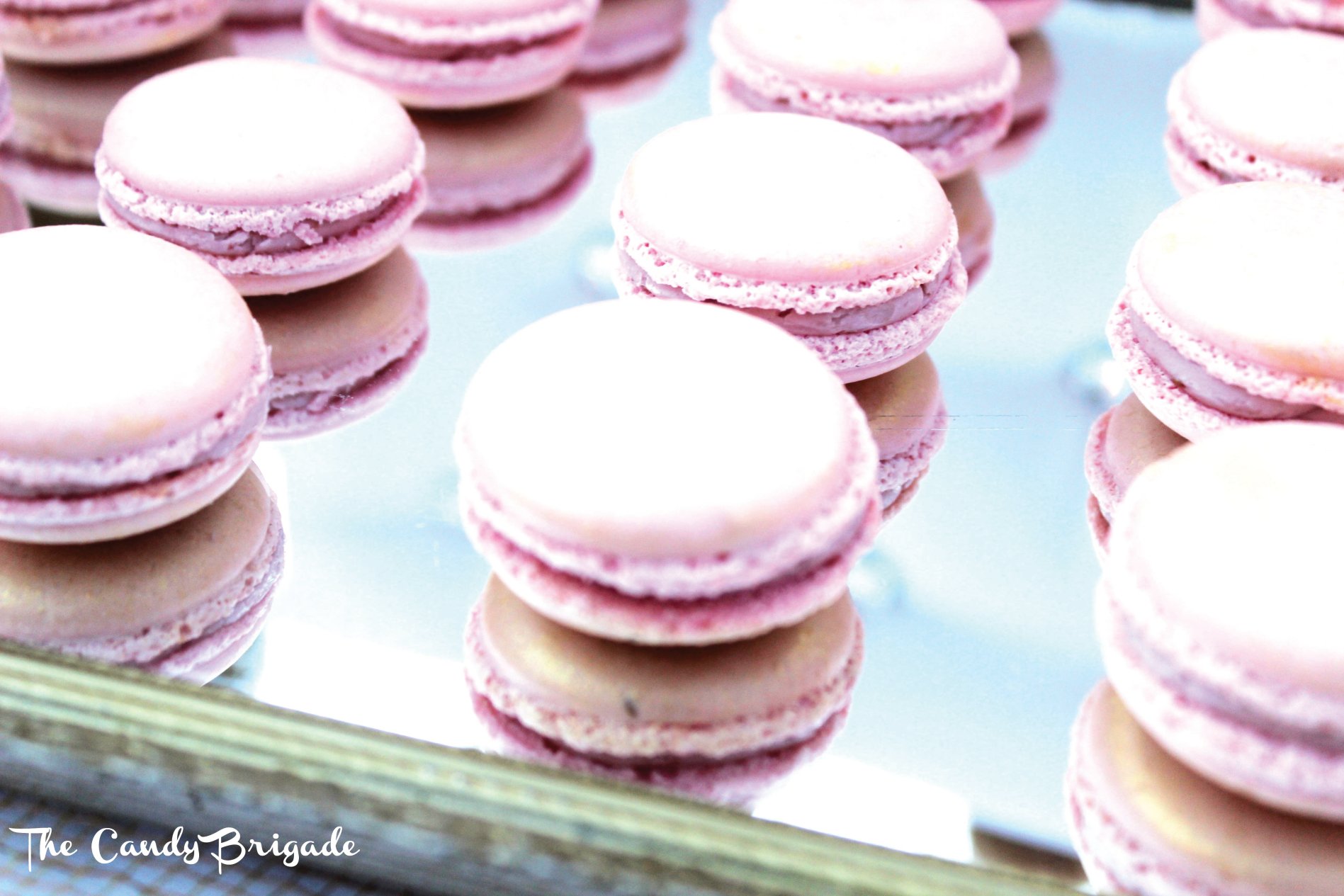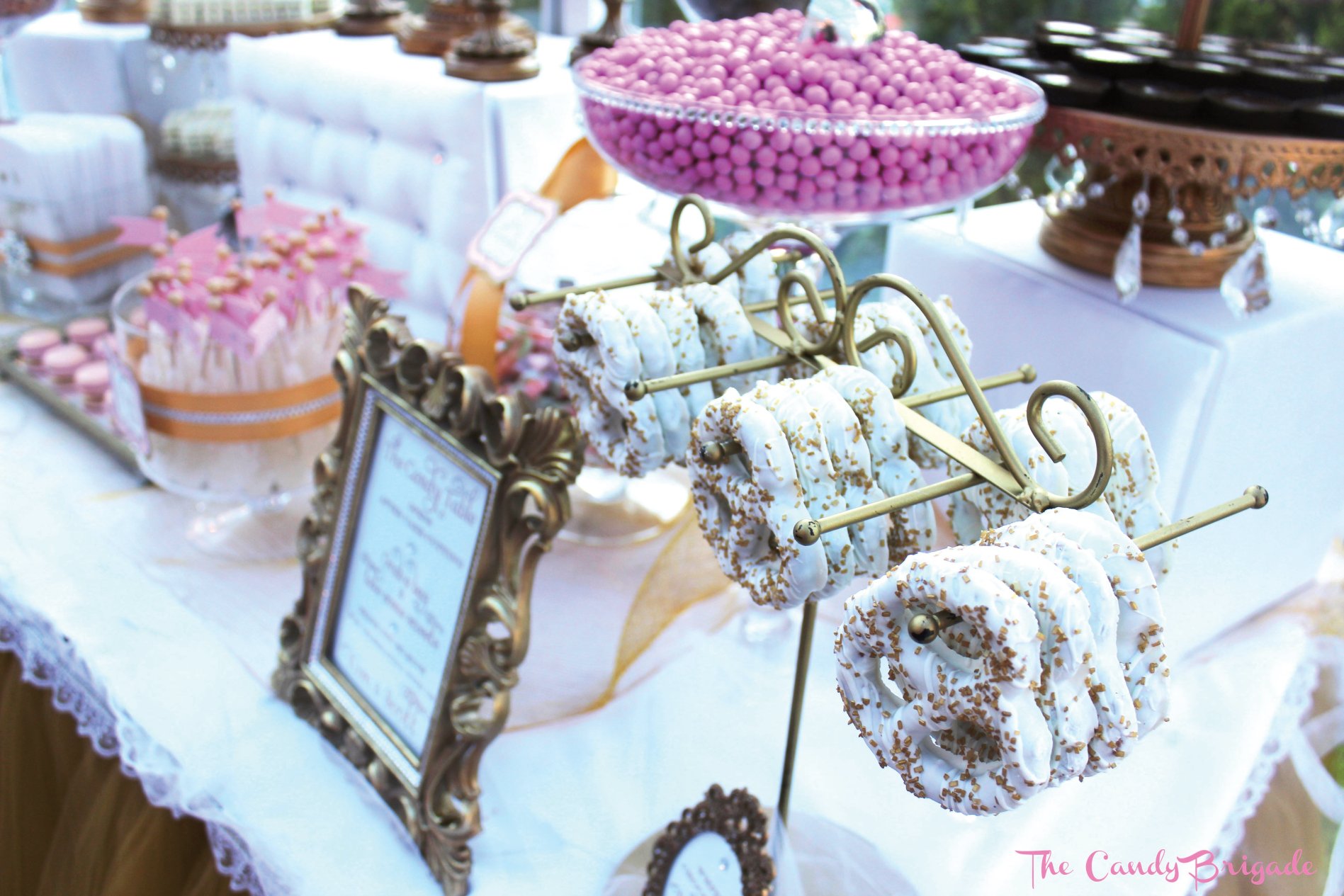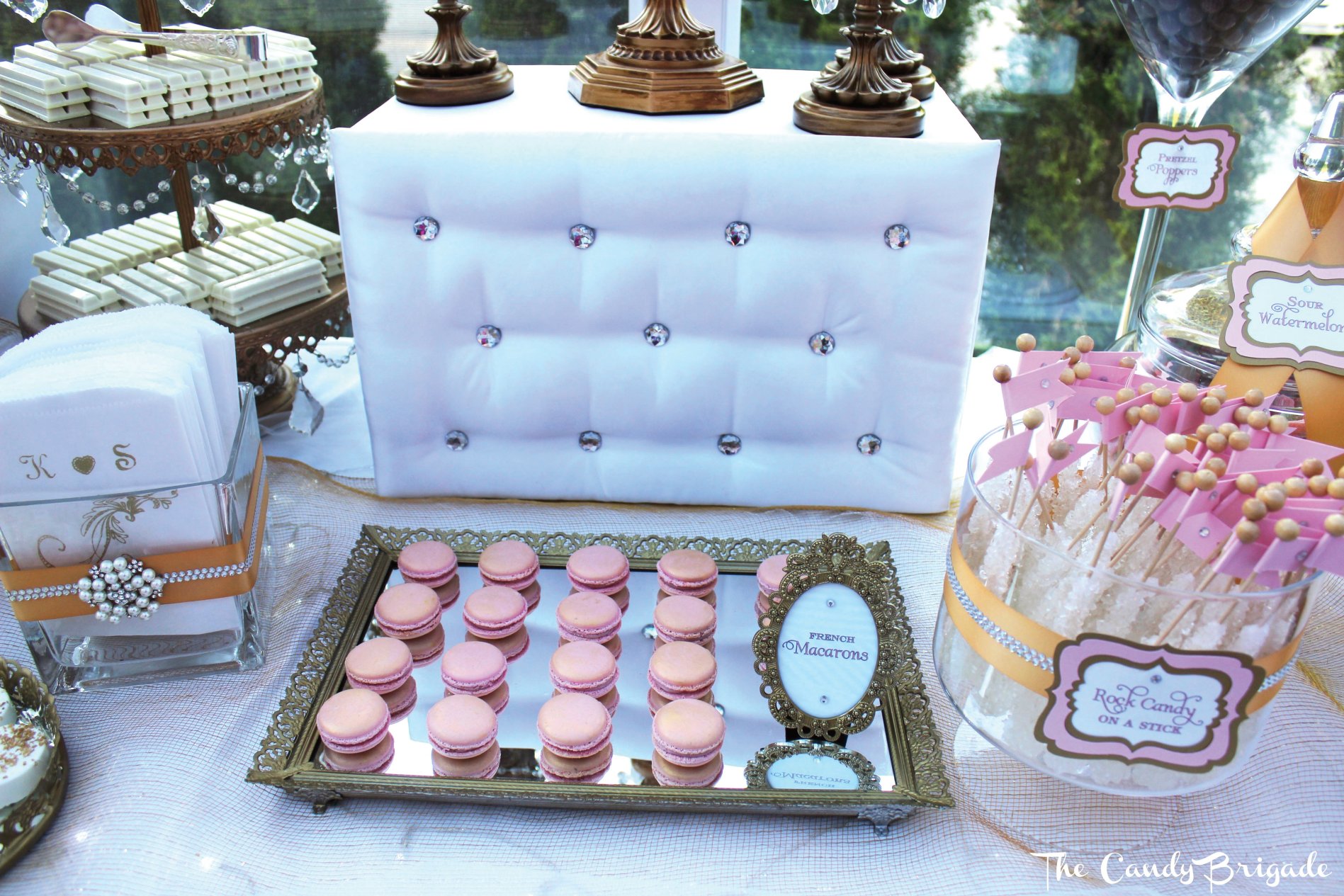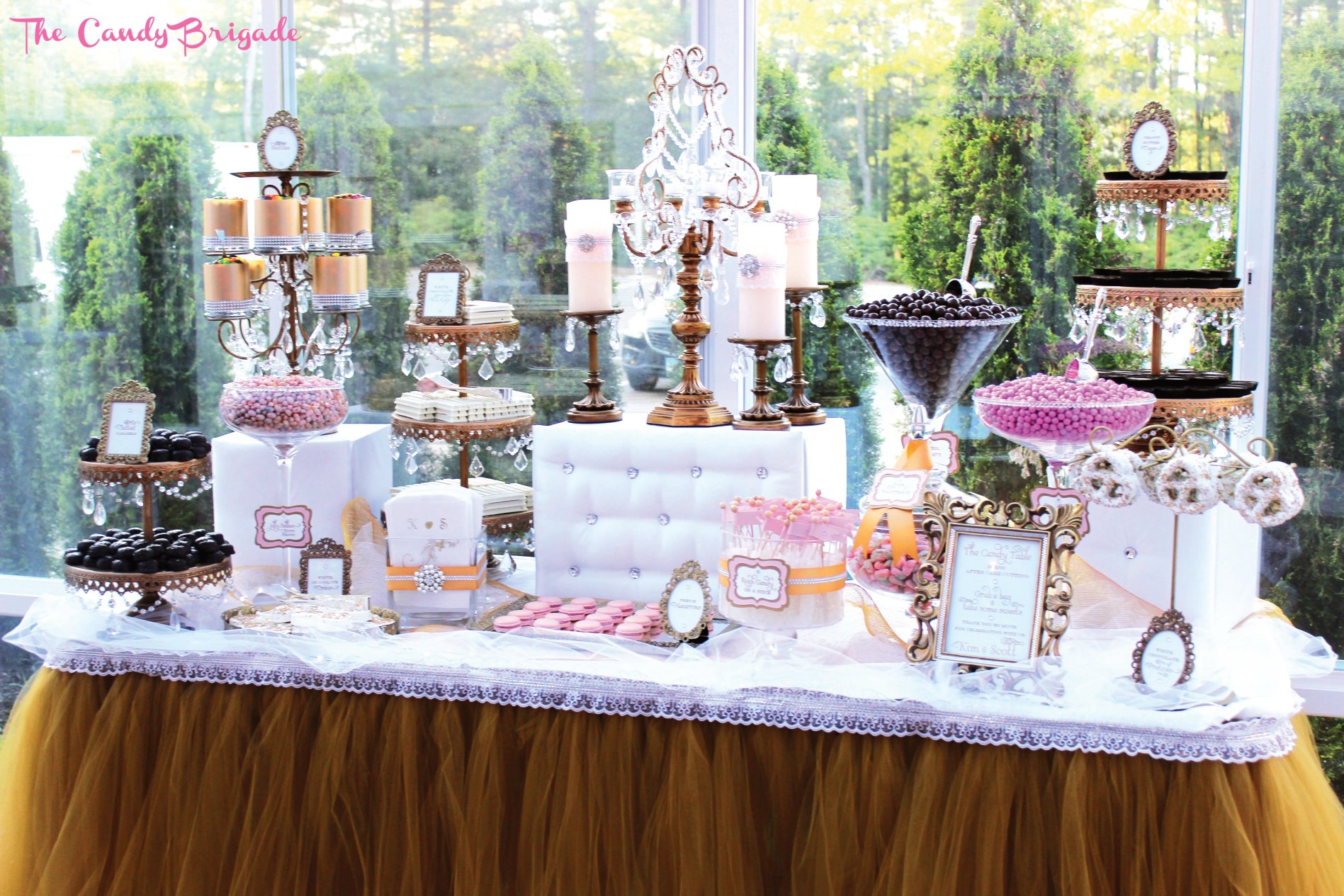 Anyone that knows The Candy Brigade understands how much we love our Tiffany Blue Candy Table.  It's our most popular candy buffet.   We create several Tiffany Blue tables every year......for all types of events - weddings, showers, sweet sixteens and baptisms.  It's such a pretty blue that looks fabulous at any party.  
Kimberly's sweet mom, Jeanmarie contacted us months before the party to discuss what she was envisioning for her daughter's bridal shower.  One thing was certain, the table had to be covered in Island Blue as this was Kimberly's favorite color.  This was our first time hearing of Island Blue.  We were pleasantly surprised when we got our first glimpse.  Umm....where has this color been hiding?  Island Blue is bold and beautiful.  It needs to be seen.....and it definitely should be spending more time at our parties.   It's such a gorgeous blue......perfect for the shower.
For Kimberly's bridal shower, we created a 14 foot sweets table covered in blue candies & chocolates.    Kimberly's glamorous candy table included Chocolate Covered Twinkies, Chocolate Covered Devil Dogs, Chocolate Oreos, Chocolate Pretzels, Cupcakes & loads of candy.  It was ridiculous!   Take a peek for yourself......
Kimberly's adorable flower girl, Jacqueline Lee actually gave Kimberly the 14 foot sweets table as a gift.   How sweet!  Here's the sign we made for Jacqueline Lee......
Giant Pixy Stix with the couple's initials.
Chocolate Covered Pretzels
A view of the entire table of sweets
Rock Candy on a Stick
More pics of this gorgeous Blue, Silver & White Candy Buffet
Chocolate Covered Devil Dogs....Yum!
Let us know what you think....do you love this Island Blue as much as we do?  We can't wait to use it at another event!  
One of our favorite events this year was Kelly & Greg's beautiful rustic themed wedding at Wickham Park in East Hartford, Connecticut.  I've known Kelly for several years & was thrilled when she asked us to create a sweets table for their wedding at the park.   We were even more excited when Kelly mentioned they were using chalkboard elements throughout the wedding.  We've always wanted to create a chalkboard themed candy table.   
For Kelly & Greg's special day, we set up a huge 18 foot rustic candy table.  To coordinate with their rustic chalkboard theme, we used chalkboard elements throughout the purple candy buffet - in the Cupcake Toppers, Pixy Stix Labels, Rock Candy Sticks, Favor Bags & Candy Jar Signs.   The gorgeous candy buffet was a huge hit!  
Here are some pics of Kelly & Greg's Rustic Chalkboard Themed Sweets Table.....
We provided guests with black chalkboard style favor bags along with handmade chalk-flowers, so guests could write their name on the candy bag before they fill it up with their favorite sweets.  
More pics of the beautiful candy table.
So....our 4 person team packed up & headed to Louisiana.  It was truly amazing.   If you've never been to Louisiana, you must take a trip.  The people are REALLY NICE.  "Make you feel like family" nice.  The food is FANTASTIC.  Can someone please tell us where to get some chargrilled oysters here in the Northeast? Lastly, it was FUN.  Yes.....we had to head over to New Orleans for a few days.    
Brandi & Dane's wedding was more than amazing.  I wouldn't be surprised if it makes an appearance in a Southern Wedding Magazine.   For the wedding reception, we designed a beautiful 16 foot candy & dessert table all decked out in burlap and bling.  The southern style candy buffet coordinated perfectly with the rest of the wedding.   The table was filled with Chocolate Covered Apples, Oreos, and Pretzels, Southern Style Gumball Necklaces and the largest Smores Bars you've even seen.    It actually took all 4 of us over 3 hours to set up this elaborate candy display.  
Here are some pictures from this southern affair.
We created some Southern Style Gumball Necklaces for our new Louisiana friends. They were a hit!
The candy jars were wrapped in burlap & bling. 
Our signature rock candy sticks
More pics of the candy table
Here is a picture we took of the Louisiana Old State Capitol.  Stunning!
The staircase inside the capitol was amazing!
Here is 1/2 of the crew....the lucky 2 that got to work the party!
The award for the cutest duo on the streets of Baton Rouge goes to..........
Thank you for checking out Brandi & Dane's Southern Style Candy Table!   
Be sure to contact us if you're interested in having one of our gorgeous candy displays at your wedding or special event.  We promise...it will definitely be an experience that your guests will never forget!  
And, remember what we said...The Candy Brigade LOVES the south.  We would go back for another event  in a heartbeat.  In fact, here is part of the crew (a few months later).  Back in Louisiana for a mini-vacation...just can't stay away from this place!
As we start the new year, we thought we would share photos of one of our favorite candy tables of 2013.  We created this beautiful rustic glam candy & dessert table for Kristen & Andrew's wedding at Bill Miller's Castle. We're in LOVE with this 18 foot spread of sweets! We provided Kristen & Andrew's guests with a variety of candy, chocolate & pies.  The table was decorated in burlap & lace with a mixture of different stands and signs to coordinate with the couple's shabby chic theme.
Freckled Frosting
provided the yummy mini cupcakes & whoopie pies.
A special thank you to Kristen & Andrew for allowing us to take part in their special day!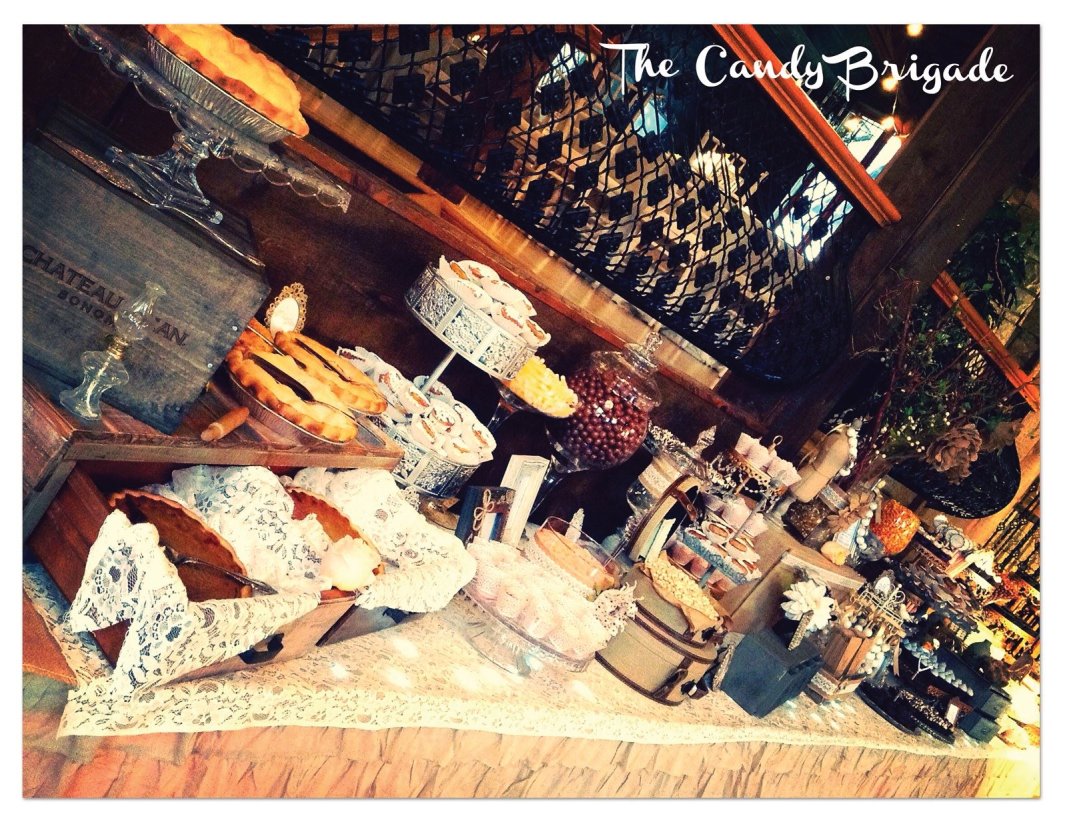 Our very popular gumball necklaces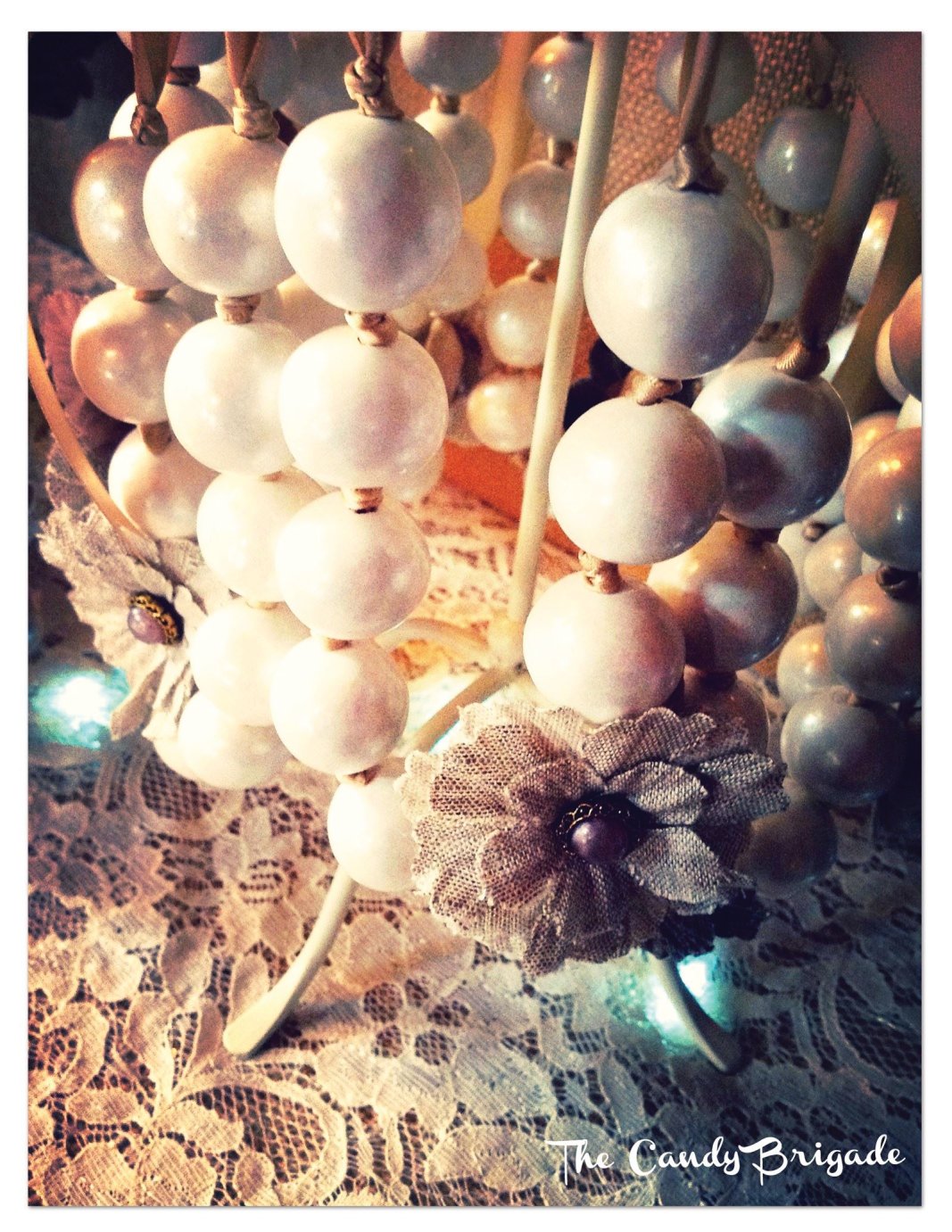 Centerpiece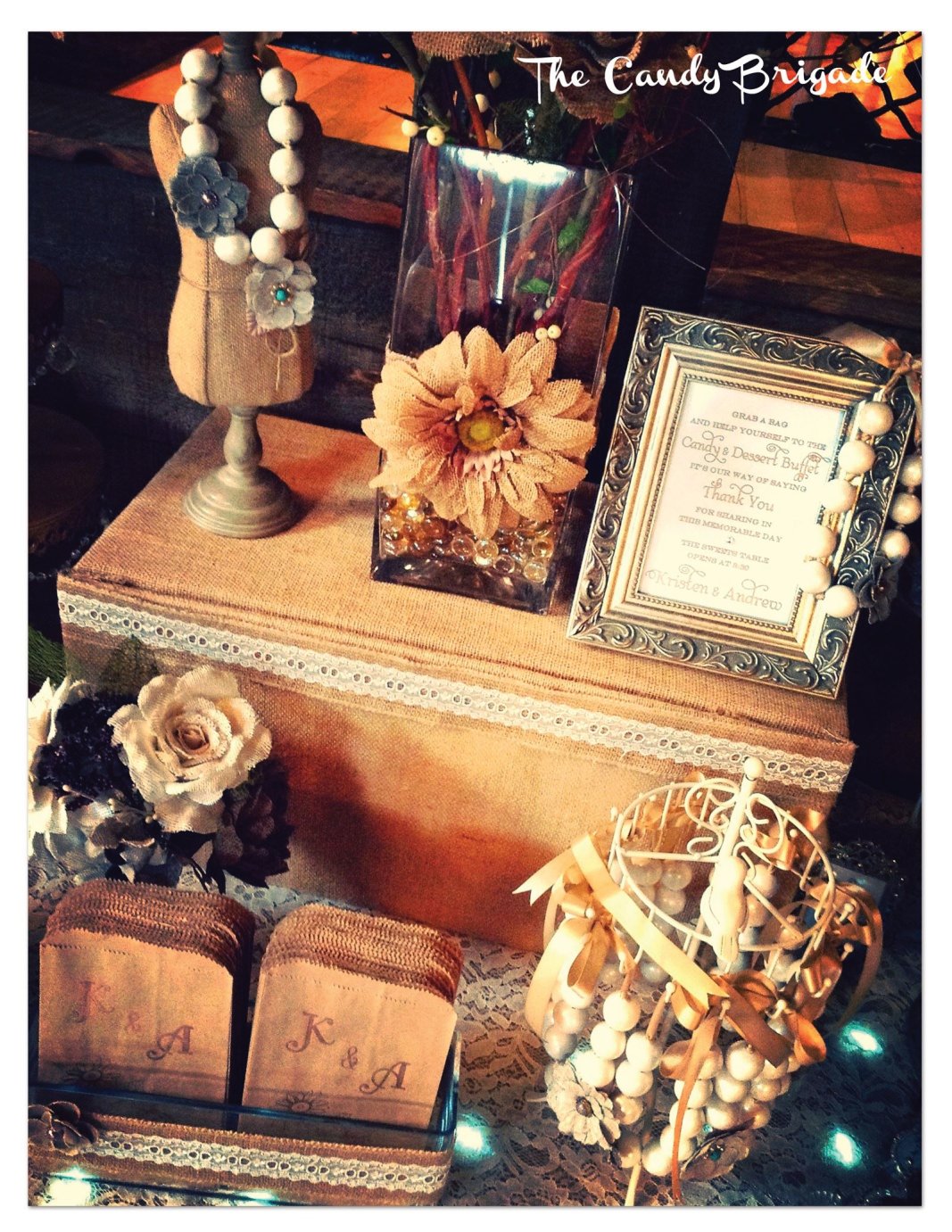 Our homemade pies.......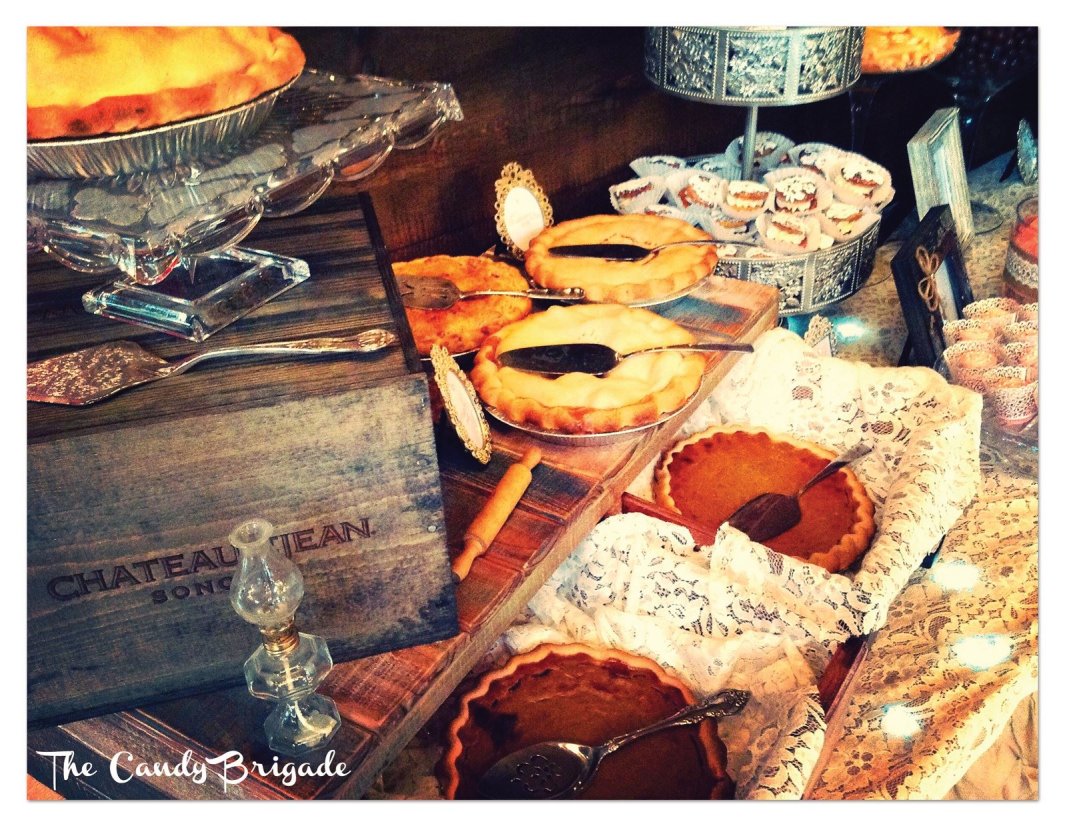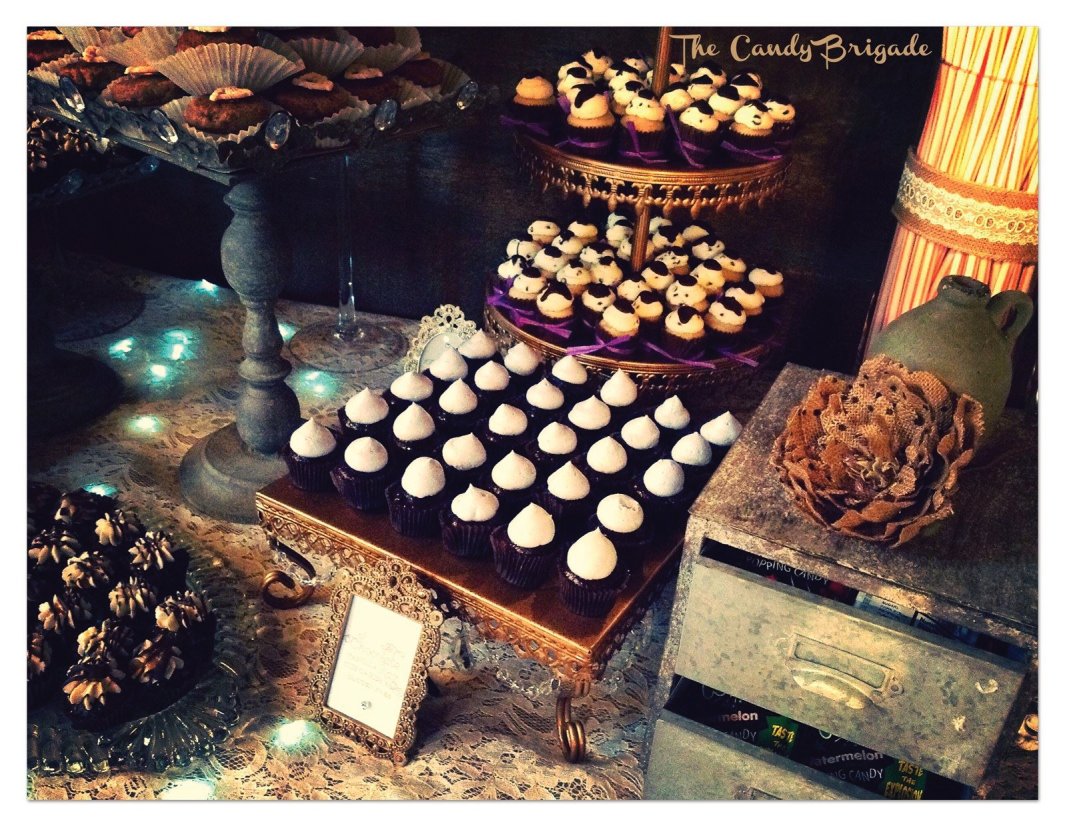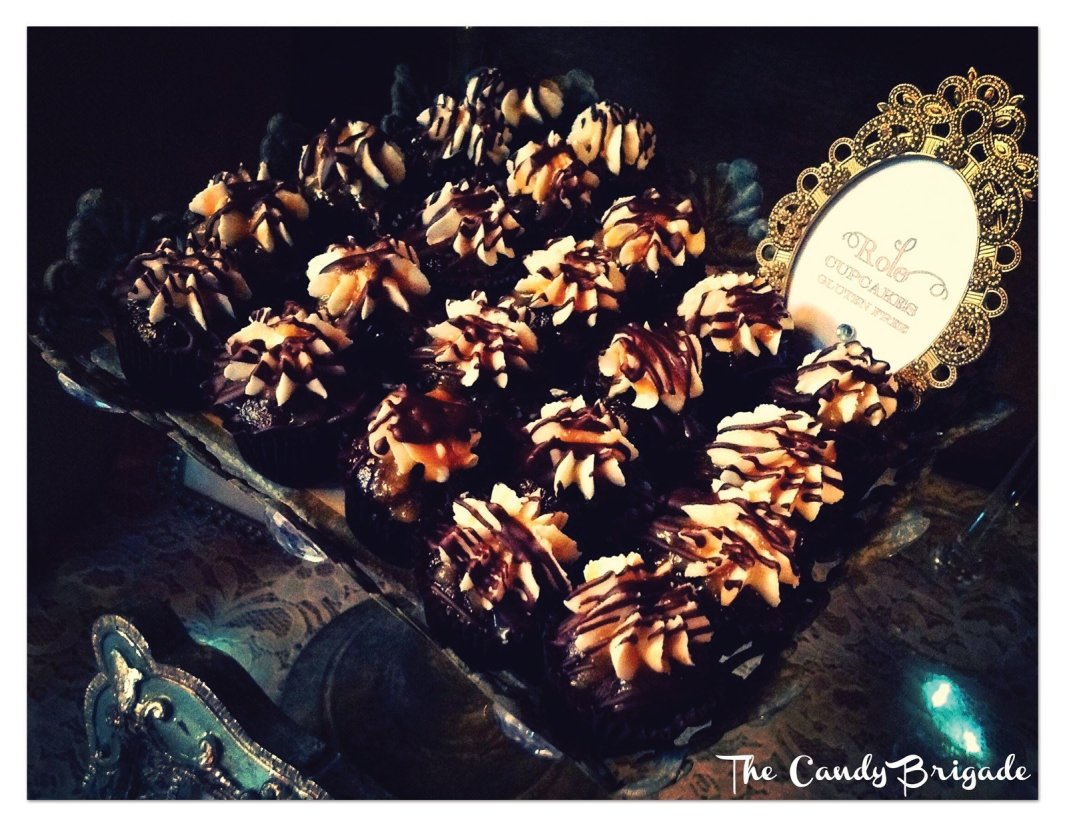 Rustic candy favor bags embossed with the couple's initials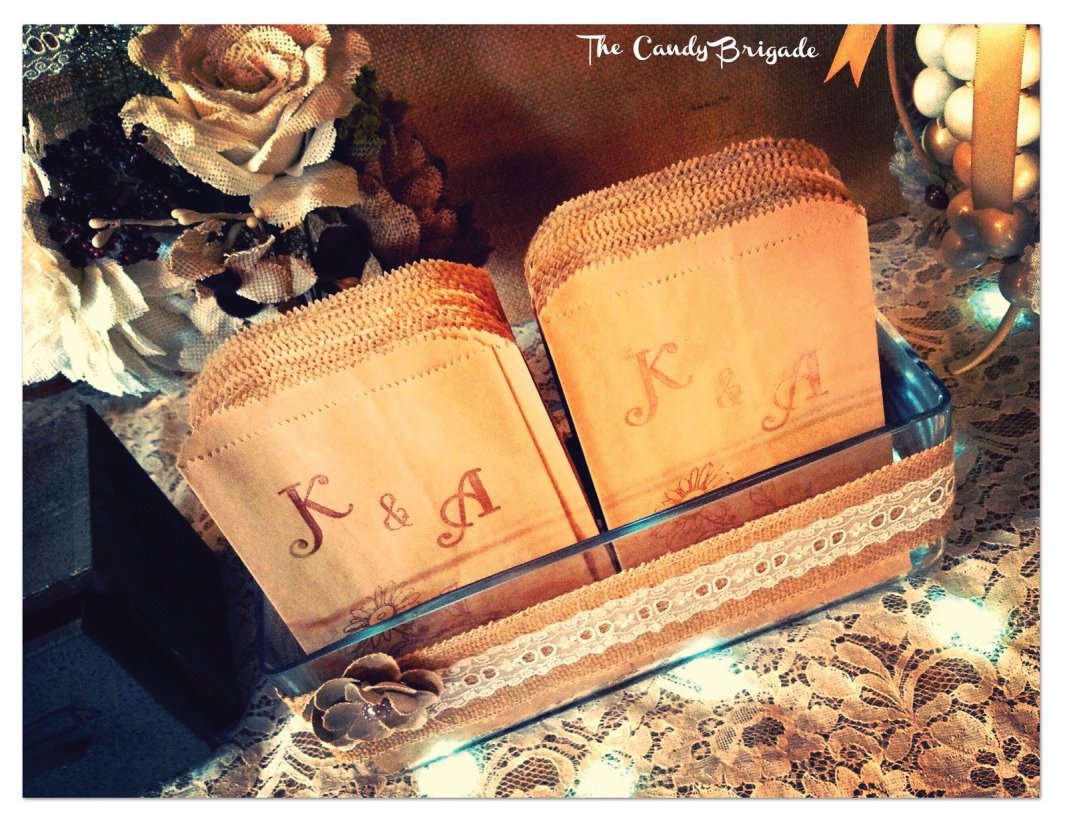 More pics of the table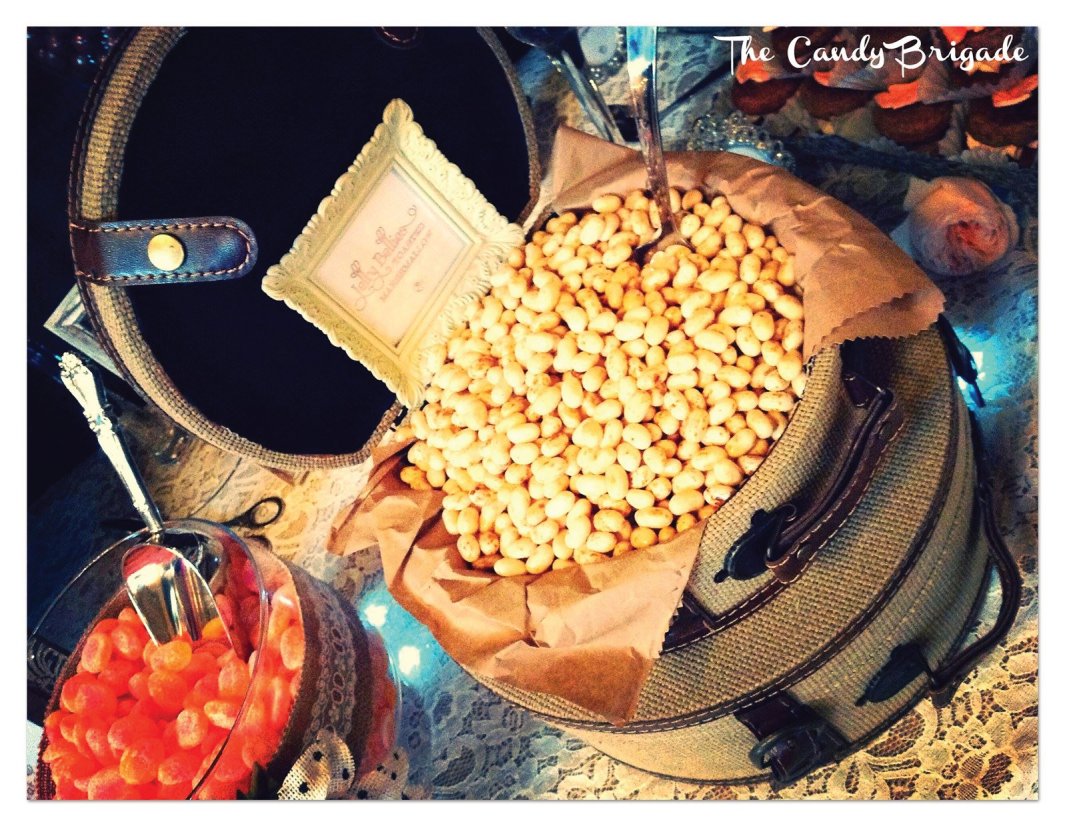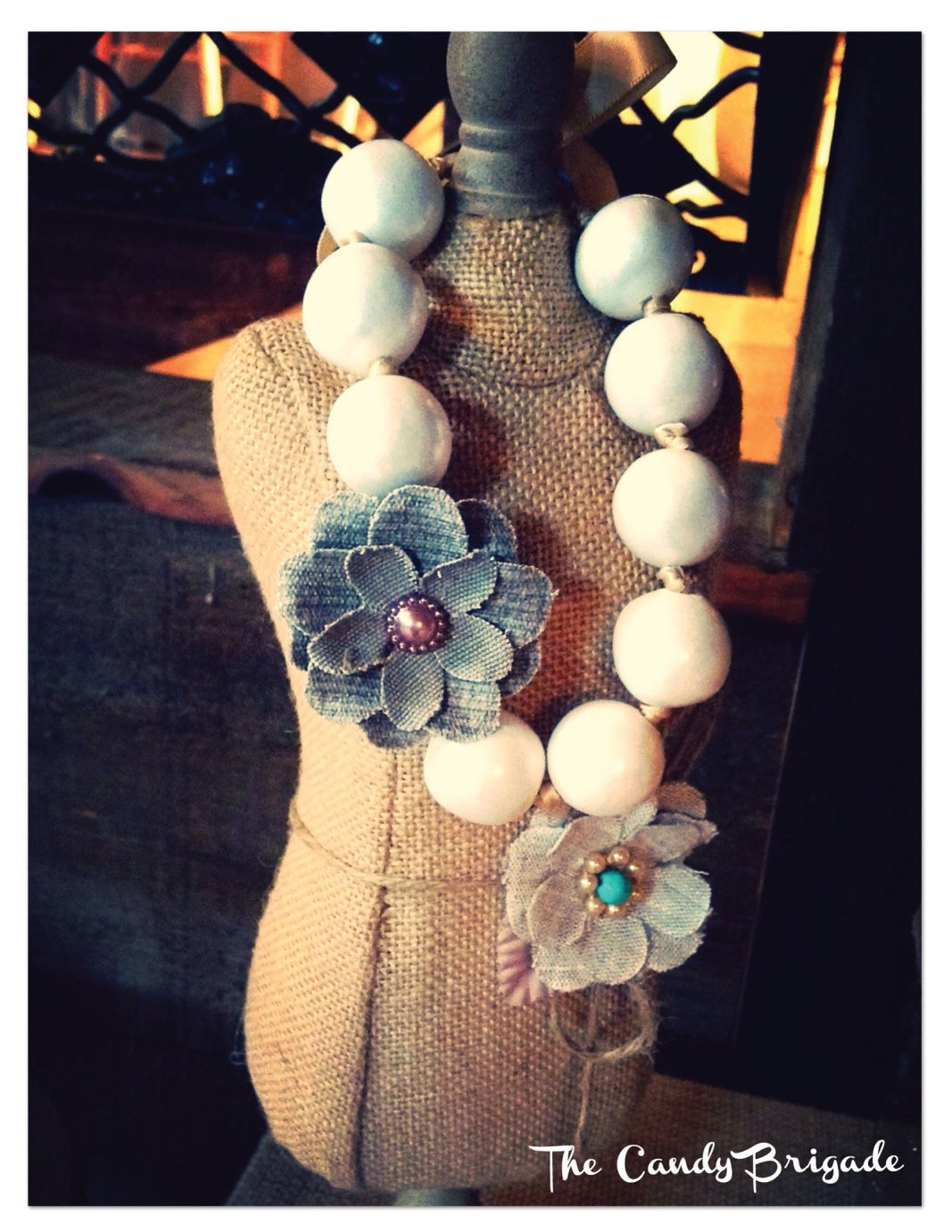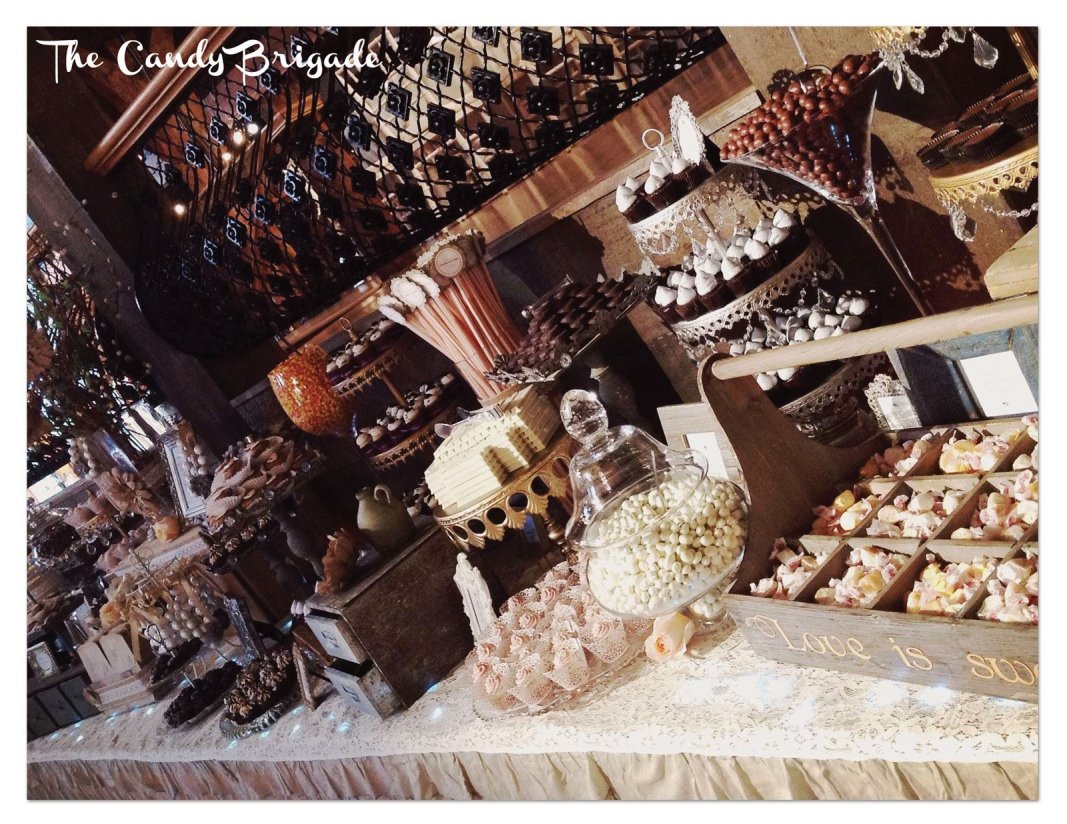 We hope you enjoyed your peek at this fun candy table.   Please
contact us
for more information on our services including pricing.
We're so excited to share images of the
Moroccan themed candy & dessert buffet
we created for Angela's Bridal Shower at
Testa's
in Southington, Connecticut.   The purple & gold sweets table coordinated perfectly with the rest of the decor throughout Angela's Moroccan themed party.
The entire table was covered in purple, gold & chocolate sweets.  Some of our favorites included Chocolate Covered Apples & Pretzels, Rock Candy, Chocolate Coins, M&M's & Grape Gummy Bears.  Yum!  Please enjoy the pictures!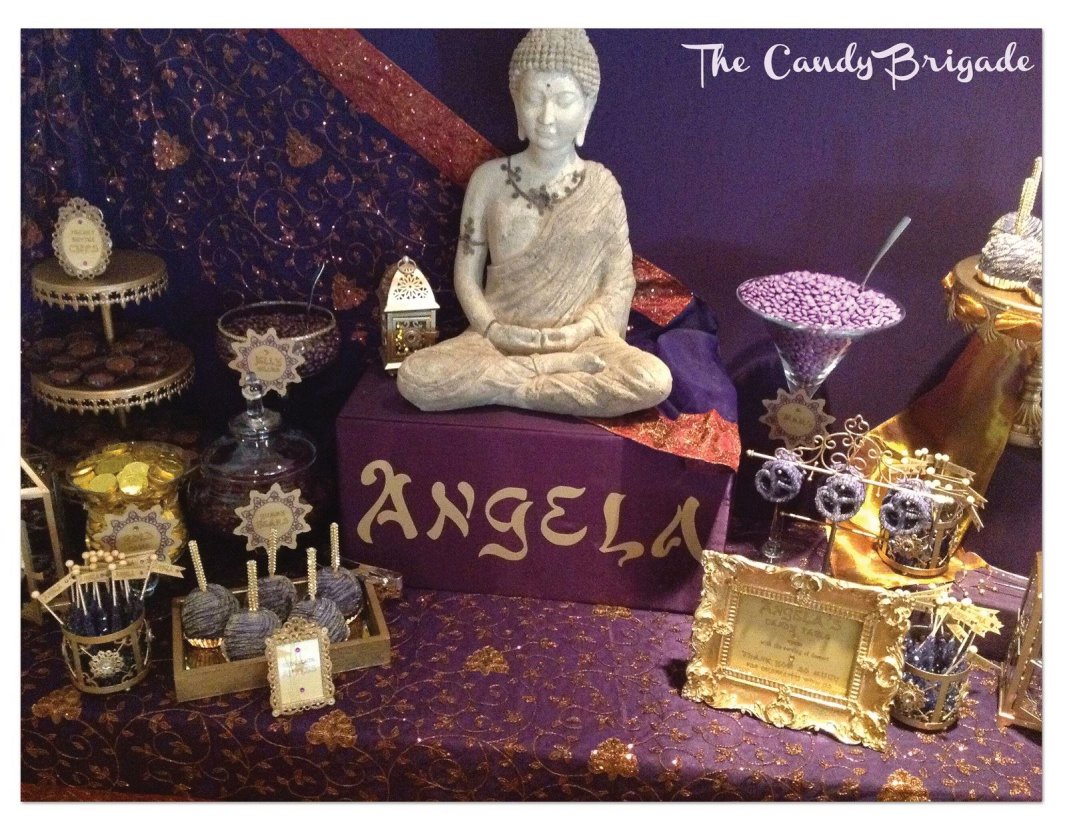 Angela's personalized rock candy sticks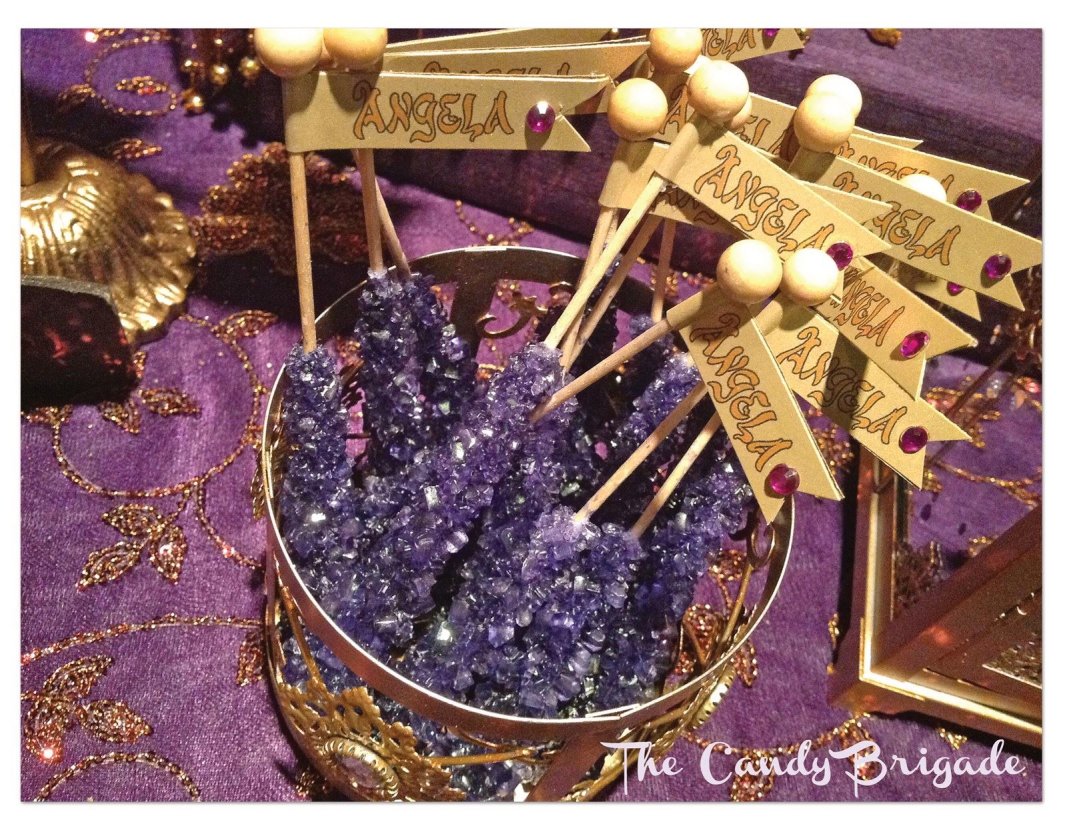 Chocolate Covered Apples in purple & gold
Chocolate Covered Pretzels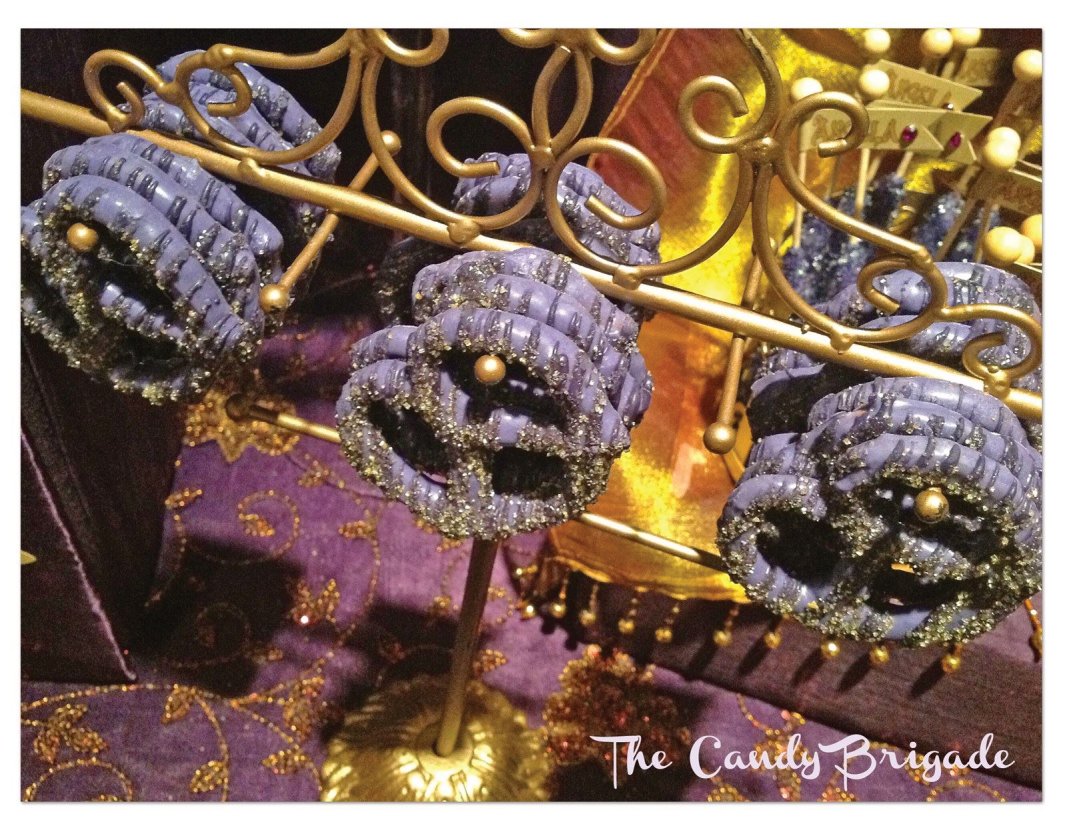 Milk Chocolate Covered Pretzels in lanterns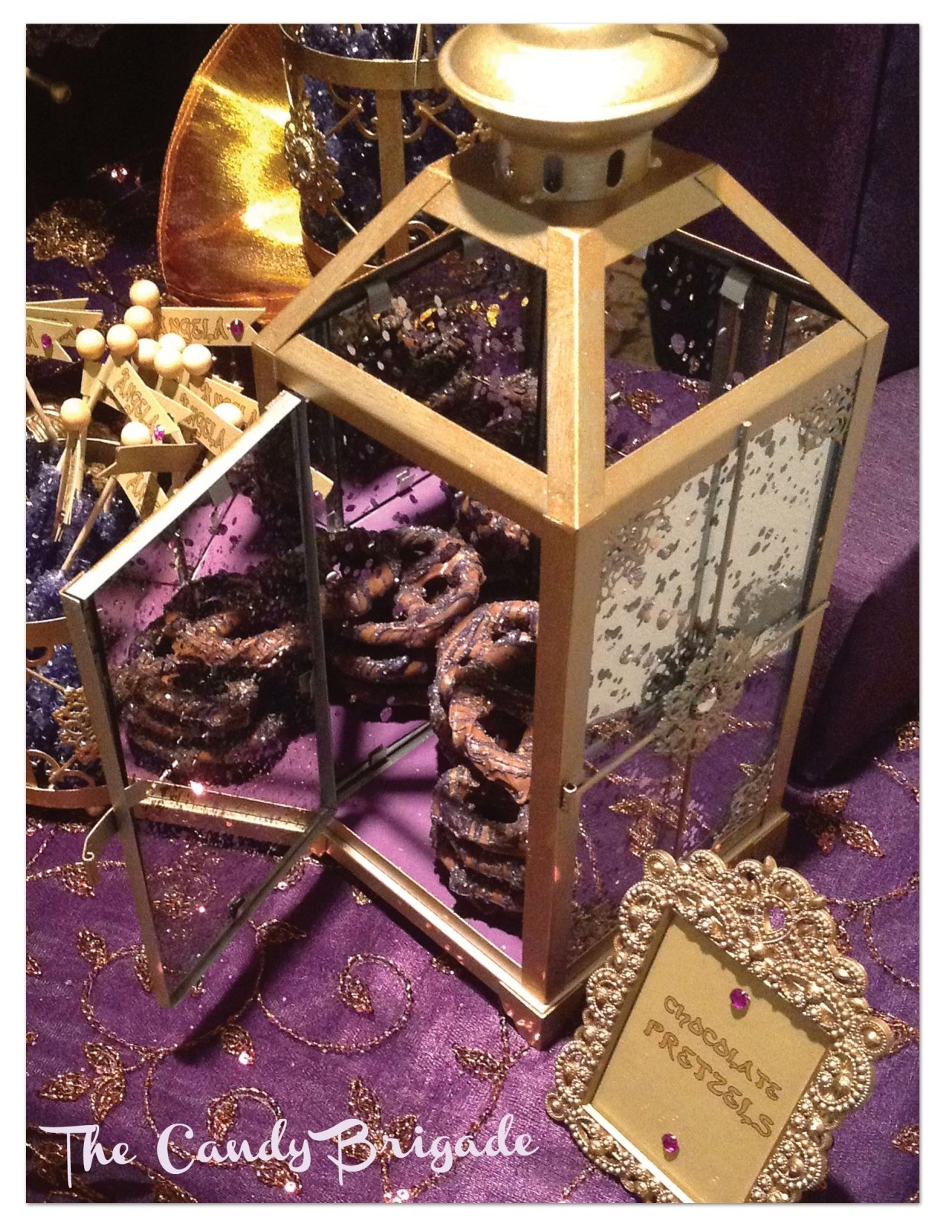 We created these Custom Gold Candy Boxes so Angela's guests could take their sweets home with them.  Perfect for a favor!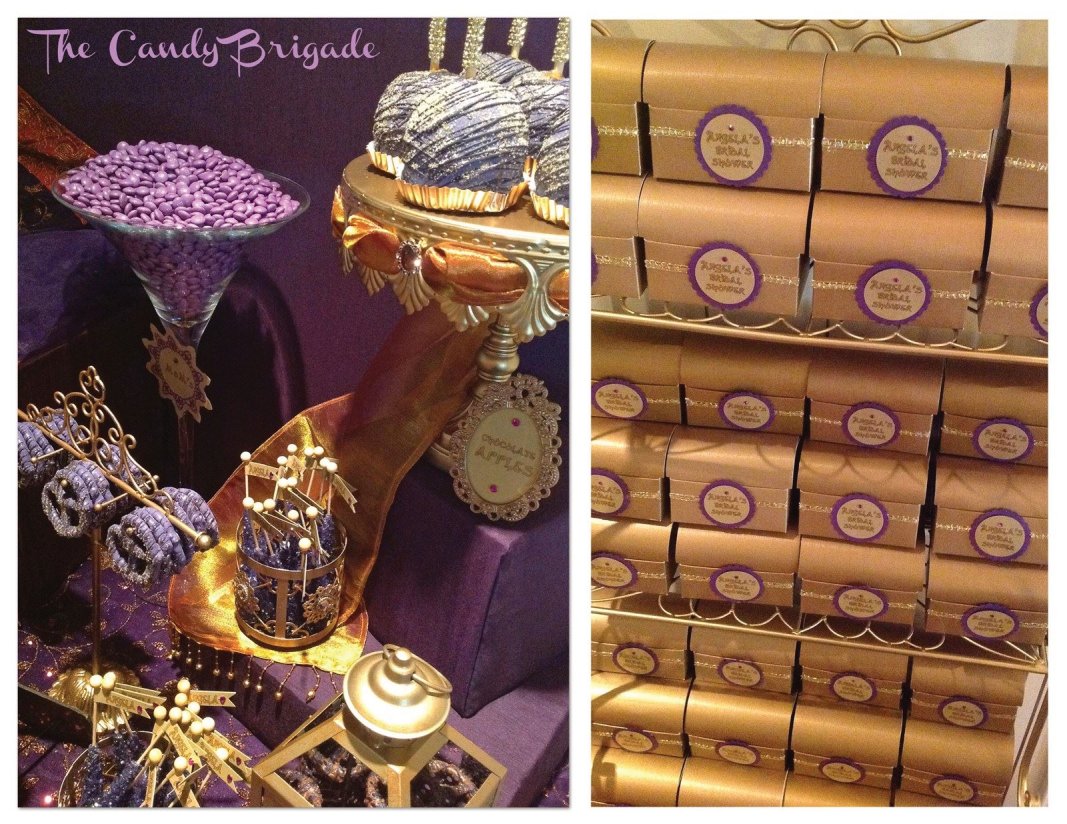 More pics of the table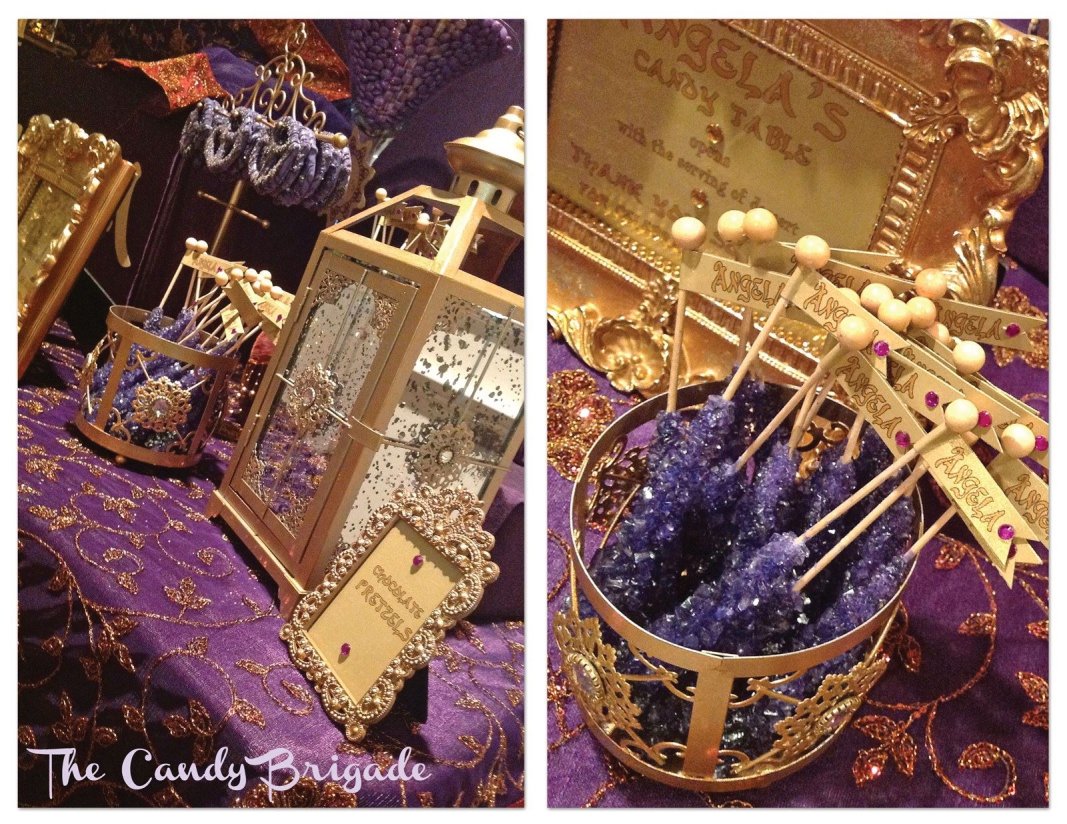 Custom sign to let Angela's guests know when the sweets table will open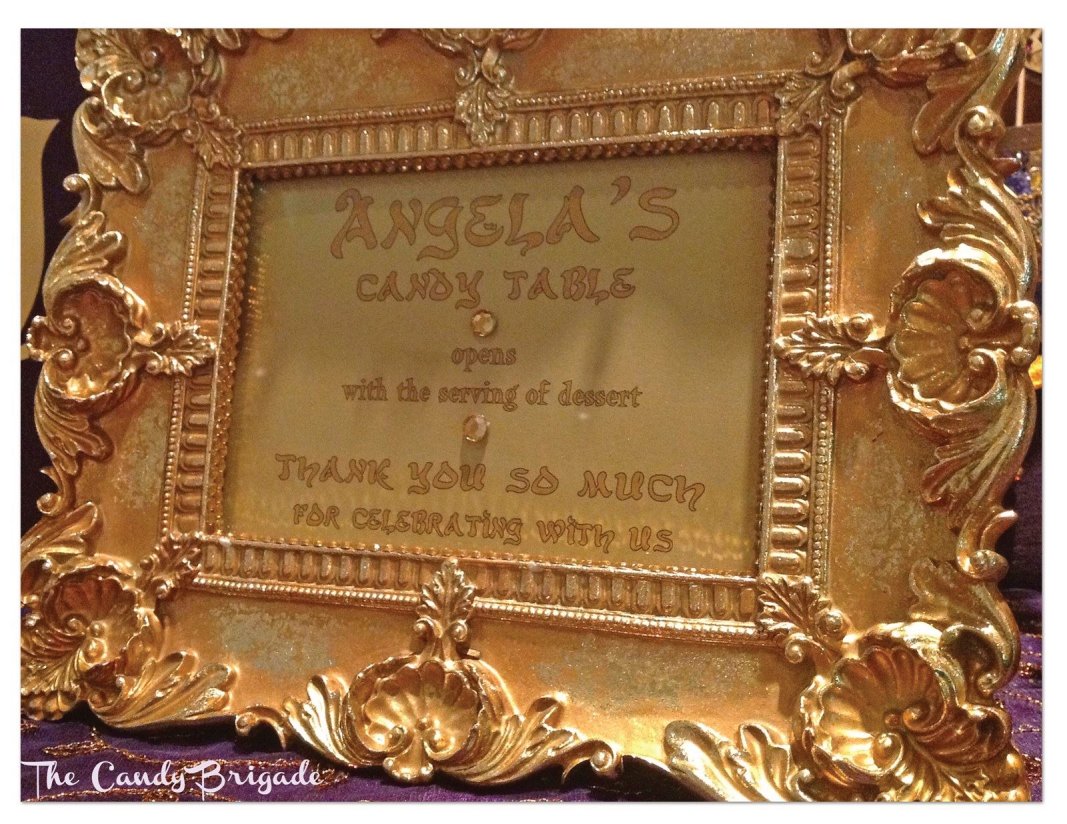 Thanks for stopping by our blog.   Be the first to see images of our candy & dessert creations, by liking us on
Facebook
.  You can also follow us on
Pinterest
for even more candy inspiration.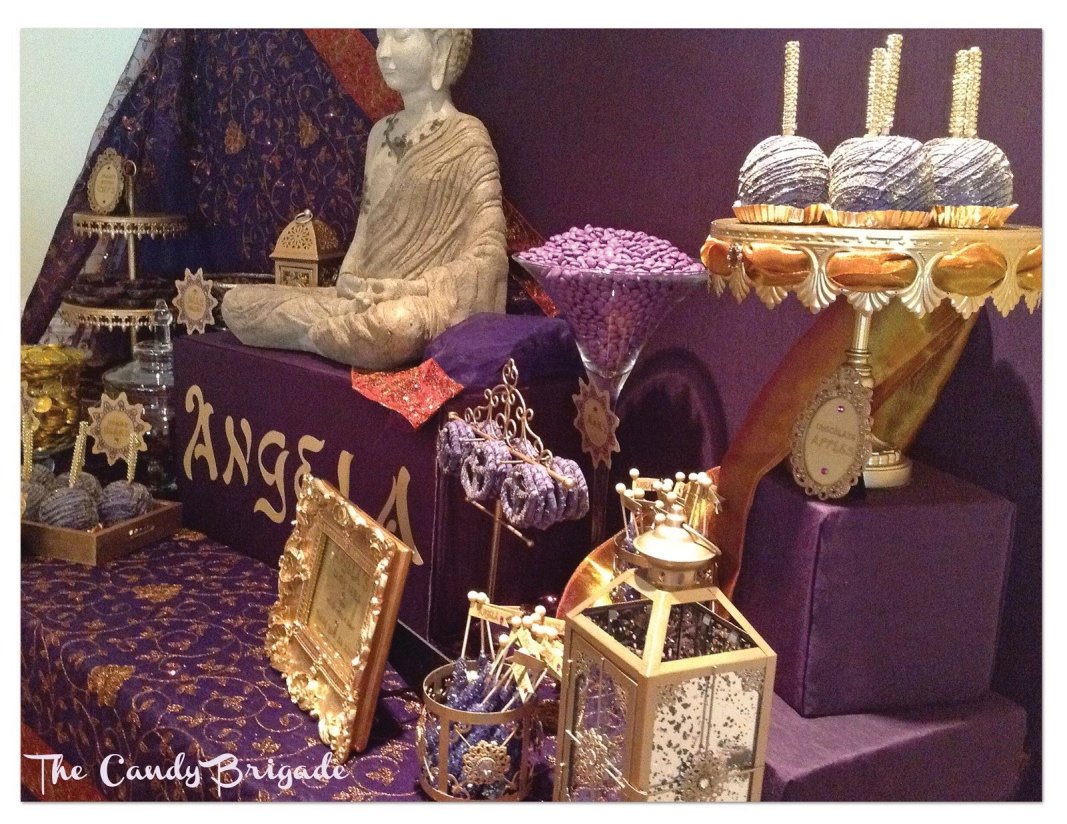 Would you like us to sweeten up your next event?  Please
contact us
for availability and pricing.
We're so excited to share photos of the white & silver candy & dessert table that we created for Stephanie & Michael's wedding at the
Saybrook Point Inn.
We met the beautiful bride, Stephanie at the Hartford Bridal Expo, where she fell in love with the glitzy white & silver candy table that we had on display.  Stephanie was envisioning something very similar for their elegant wedding at the Inn..........lots of bling, tons of glam & loads of goodies.    This wedding was right up our alley!
Take a look at the 12 foot spread of delicious desserts & candies that Stephanie & Michael provided to their wedding guests.  We heard the table was a huge hit!
Designer Chocolate Covered Oreos & Personalized Candy Buffet Sign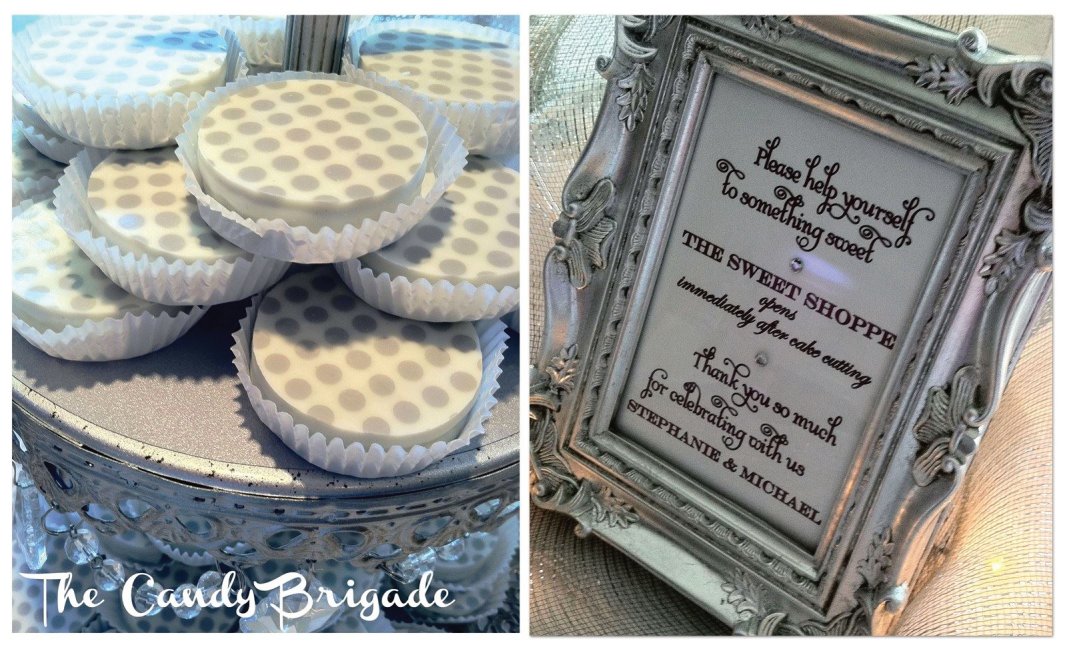 The very popular Jumbo Cupcakes......with cupcake wrappers & signs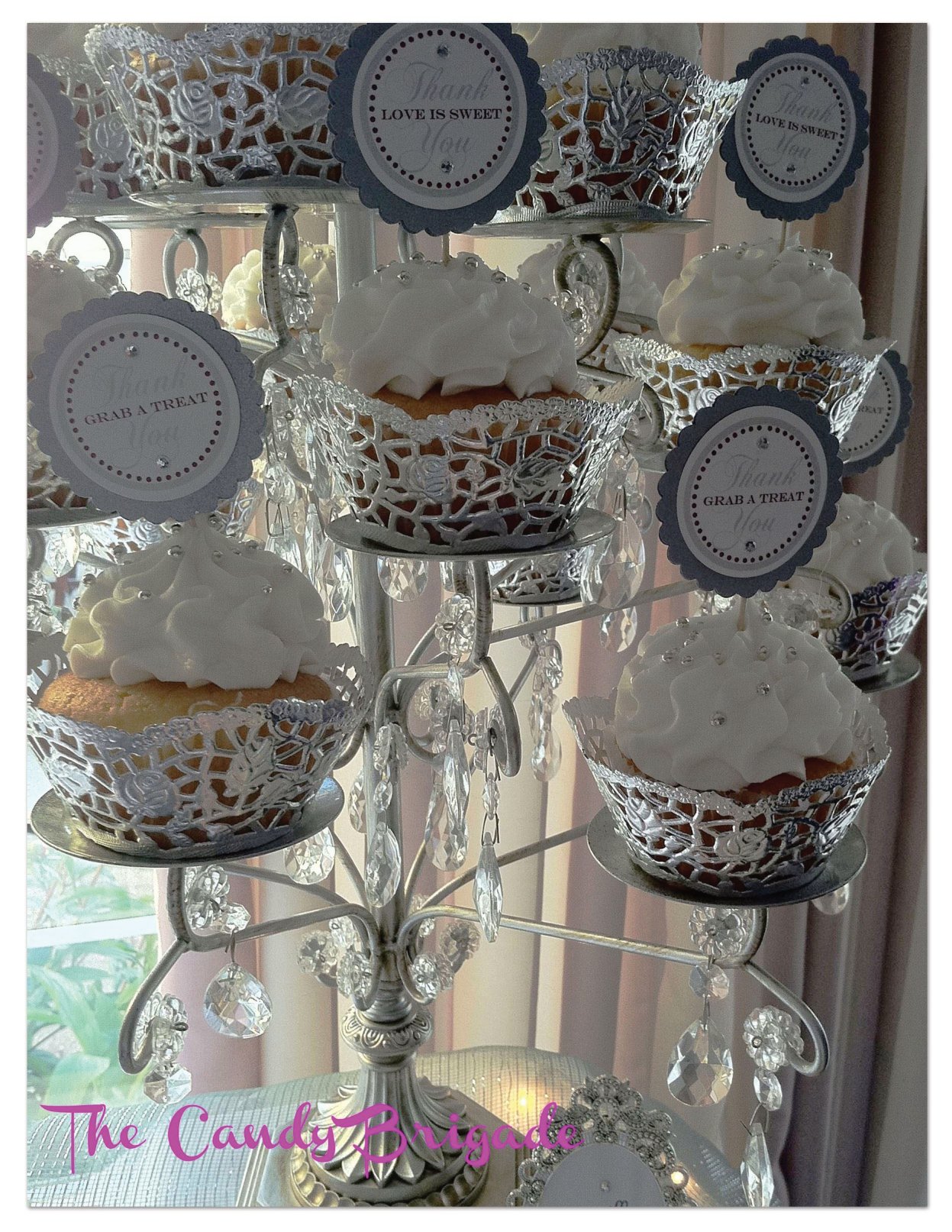 Polka Dot Oreos & Rock Candy Bling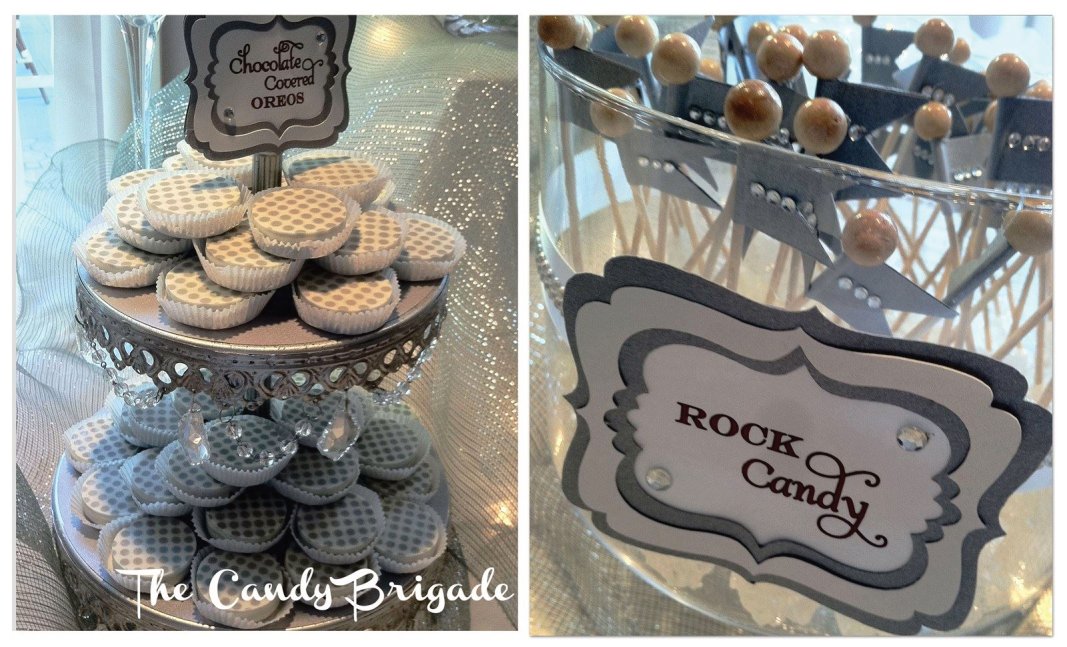 More pics of the table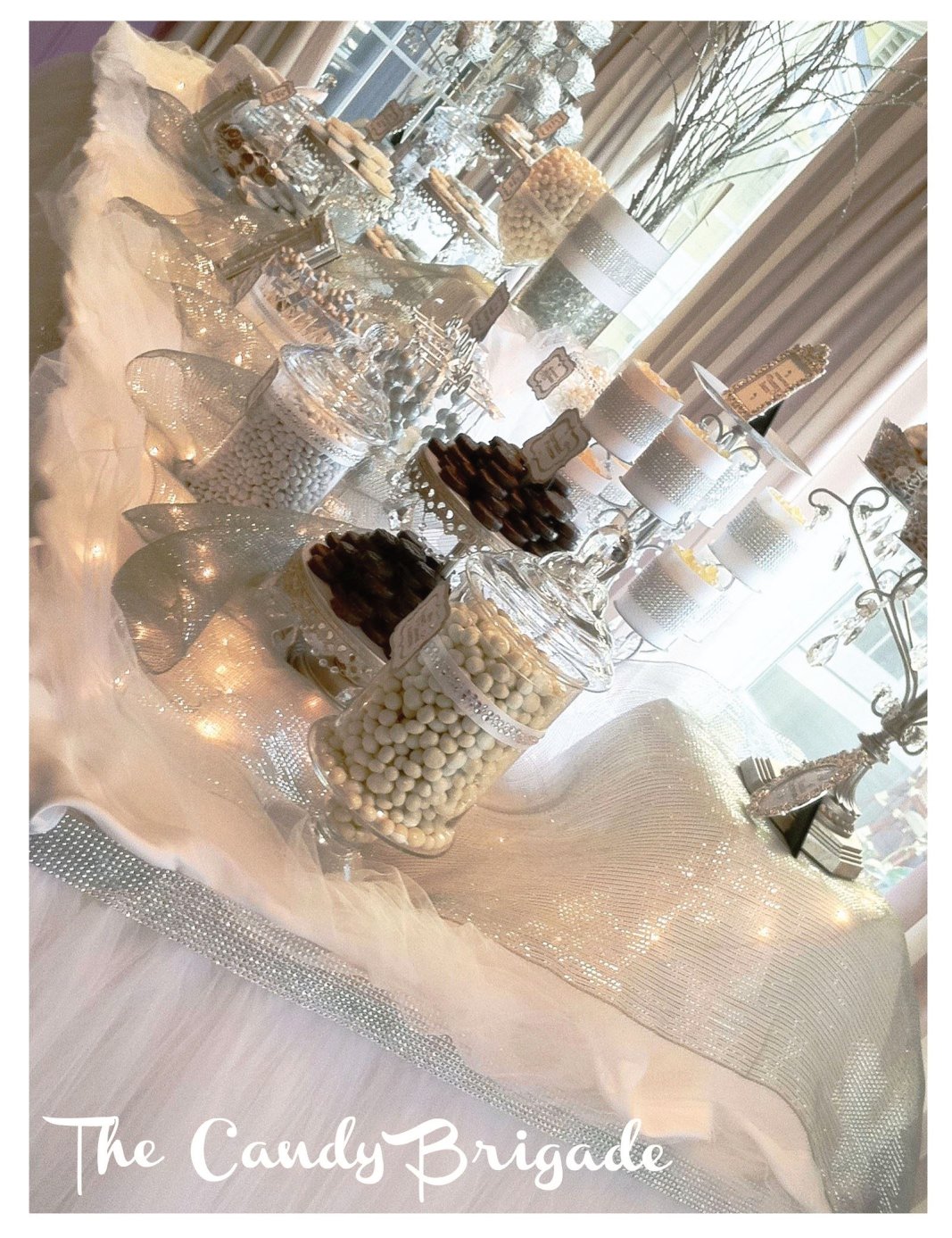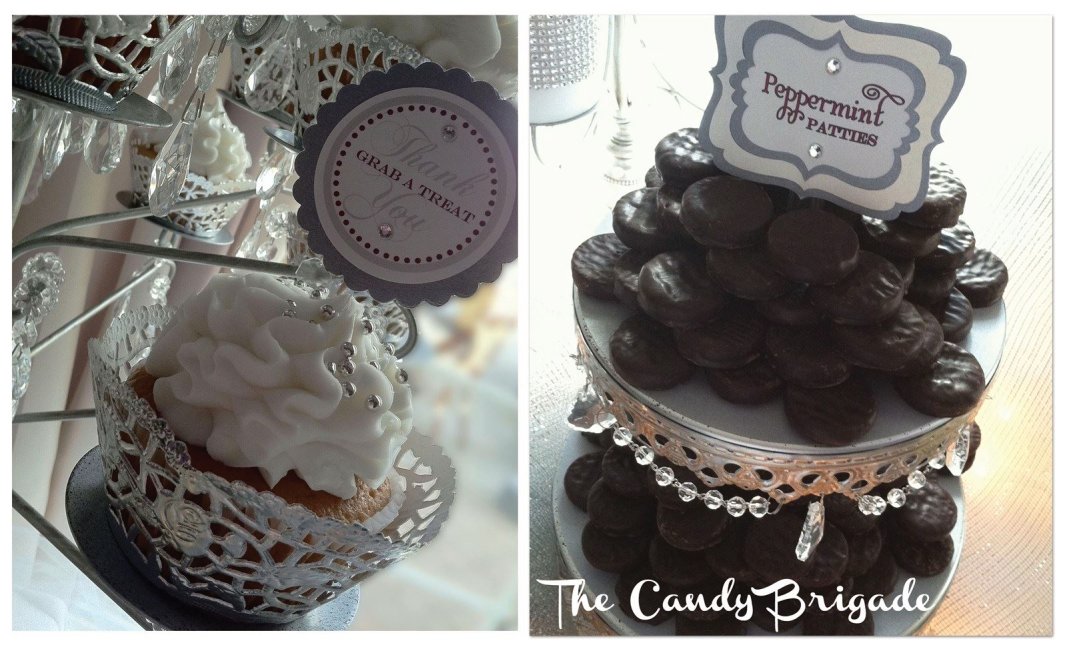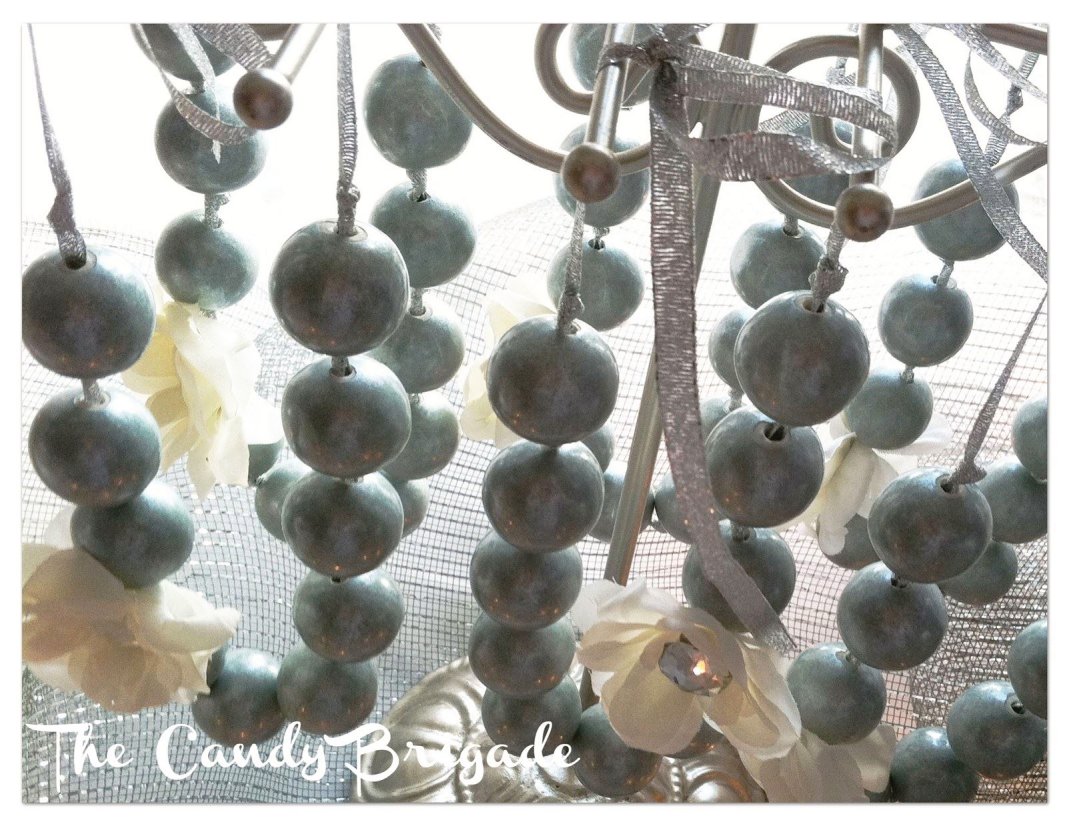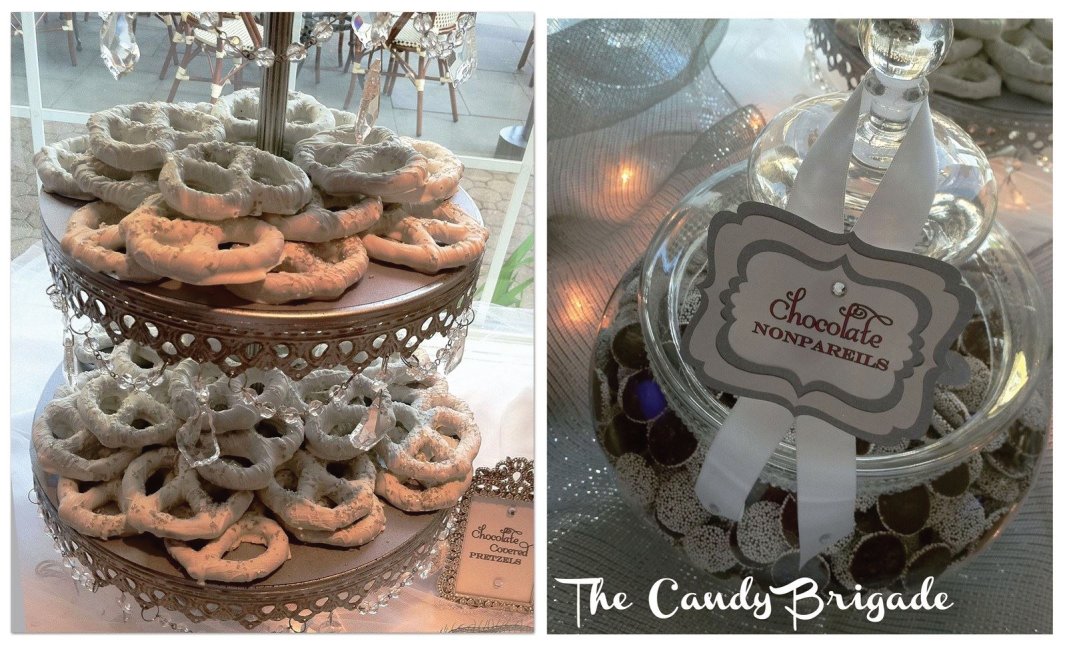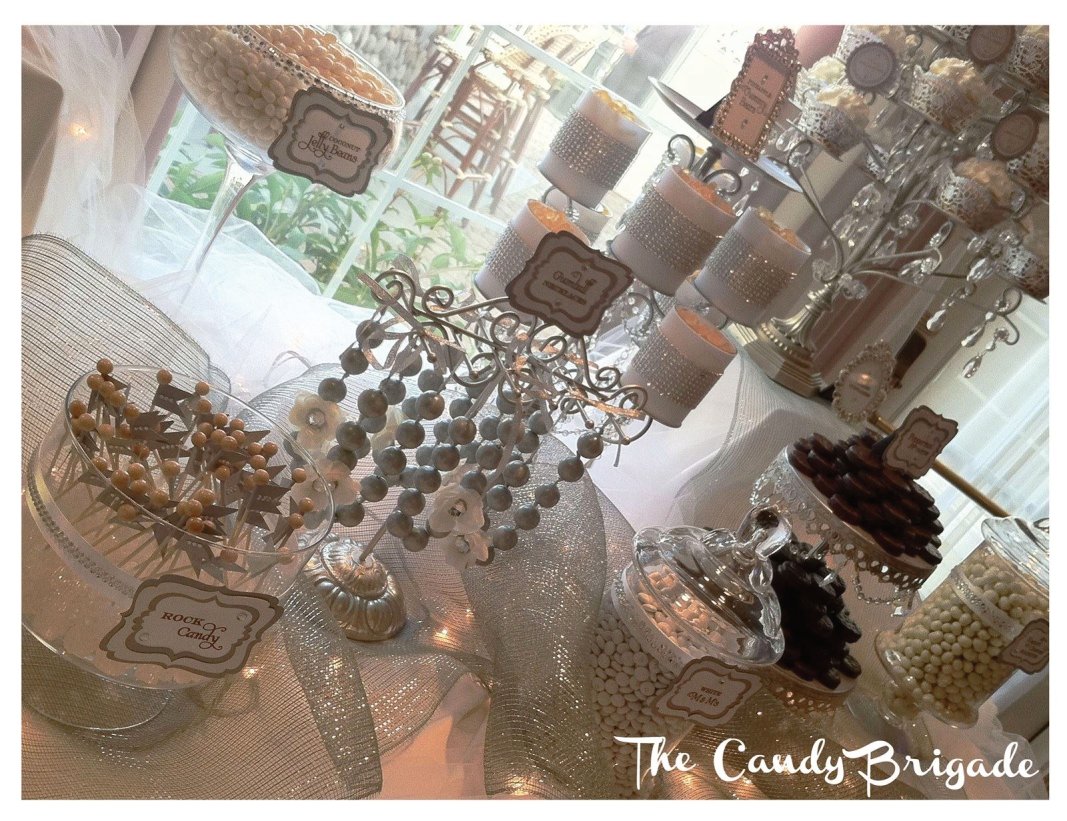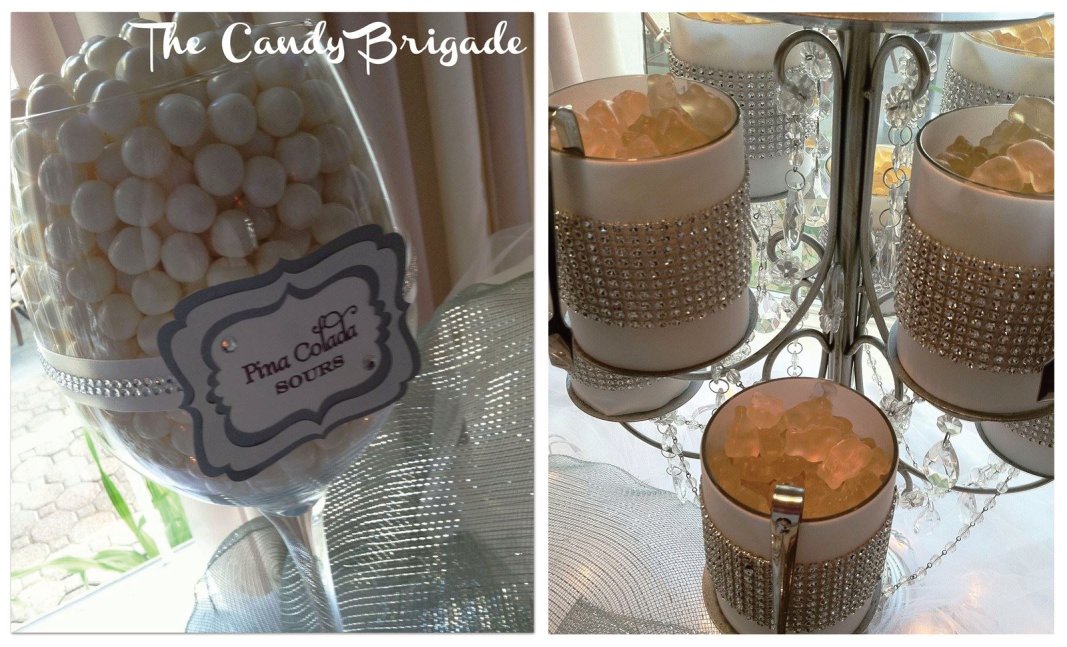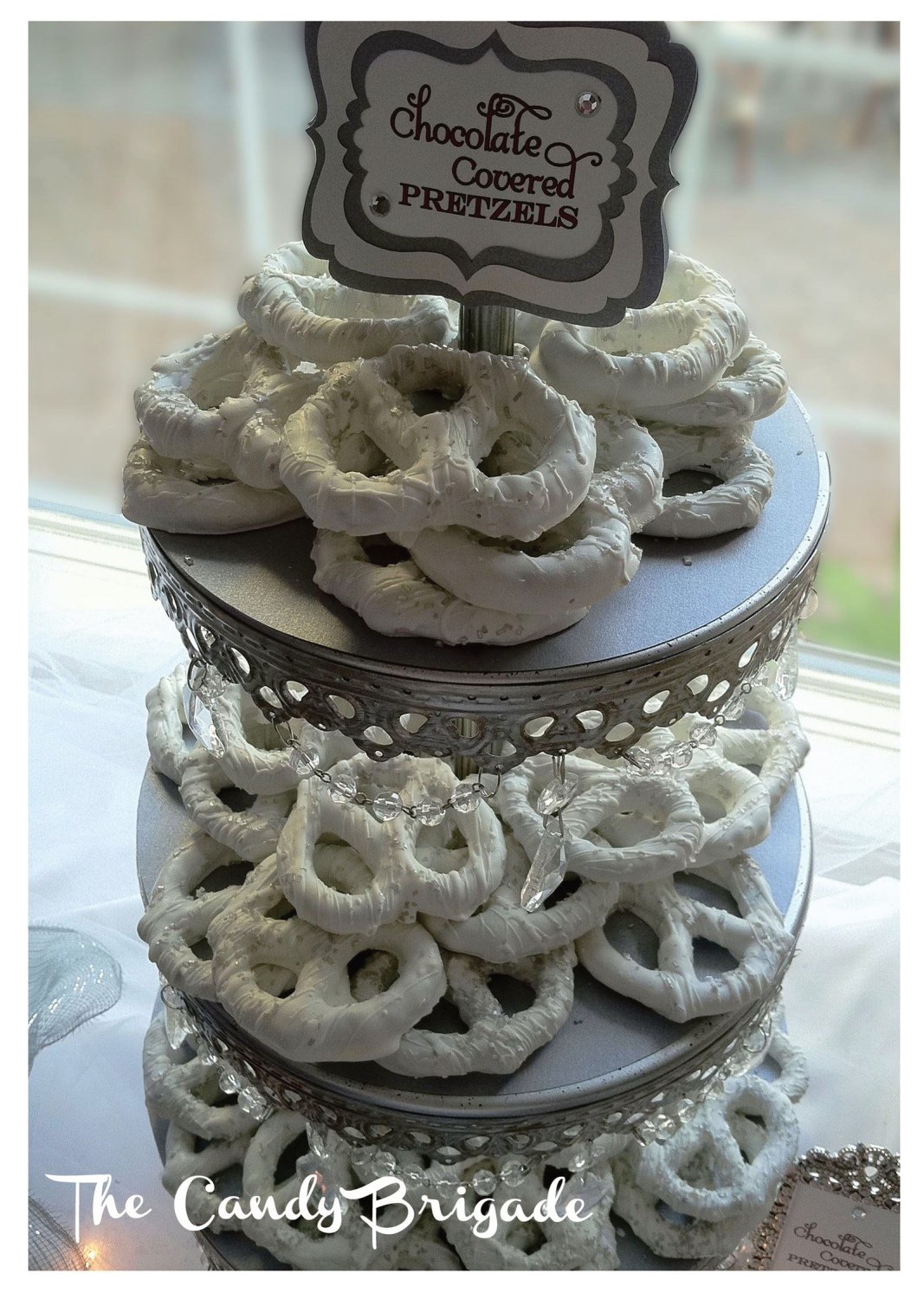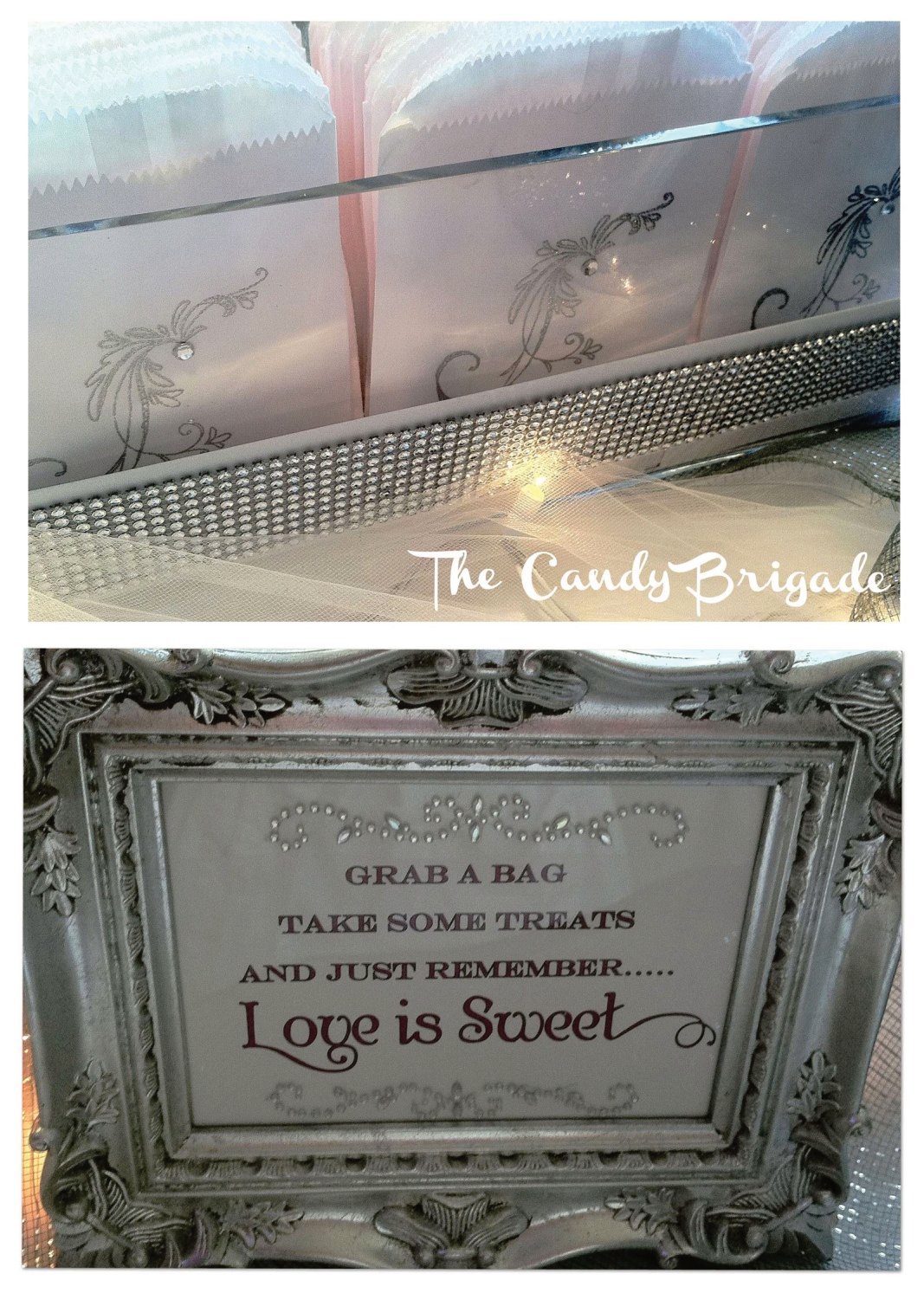 Would you like us to create a candy or dessert table for your next event?  Please e-mail us at 
[email protected]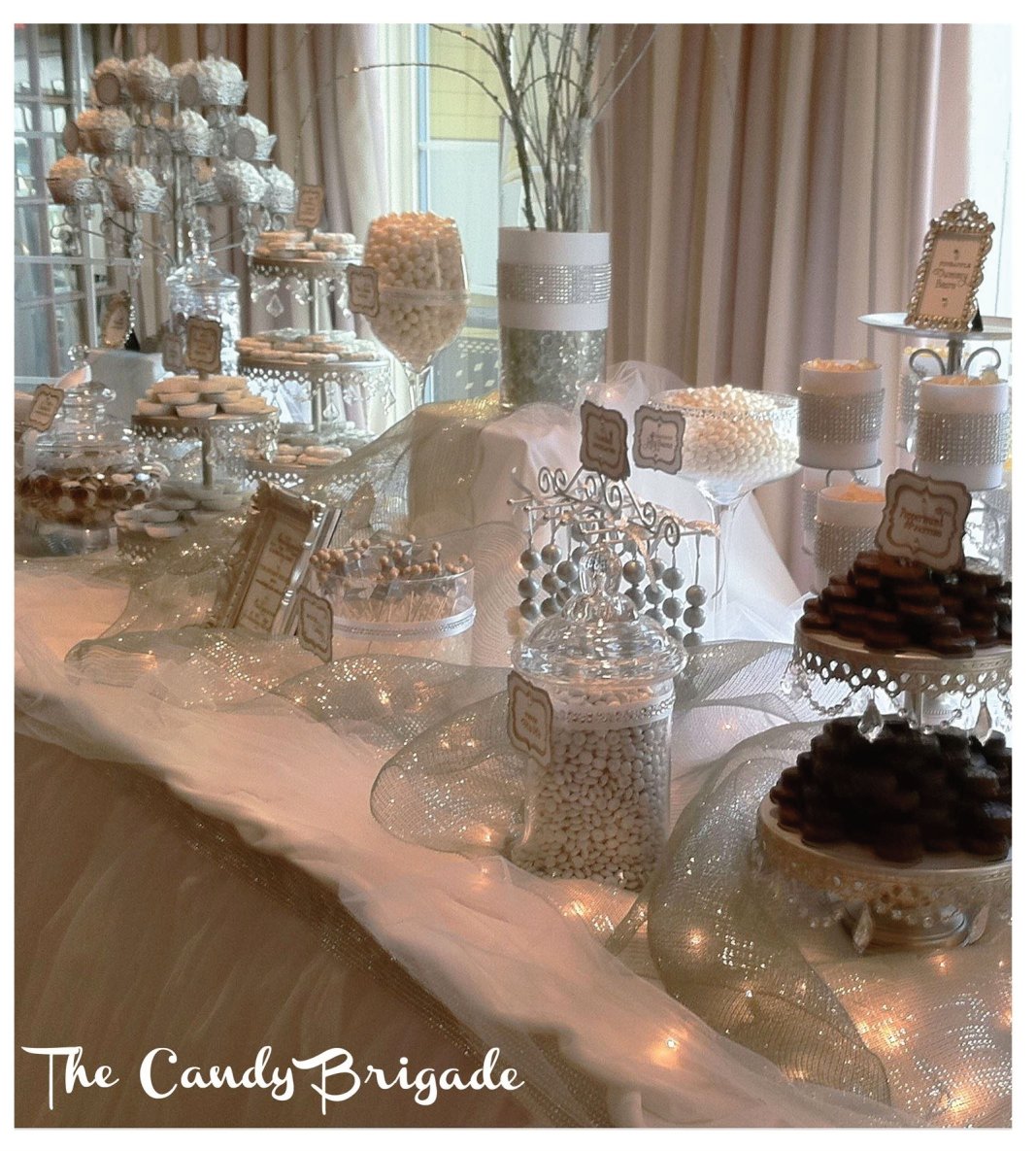 Only a few more weeks until spring & we cannot wait!  As I sit here under my warm fuzzy blanket, I can't help but daydream about the exciting trip we took to
Mamaroneck Beach & Yacht Club
in Mamaroneck, New York.  The club is located on a stunning multi-acre waterfront estate with breathtaking views of Long Island Sound.   Ahhhhhhh..... we must go back.
So, why did we make the trip?  We were contacted by Nareen, a fabulously fun mom who wanted to make her daughter, Adrianna's baptism a day to remember.  As soon as Nareen started telling us about Adrianna's celebration, we knew one of our custom designed candy buffets would fit in perfectly.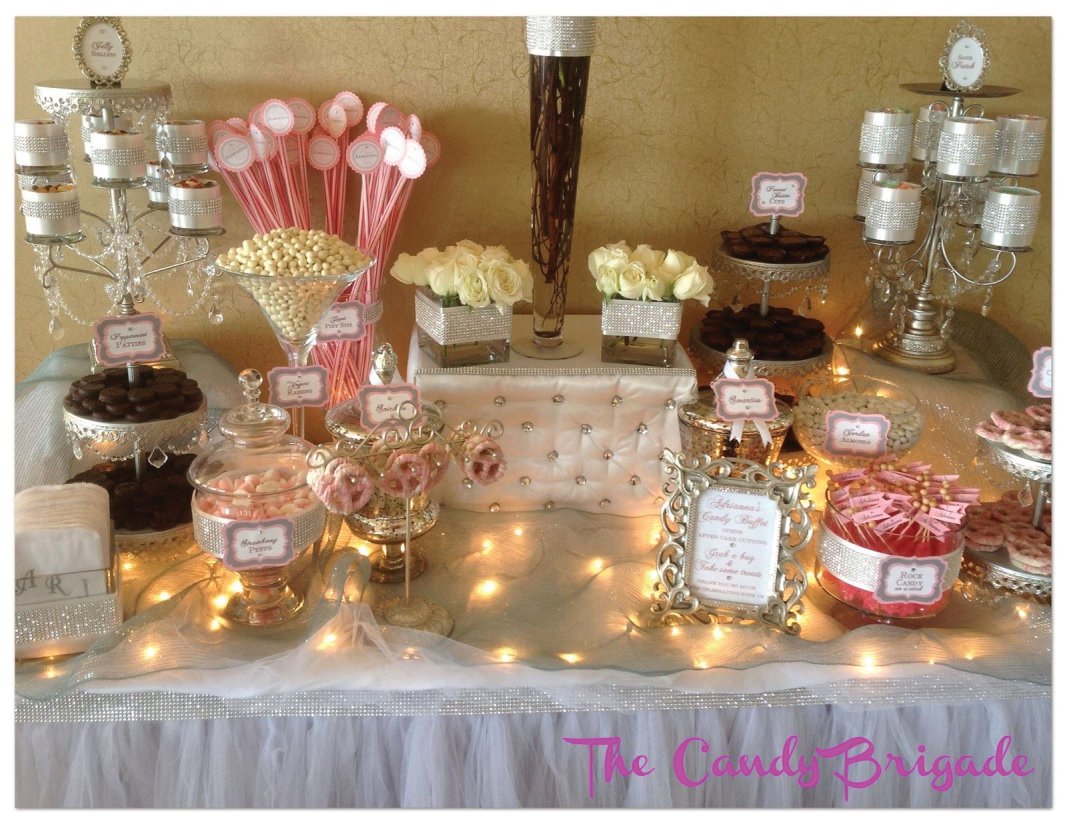 For Adrianna's party, we created a very sparkly, extremely elegant candy table all decorated in pink & white.   Some of yummy sweets included Chocolate Covered Pretzels, personalized Pixy Stix & Rock Candy (created especially for Adrianna).
We provided custom embossed candy favor bags so guests could enjoy themselves for days or weeks to come.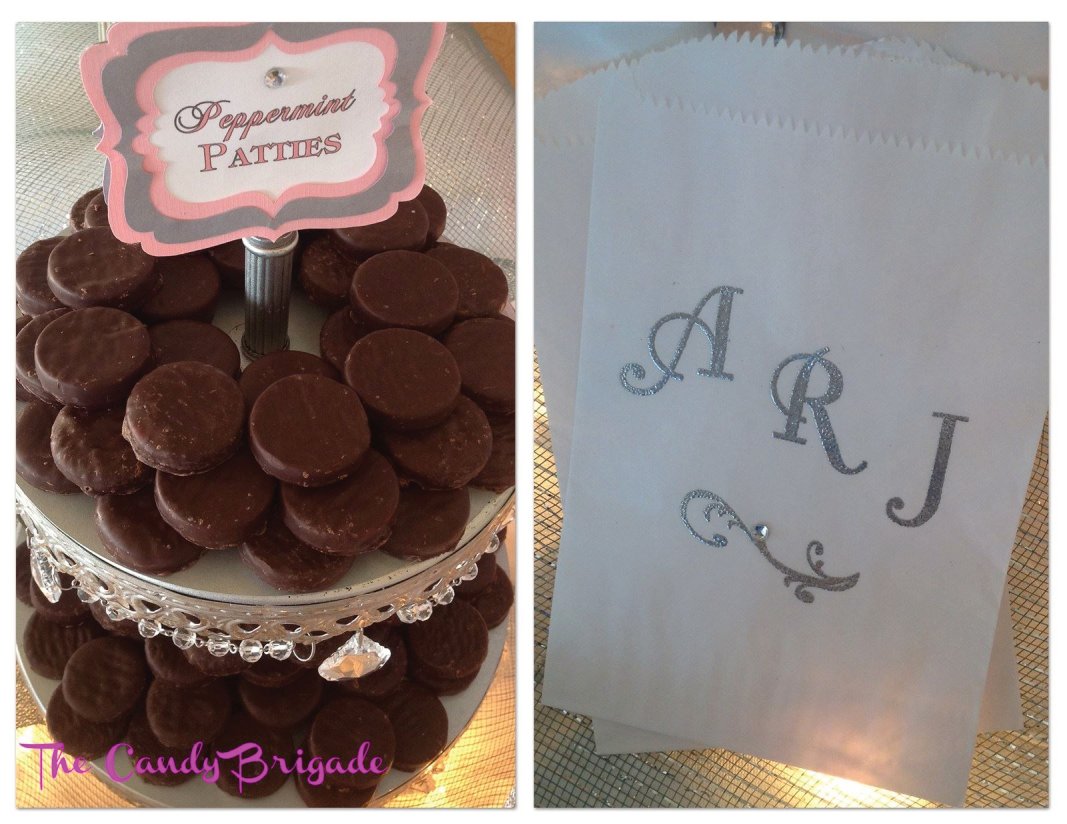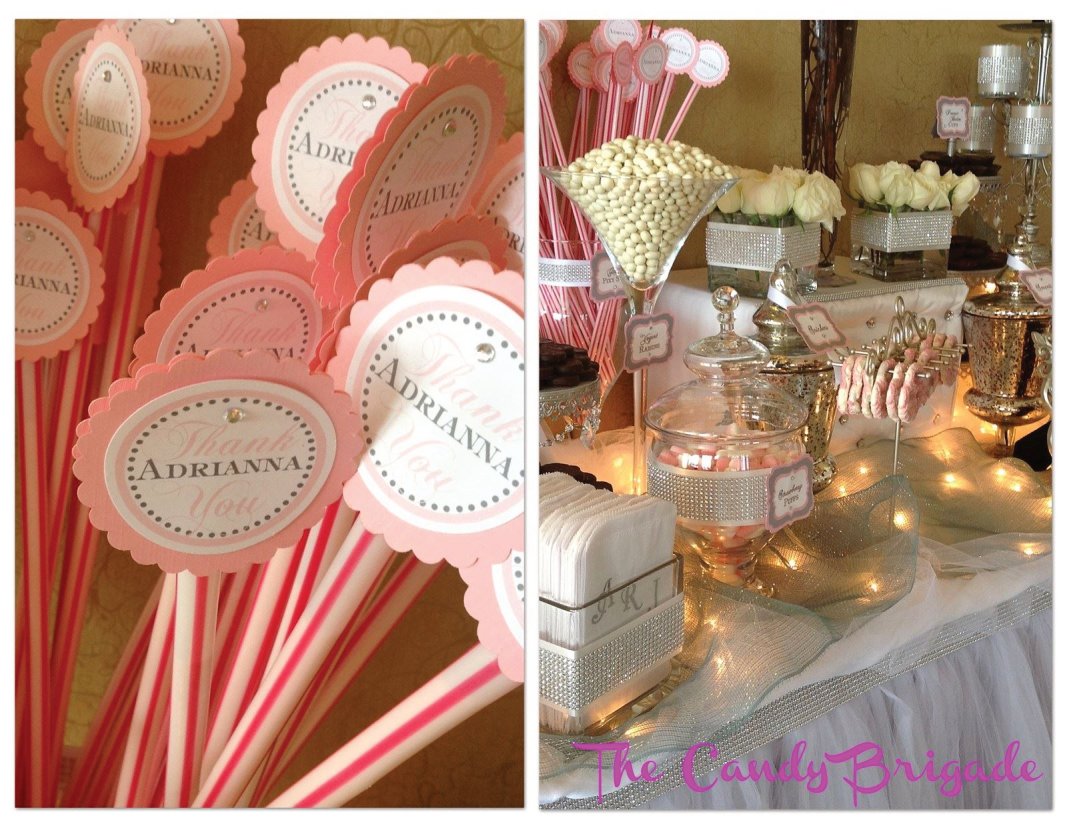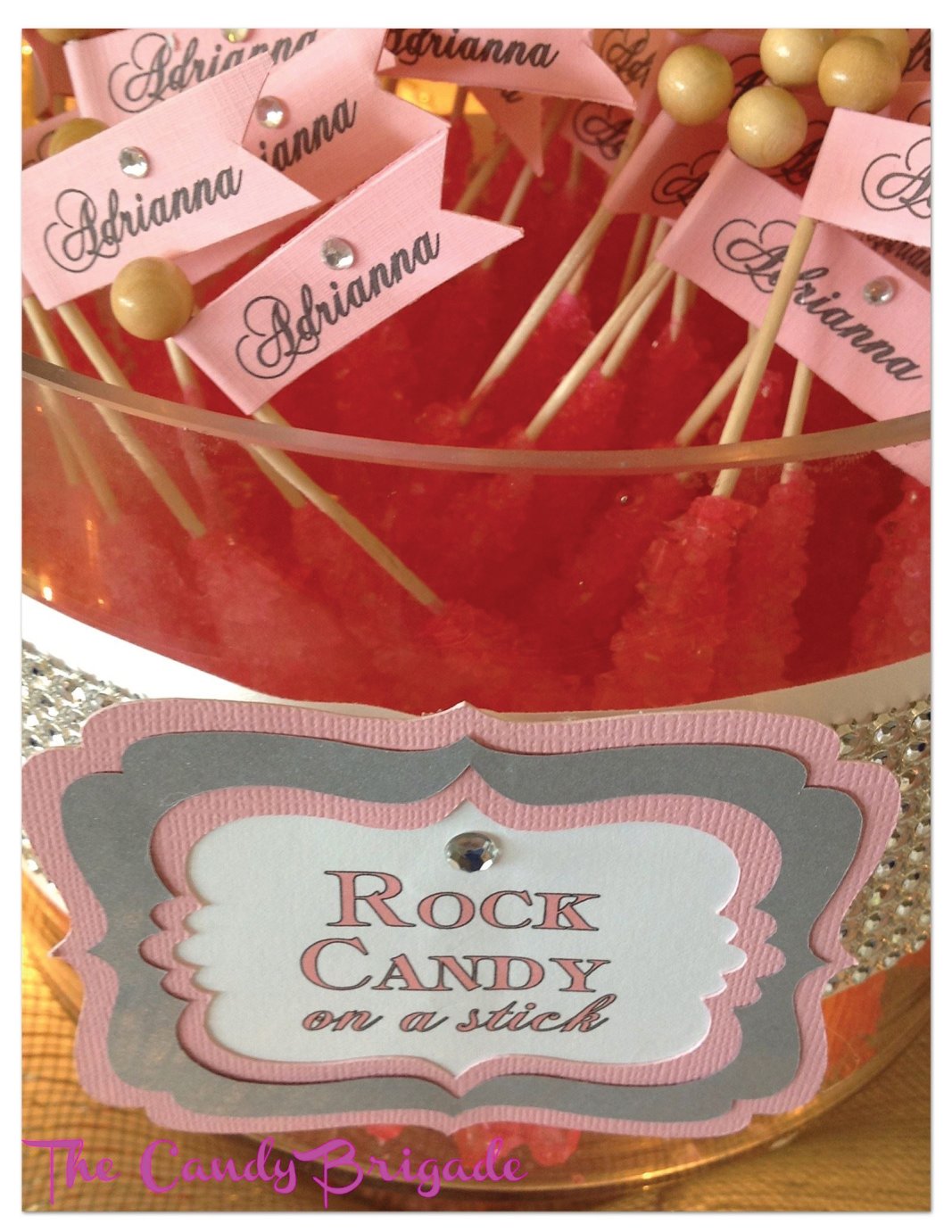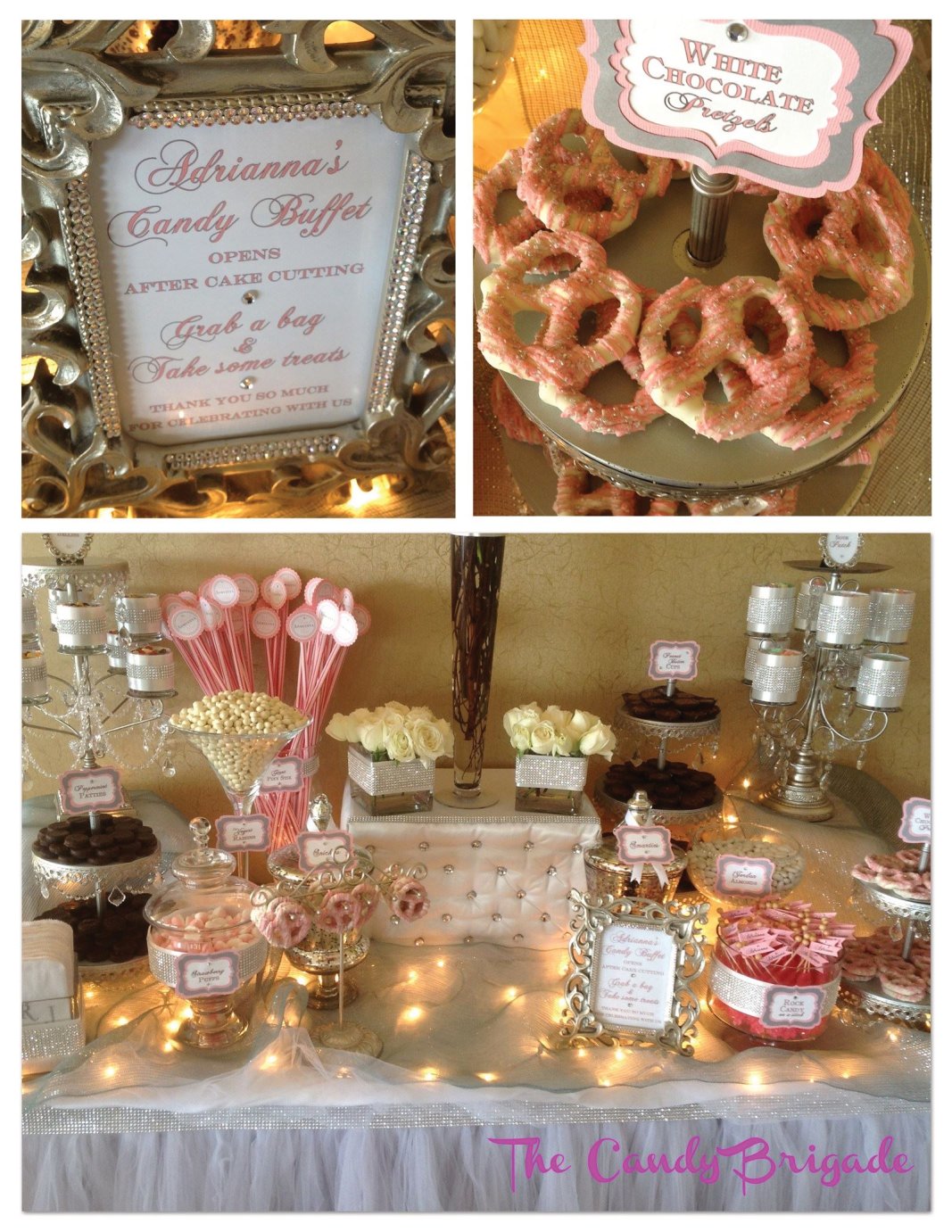 Is your bundle of joy having a special day? 
Contact us
to get more info on our custom designed candy & dessert tables.  Oh...and please make sure you like us on
Facebook
.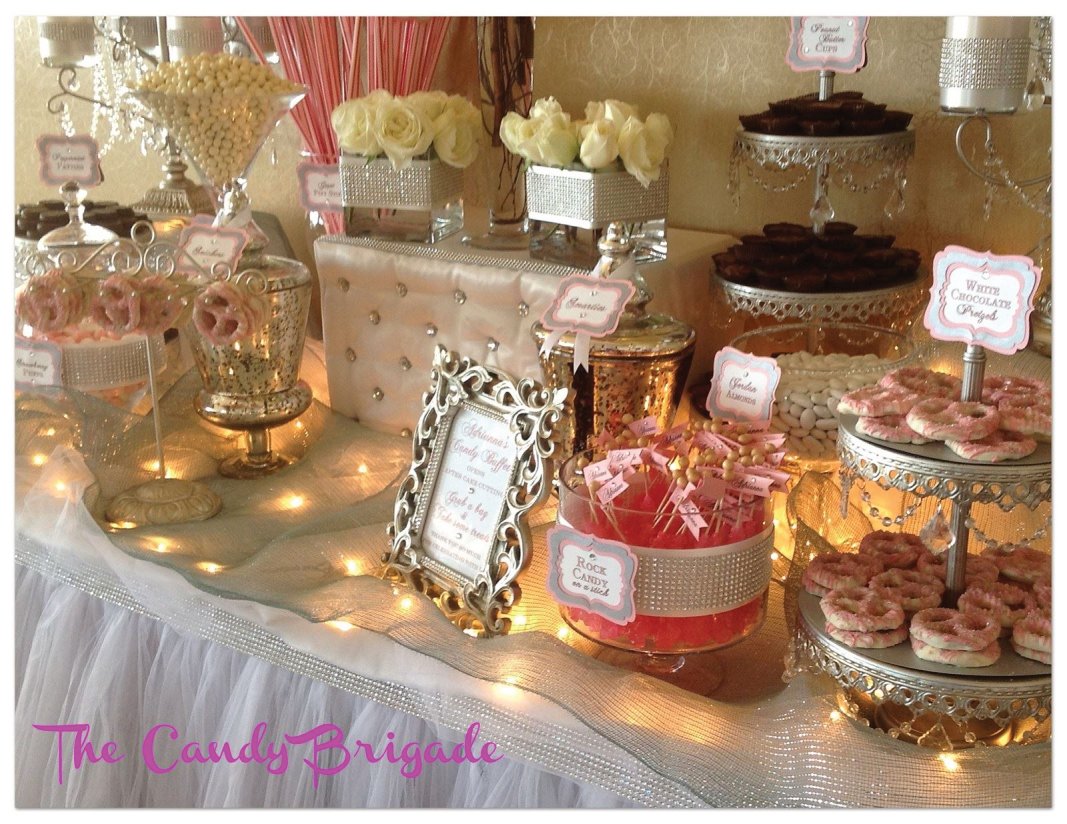 Marisa reached out to us  about a month ago to ask if we would be interested in participating in a Snow White inspired photo shoot with a group of other very talented local vendors.  Ummmm....of course!  We immediately started thinking about what we wanted to create for the shoot.  It didn't take long to decide that we wanted to design a rustic dessert table for Snow White & her seven little friends that would coordinate with the whimsy woodland theme that Marisa was envisioning.  For the table design, we rounded up our blue birds, branches, moss and our very popular rustic table skirt.  For desserts?  Our Mini Apple Pies, Chocolate Covered Oreos, and Chocolate Covered Apples had to make an appearance.  We made an apple for each dwarf and an oh so special apple for Snow White.
Here is the team of incredible individuals that participated in this amazing project.
We made a fancy little apple just for Snow White.  The apple was displayed on our handmade rustic swing, which we hung from manzanita branches.
Seven mini apple pies..........one for each dwarf.
The beautiful Snow White
Apple pies
We had a fun couple of weeks showcasing our stylish sweets at the Hartford & Springfield Bridal Expos.  Jenks Productions puts together a great show packed with some of the most talented people in the the industry.   We had an awesome time talking to all of the  sweet couples along with their fabulous family & friends.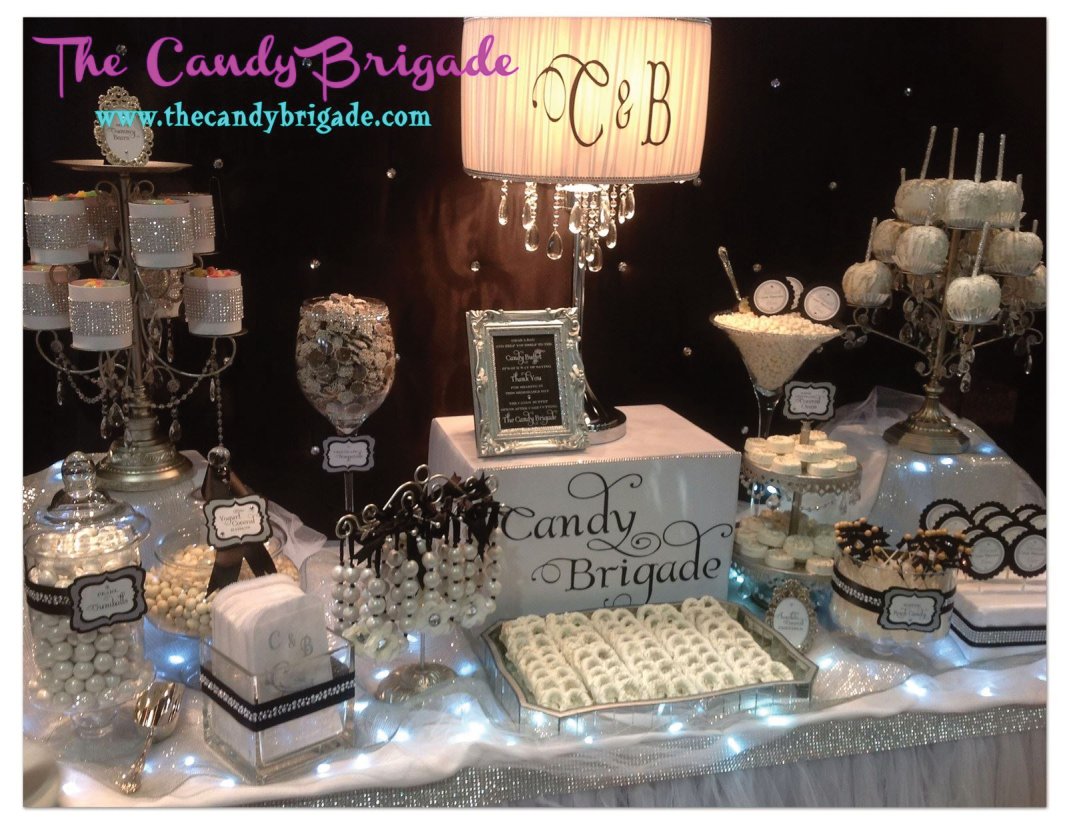 For both shows, we displayed one of our most sophisticated & sparkling tables, The Glammy.  The Glammy is always elegantly dressed in white tulle and loads of crystals & bling.  We styled the table in classic black & white & loaded it with some of our most beautiful sweets, including Chocolate Covered Pretzels & Oreos, Rock Candy Sticks with Bling, Gumball Necklaces & the oh so popular Chocolate Covered Apples.

We also brought along jumbo cupcakes & delicious mini apple pies.  Each mini pie is homemade with a pound of Granny Smith apples.   Did we say "mini"?   

Here are some pics from the show..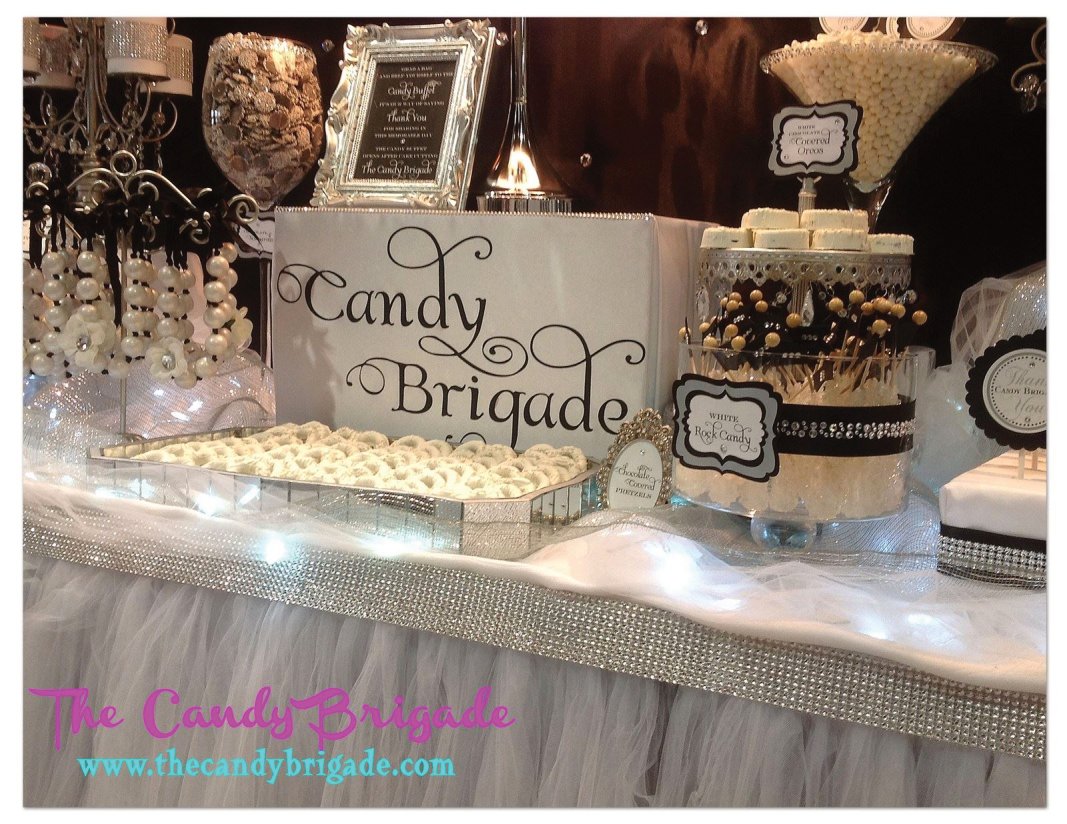 Our Chocolate Covered Apples are so popular.  Each Granny Smith was dipped in caramel & white chocolate.   We topped them off with some Candy Brigade sparkle & bling.  Beautiful & tasty!
Our signature Rock Candy Sticks with Bling

At the show, we met so many couples that were opting for cupcakes in lieu of cake for their wedding.  We love this idea!  Cupcakes can be dressed up beautifully and guests love them because they can take their dessert  home.  Just like all of our other sweets, our cupcakes are personalized to match the couple's wedding colors & style.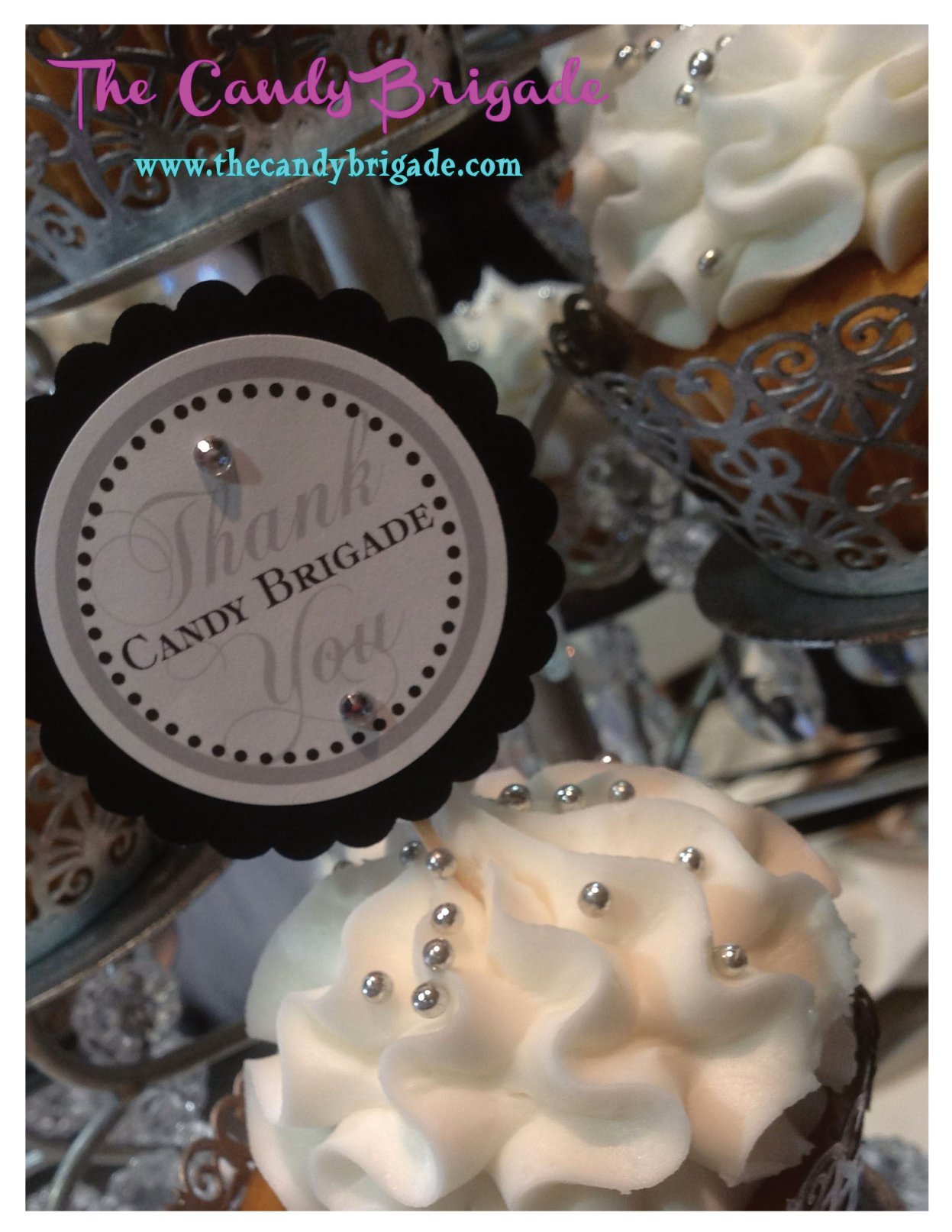 How fancy are these gumball necklaces?   Adding a few of these pretty little jewels to your candy table looks fabulous.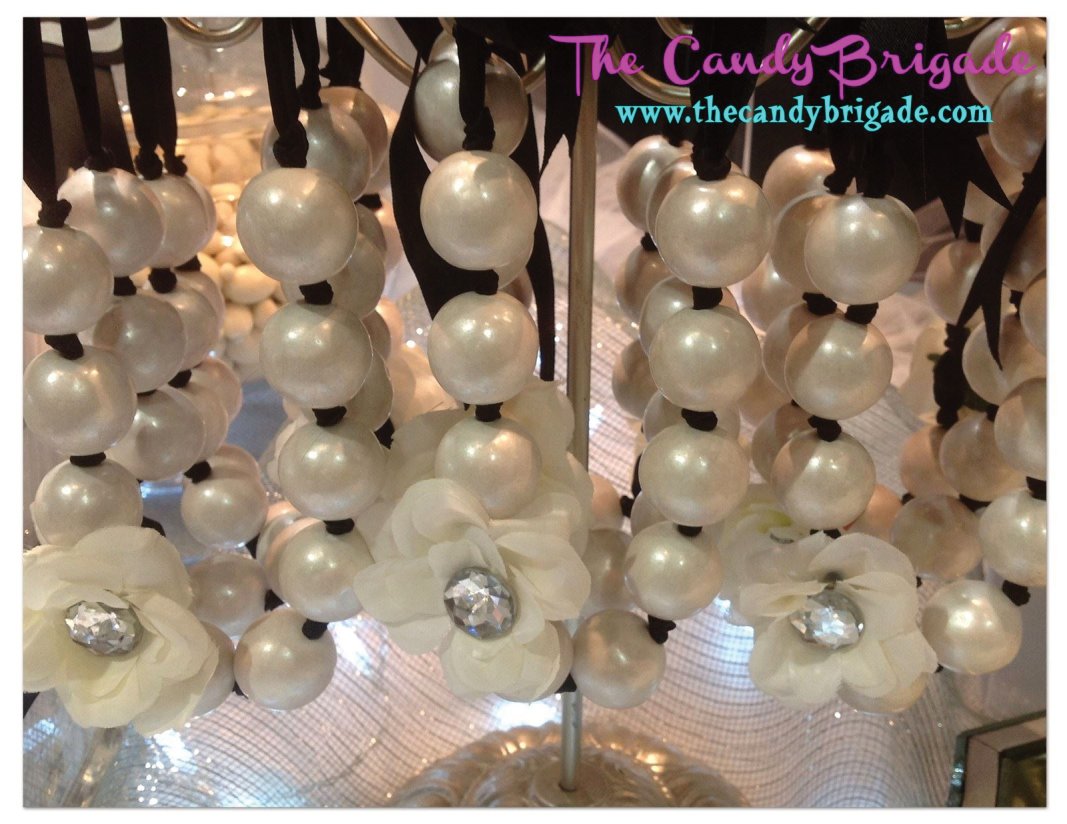 All of our candy & dessert tables come with custom favor bags.   Once the table opens, guests grab a favor bag & fill it up with all of their favorite sweets.     What an awesome wedding favor!
These personalized  Whirly Pops are a great addition to the candy buffet.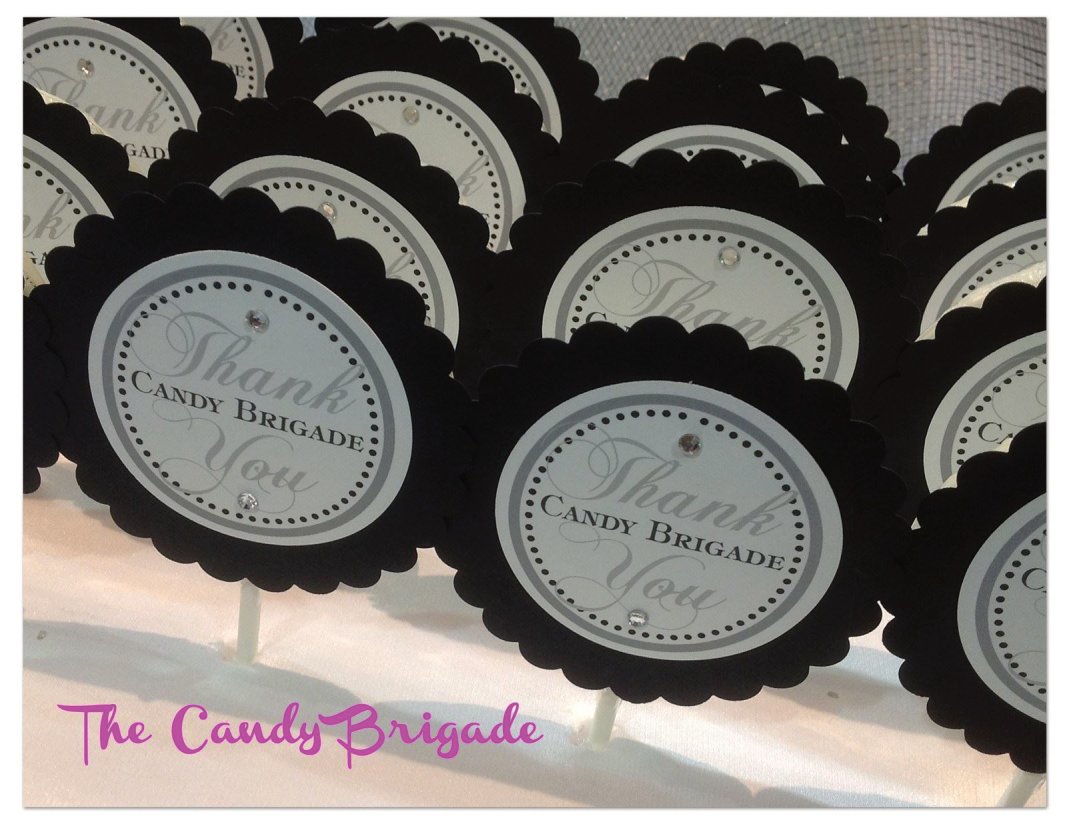 More pics of the candy & dessert table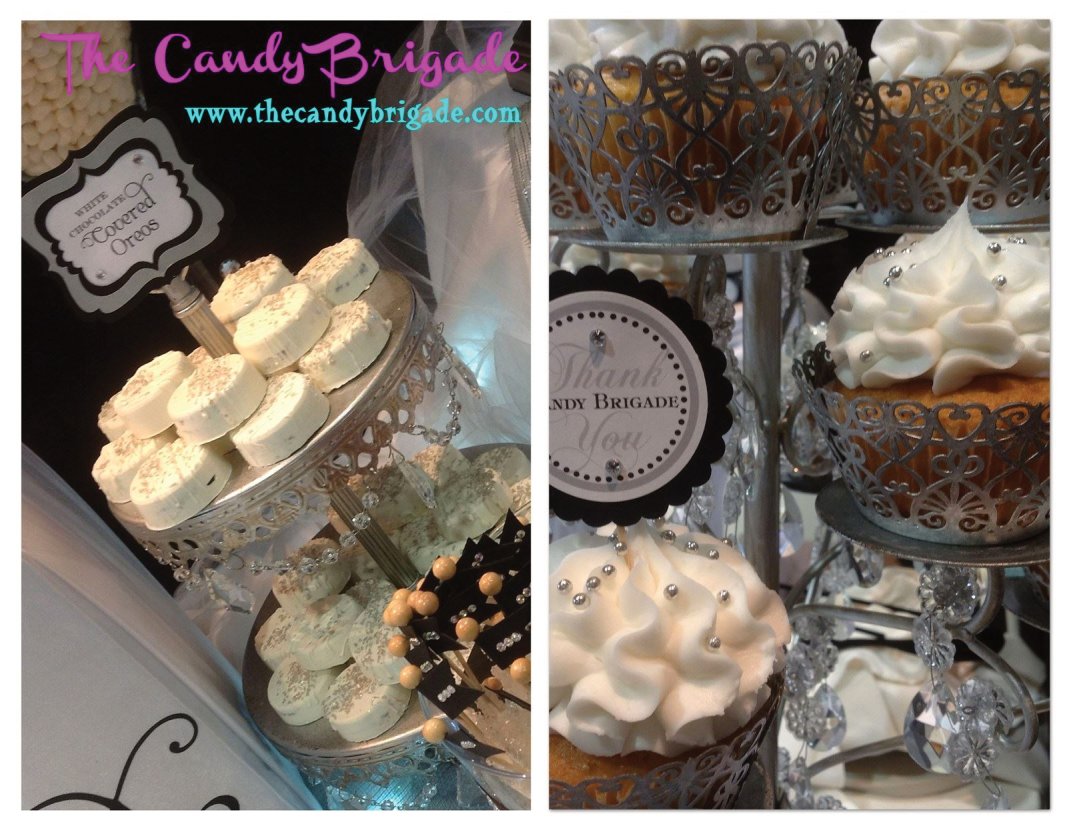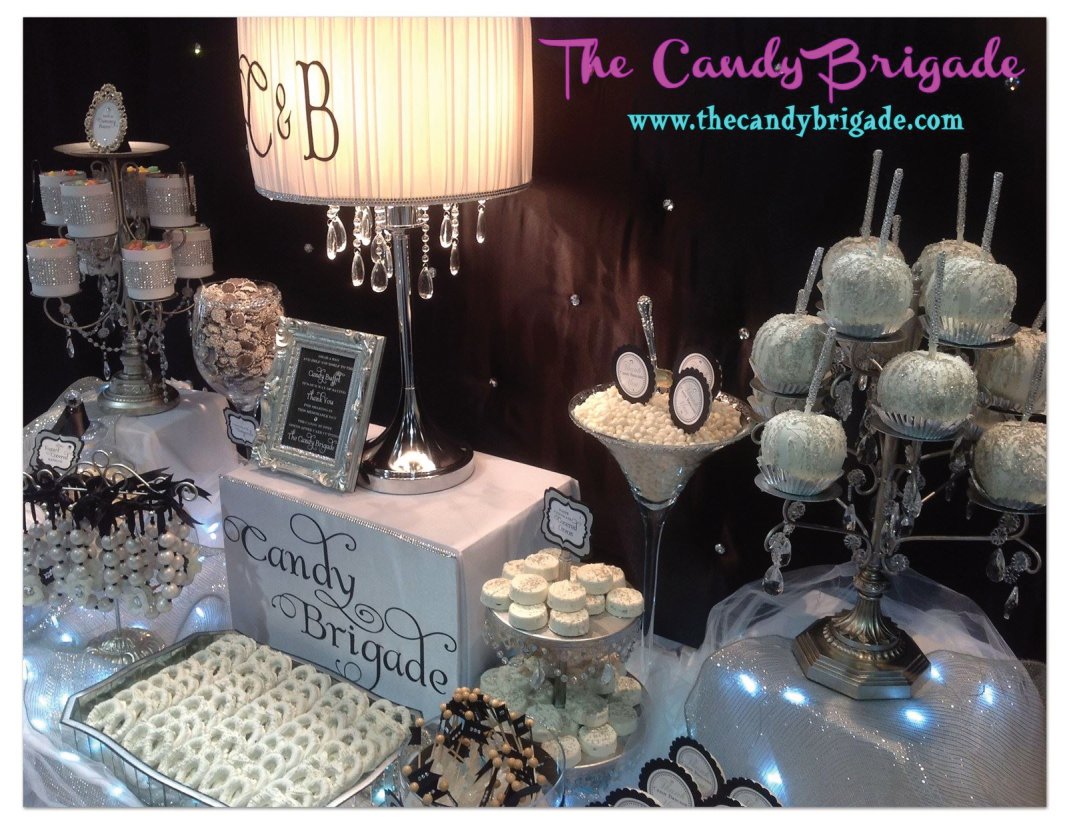 These mini apple pies make great wedding & shower favors.  We place each pie in a beautifully decorated box - you pick the color & design.  Each pie box includes a fork & a knife, or 2 forks and a knife if you're giving out one per couple.   Guests love these!!!  We've been told that they have a hard time surviving the car ride home!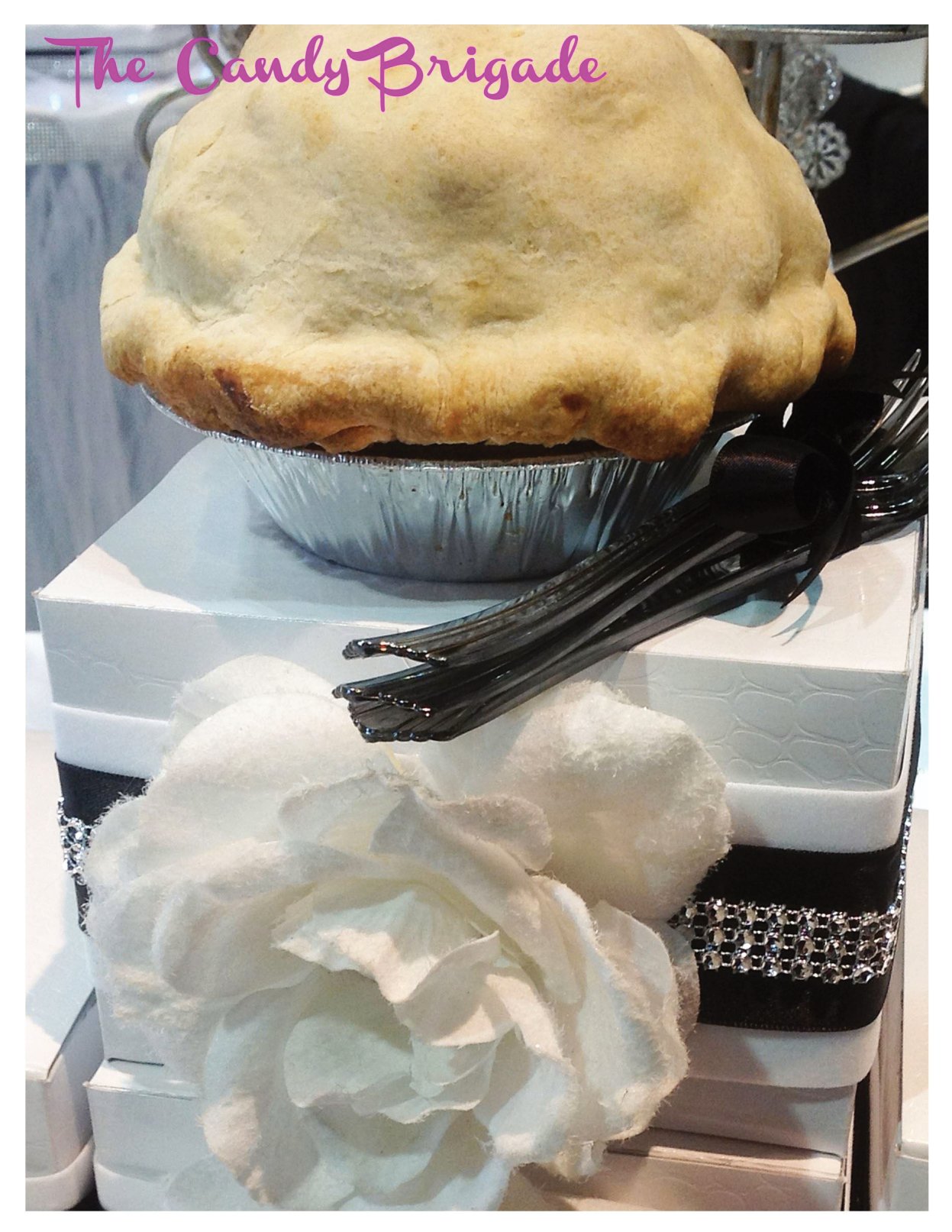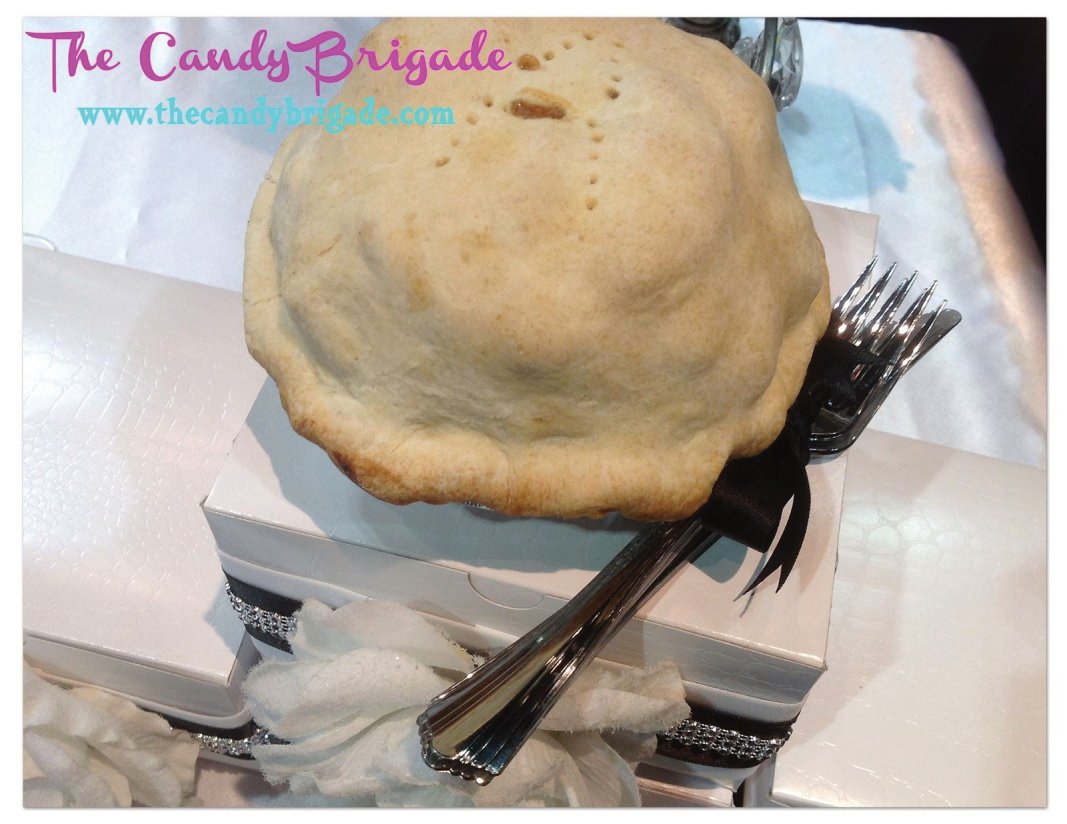 We had such an awesome time at the Hartford & Springfield Bridal Expos this year!   The show was extremely successful for us.  We couldn't have done it without 2 of the best helpers - who did a wonderful job working our booth with us.  Thank you Angela & Erin!  We hope you will join us again next year!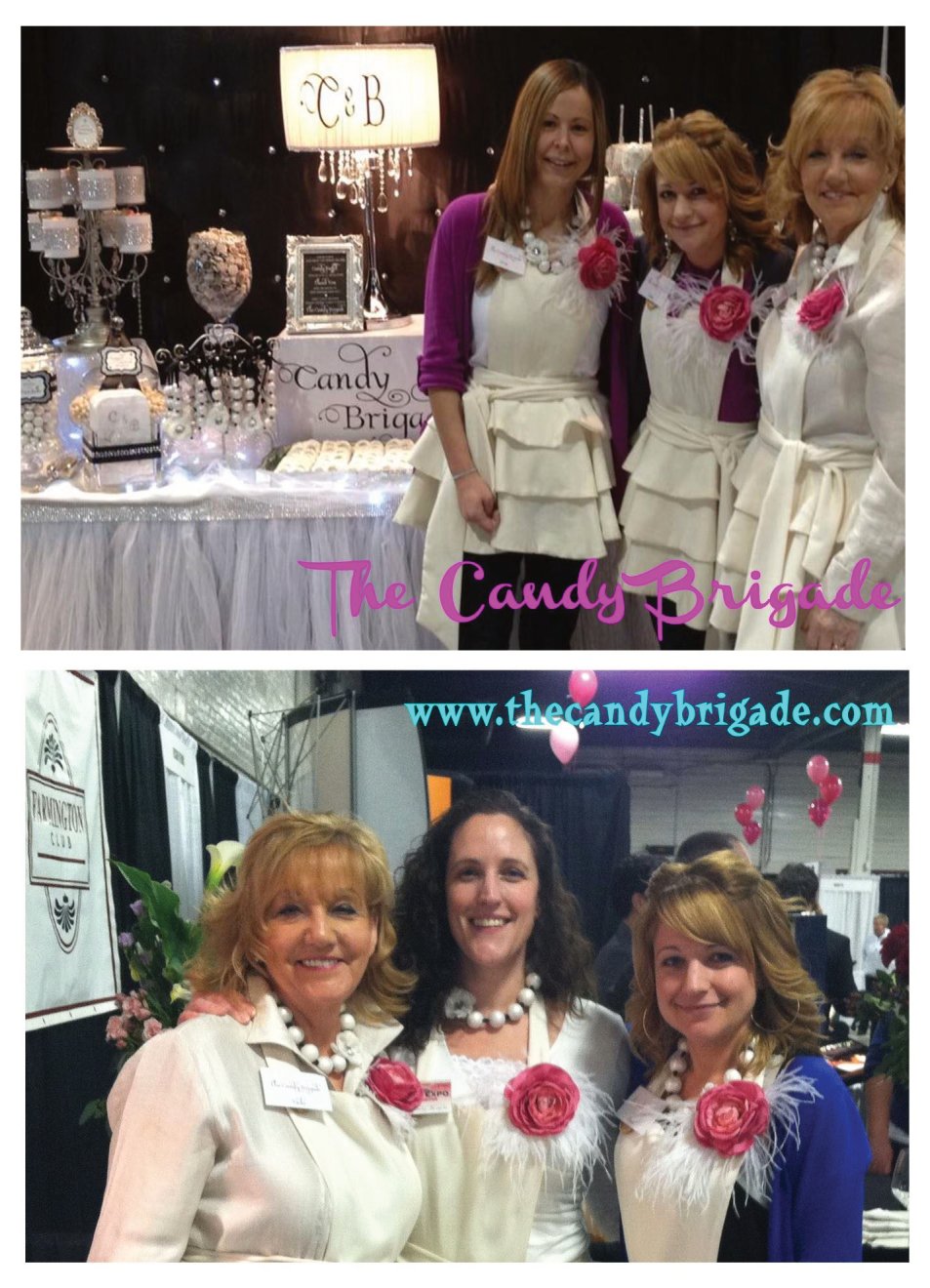 Would you like us to sweeten up your special day?   Send us an e-mail at
[email protected]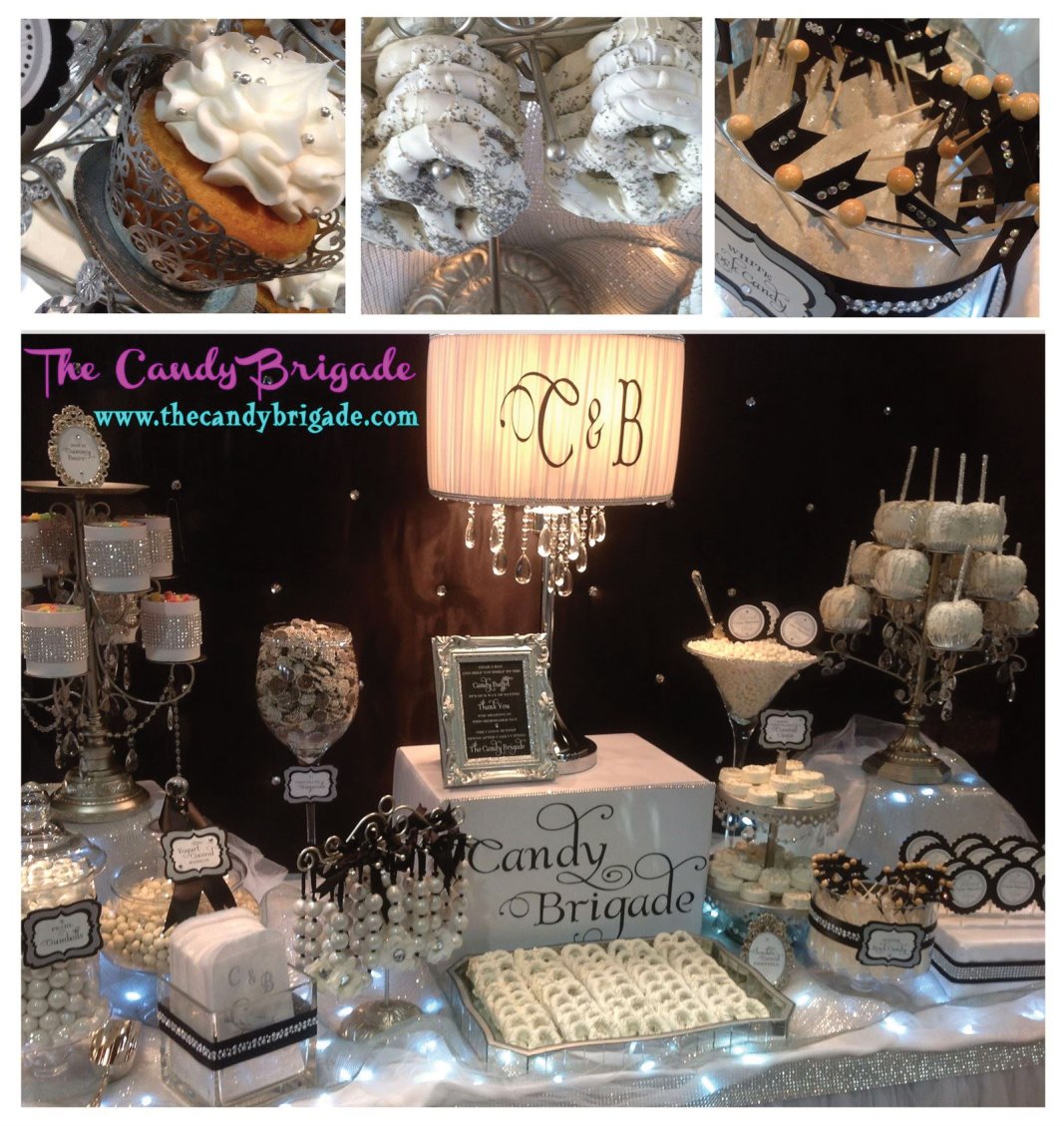 0

/