Shopping Cart
Your Cart is Empty
There was an error with PayPal
Click here to try again
Thank you for your business!
You should be receiving an order confirmation from Paypal shortly.
Exit Shopping Cart
dfdfd
dfdfddfd
Thank you for checking out Gizem's Chanel inspired candy & dessert buffet! Up next on the Blog are the Chanel inspired candy & cupcake tables we created for Chantal's Bridal Shower in Rhode Island.  
Carilla's guests absolutely loved the elegant candy & dessert table.  We can't believe how many of her friends & family members asked us for business cards.....we actually ran out!  Carilla's baby shower was definitely a special day that her guests will always remember.  
Take a look at our Pink & Gold Royal Princess Candy & Dessert Table.....
Cake Pops perfect for a princess
Chocolate Covered Apples for Princess Gill
Custom embossed candy favor bags
Pink & Gold Chocolate Covered Pretzels
White & Pink Gumball Necklaces
Anyone that knows The Candy Brigade understands how much we love our Tiffany Blue Candy Table.  It's our most popular candy buffet.   We create several Tiffany Blue tables every year......for all types of events - weddings, showers, sweet sixteens and baptisms.  It's such a pretty blue that looks fabulous at any party.  
Kimberly's sweet mom, Jeanmarie contacted us months before the party to discuss what she was envisioning for her daughter's bridal shower.  One thing was certain, the table had to be covered in Island Blue as this was Kimberly's favorite color.  This was our first time hearing of Island Blue.  We were pleasantly surprised when we got our first glimpse.  Umm....where has this color been hiding?  Island Blue is bold and beautiful.  It needs to be seen.....and it definitely should be spending more time at our parties.   It's such a gorgeous blue......perfect for the shower.
For Kimberly's bridal shower, we created a 14 foot sweets table covered in blue candies & chocolates.    Kimberly's glamorous candy table included Chocolate Covered Twinkies, Chocolate Covered Devil Dogs, Chocolate Oreos, Chocolate Pretzels, Cupcakes & loads of candy.  It was ridiculous!   Take a peek for yourself......
Kimberly's adorable flower girl, Jacqueline Lee actually gave Kimberly the 14 foot sweets table as a gift.   How sweet!  Here's the sign we made for Jacqueline Lee......
Giant Pixy Stix with the couple's initials.
Chocolate Covered Pretzels
A view of the entire table of sweets
Rock Candy on a Stick
More pics of this gorgeous Blue, Silver & White Candy Buffet
Chocolate Covered Devil Dogs....Yum!
Let us know what you think....do you love this Island Blue as much as we do?  We can't wait to use it at another event!  
We have such a cute table on the blog today.  This pretty pink candy buffet was designed for my friend, Clarissa's beautiful baby shower last weekend at the
Ludlow Country Club
, in Ludlow, Massachusetts. 
We had a lot of fun creating this candy buffet.  Clarissa was so easy to work with - she only had two requests.  She wanted it "Pink"  & she wanted "Penguins".   So, here you have it....Clarissa's Pink Penguin Candy Buffet.  Please enjoy the pictures!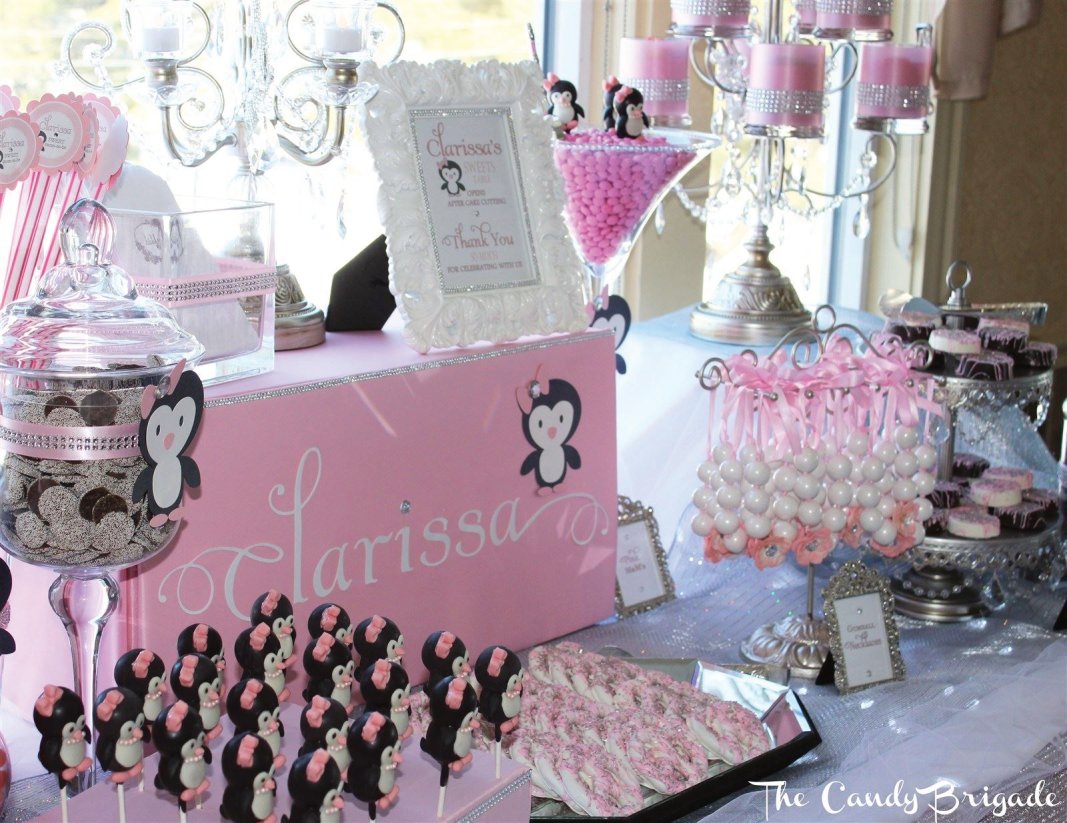 Cute little penguin sign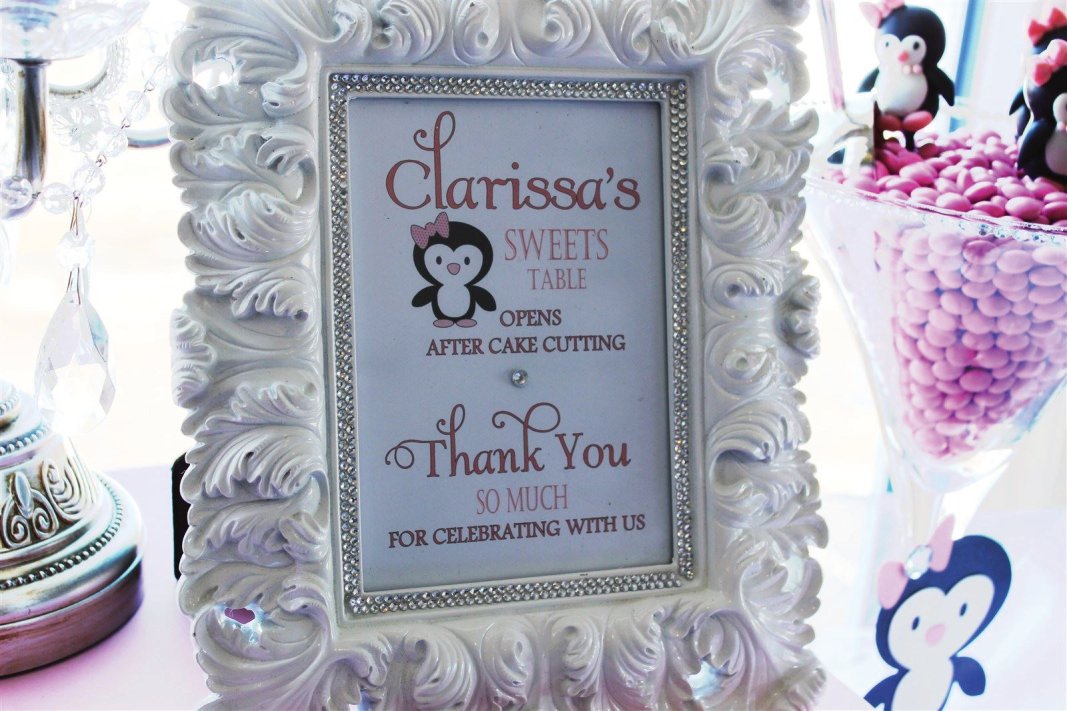 So excited to share these adorable little cake (fudge) pops made by our new friend, Carol at
Just a Little Something
.  They were amazing!!!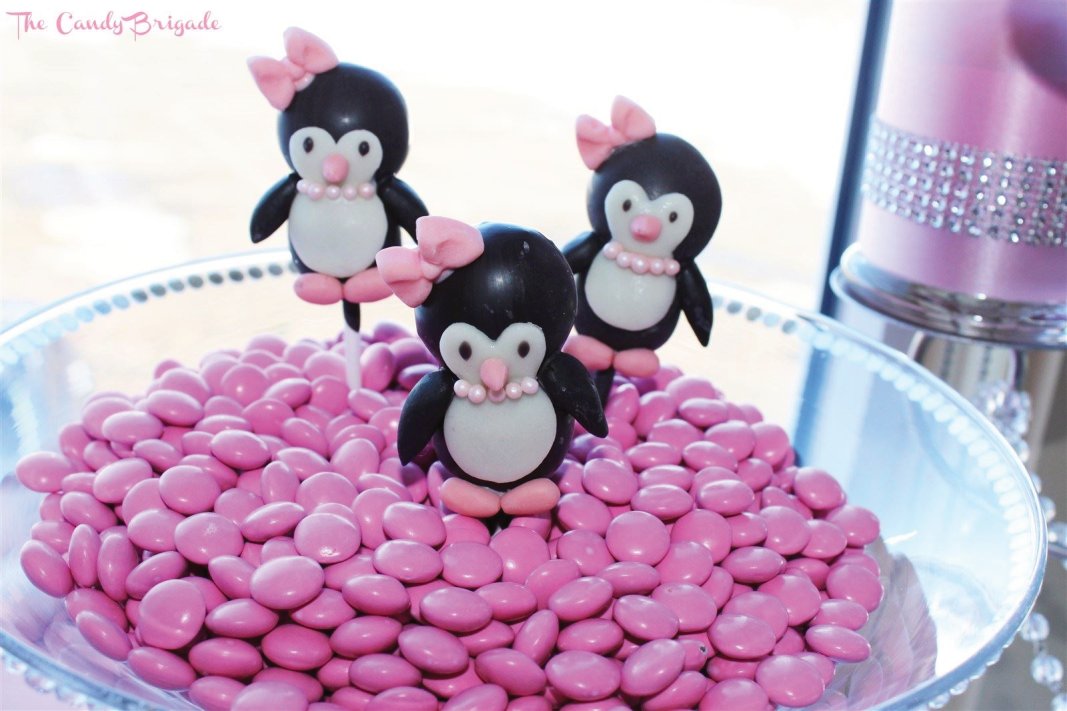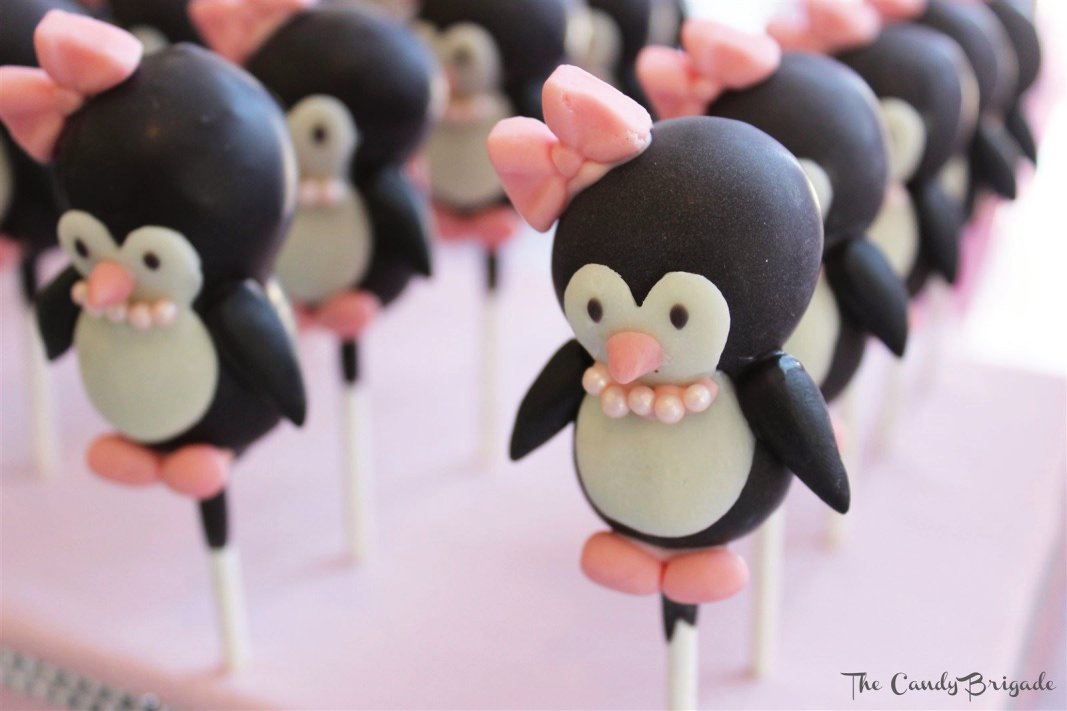 Our popular Chocolate Covered Oreos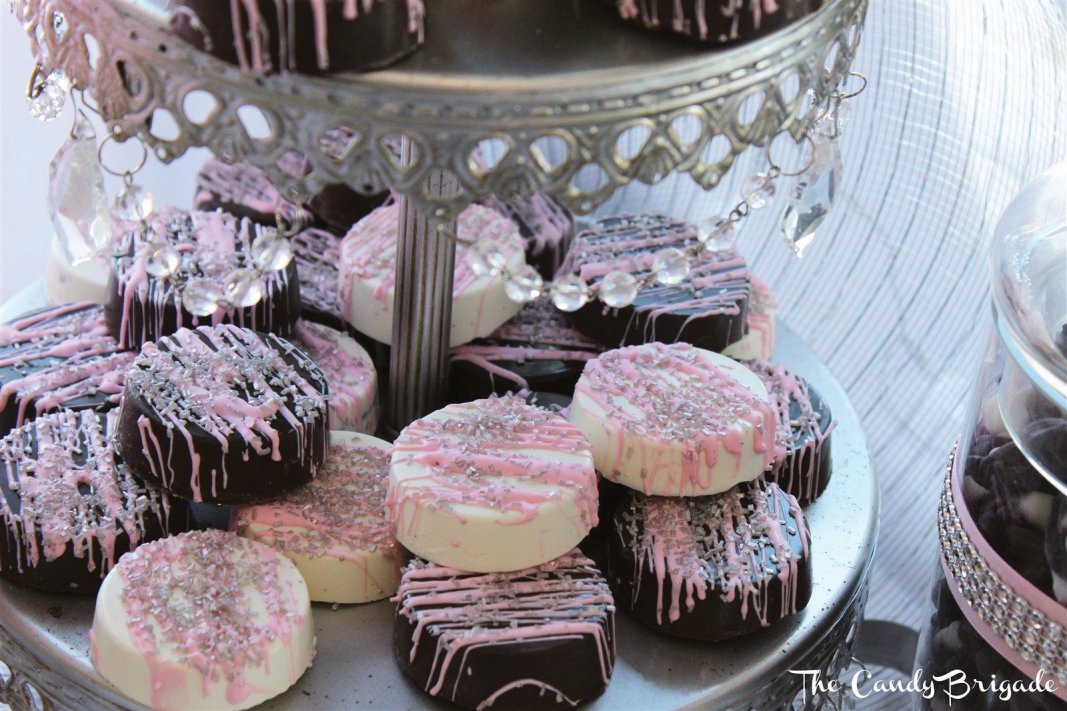 We made these adorable penguins to place on the candy jars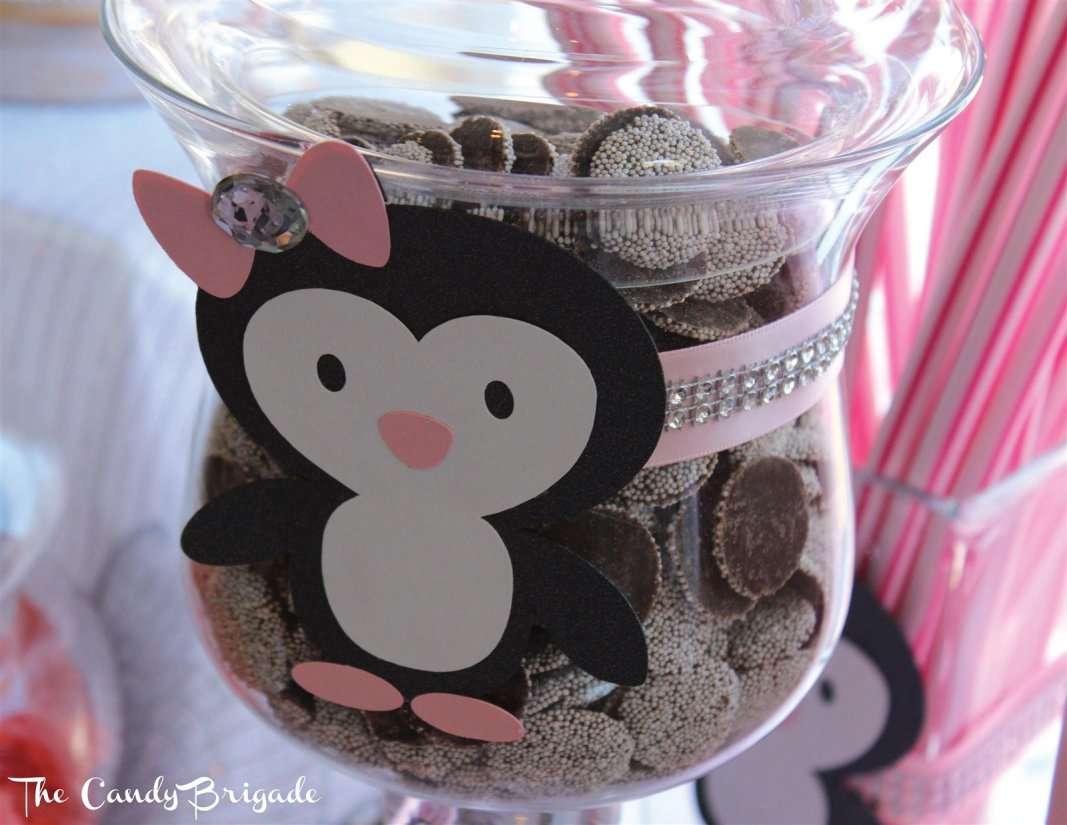 Custom Penguin Pixy Stix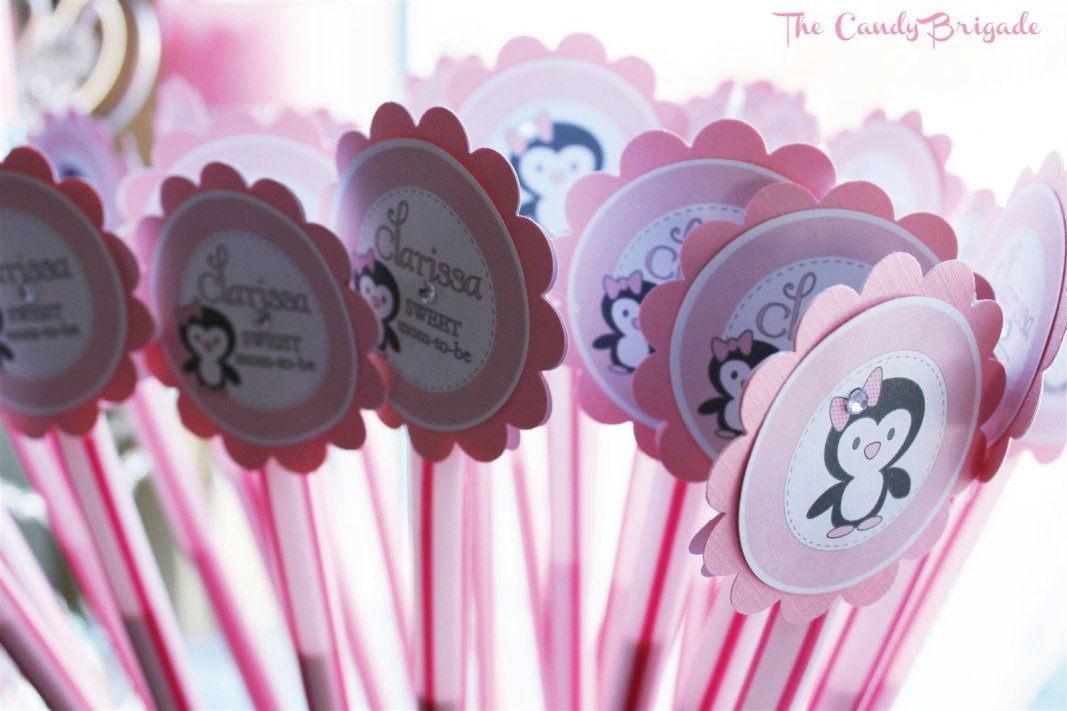 Gumball Necklaces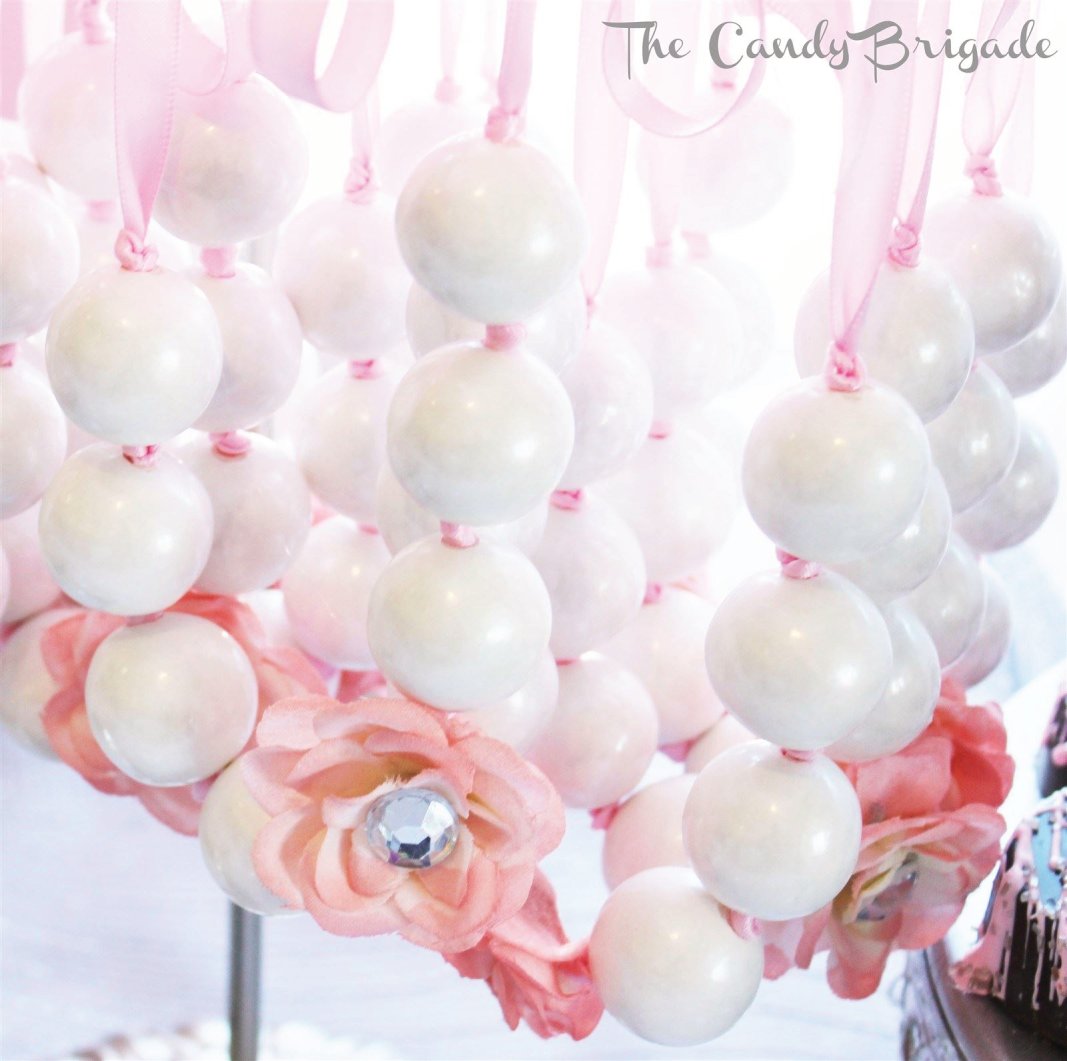 More pics of the candy buffet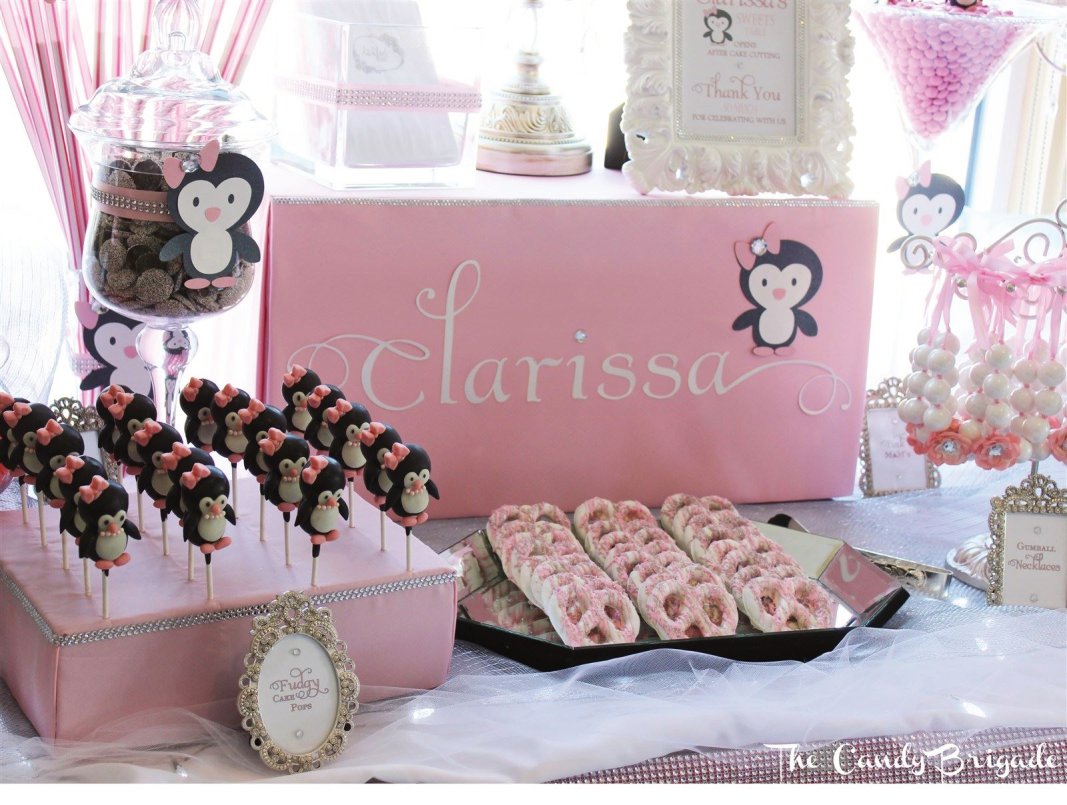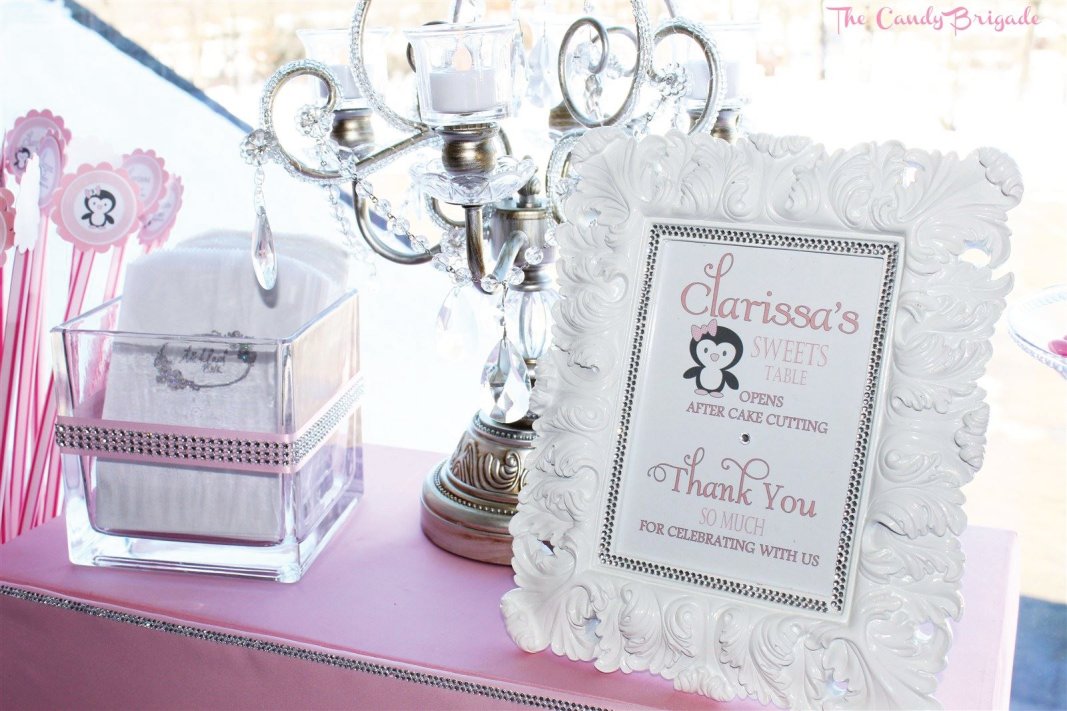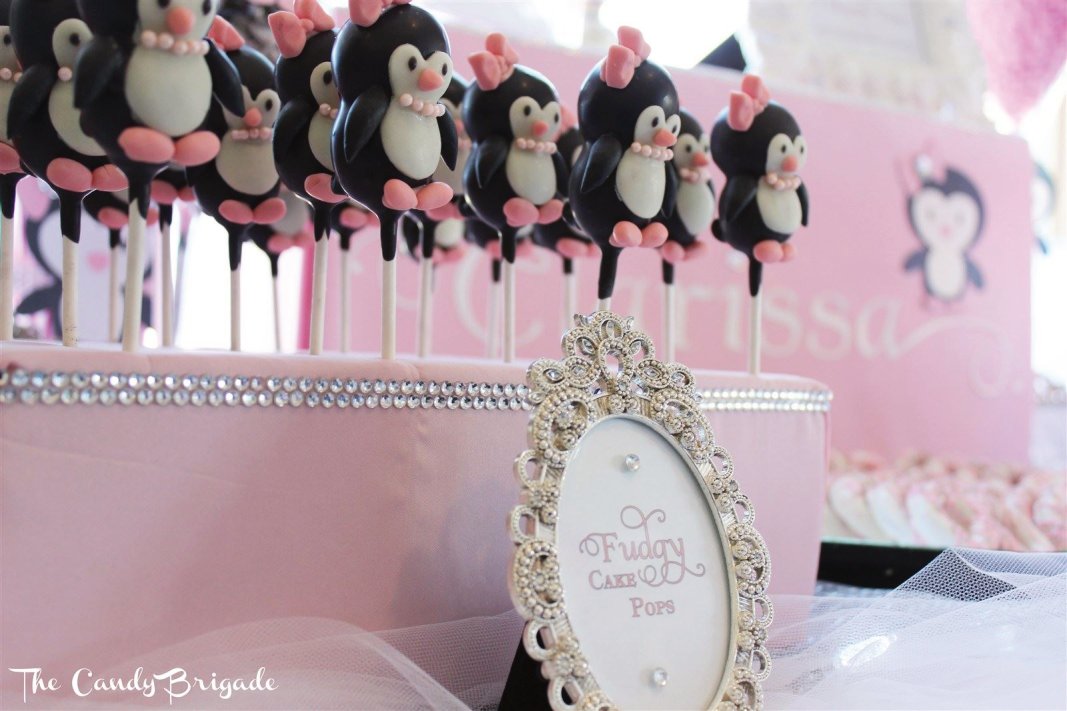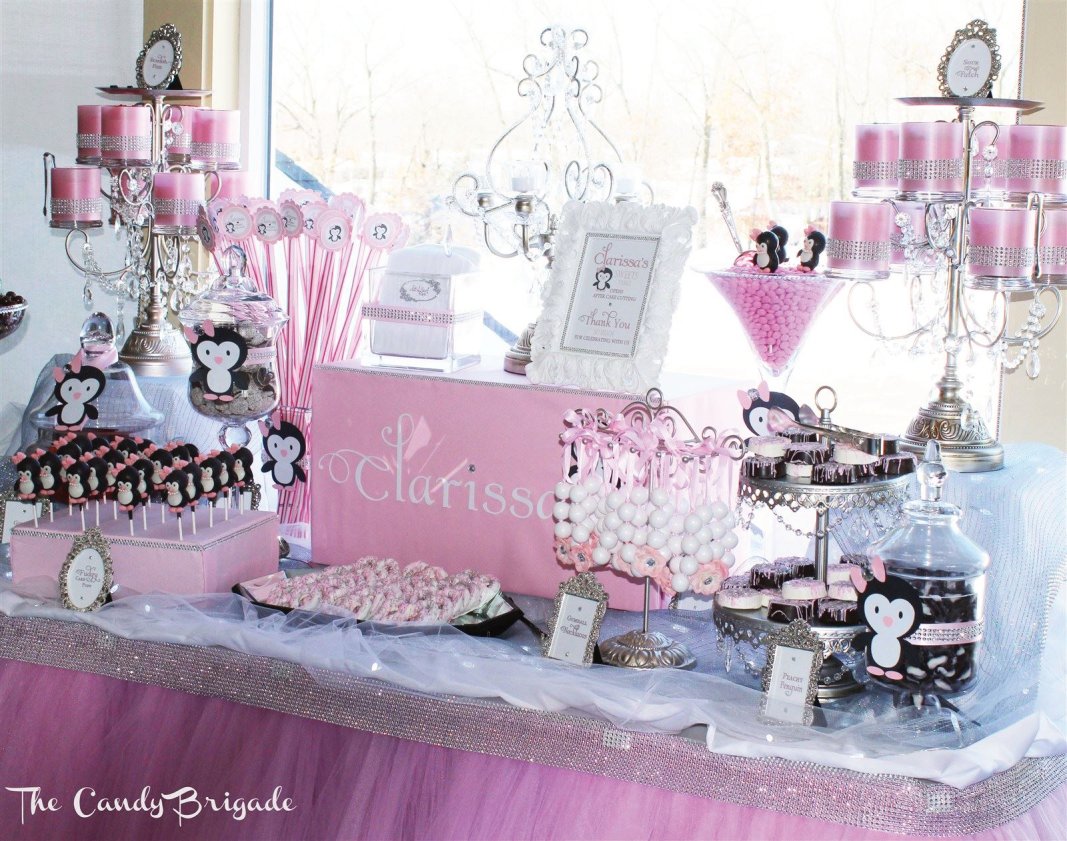 Congratulations Clarissa & Jeff!  You're going to make amazing parents! We definitely see many more cute candy buffets in your future. 
We're so excited to share images of the
Moroccan themed candy & dessert buffet
we created for Angela's Bridal Shower at
Testa's
in Southington, Connecticut.   The purple & gold sweets table coordinated perfectly with the rest of the decor throughout Angela's Moroccan themed party.
The entire table was covered in purple, gold & chocolate sweets.  Some of our favorites included Chocolate Covered Apples & Pretzels, Rock Candy, Chocolate Coins, M&M's & Grape Gummy Bears.  Yum!  Please enjoy the pictures!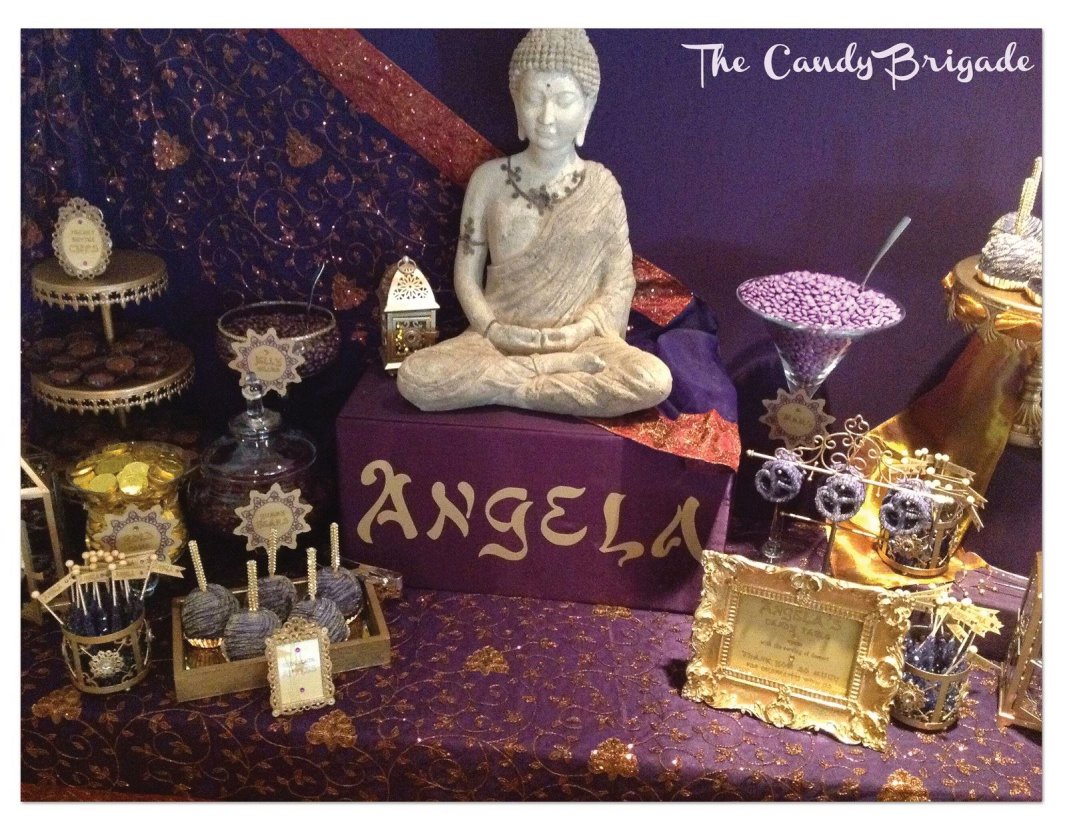 Angela's personalized rock candy sticks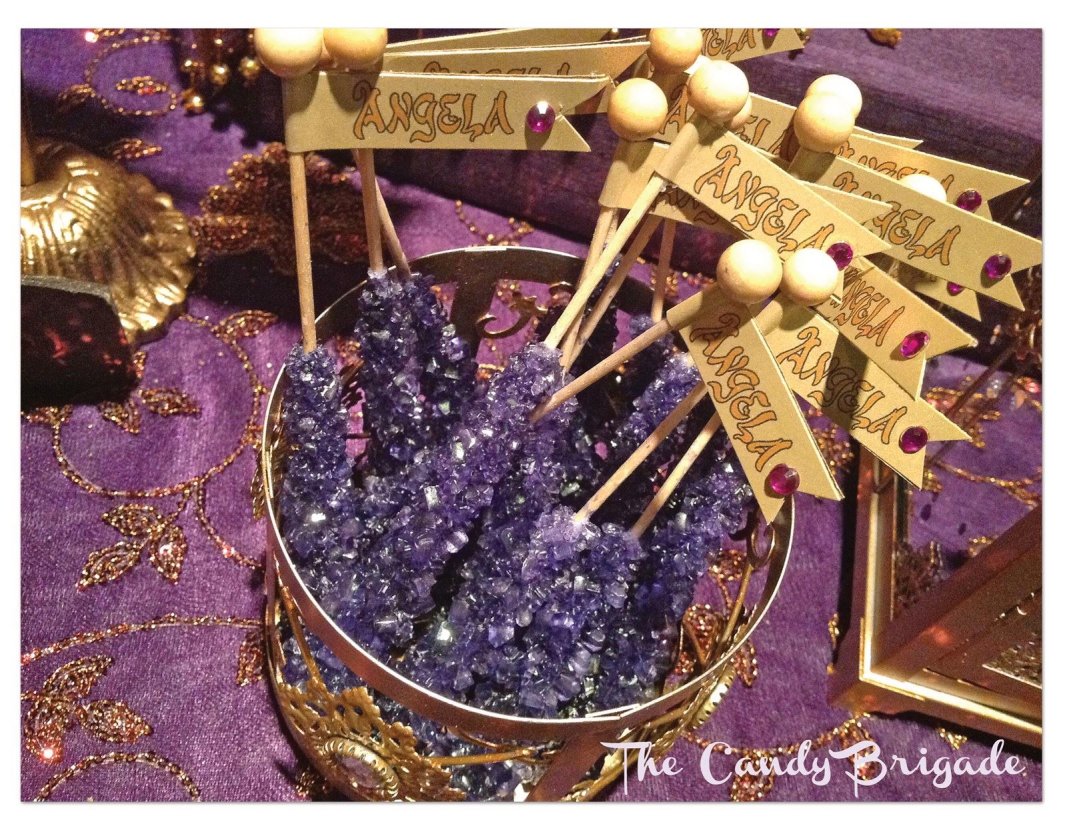 Chocolate Covered Apples in purple & gold
Chocolate Covered Pretzels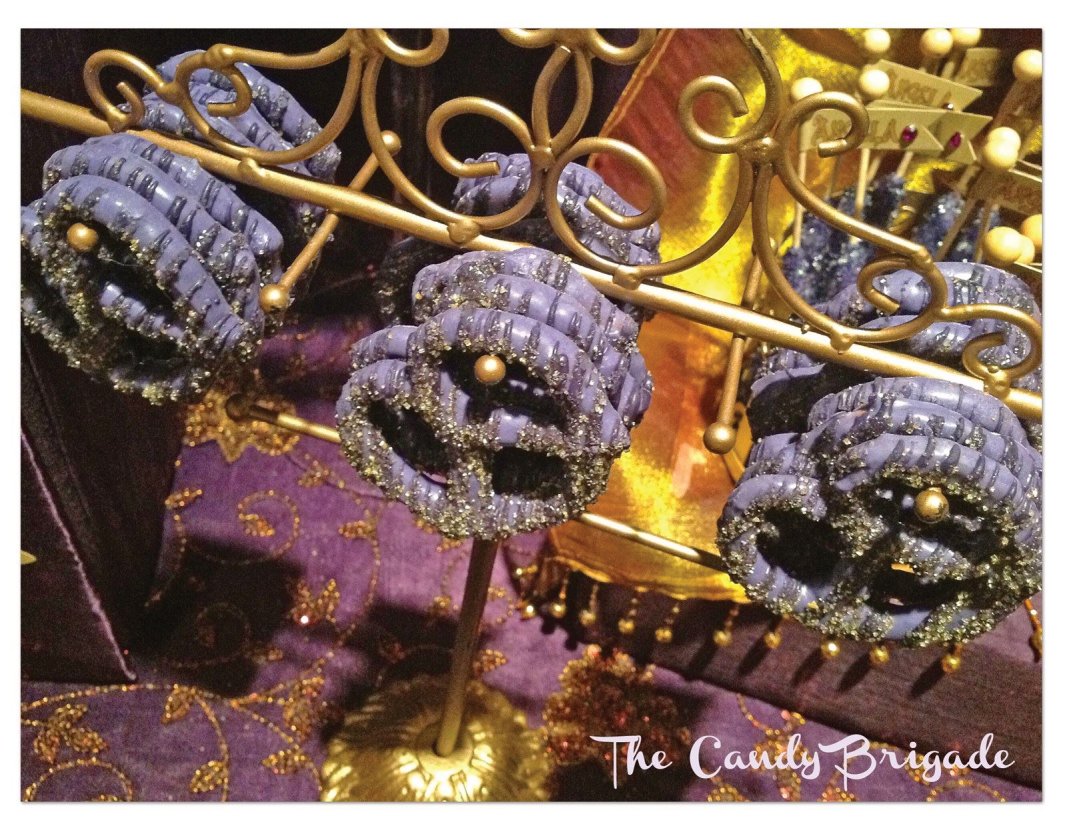 Milk Chocolate Covered Pretzels in lanterns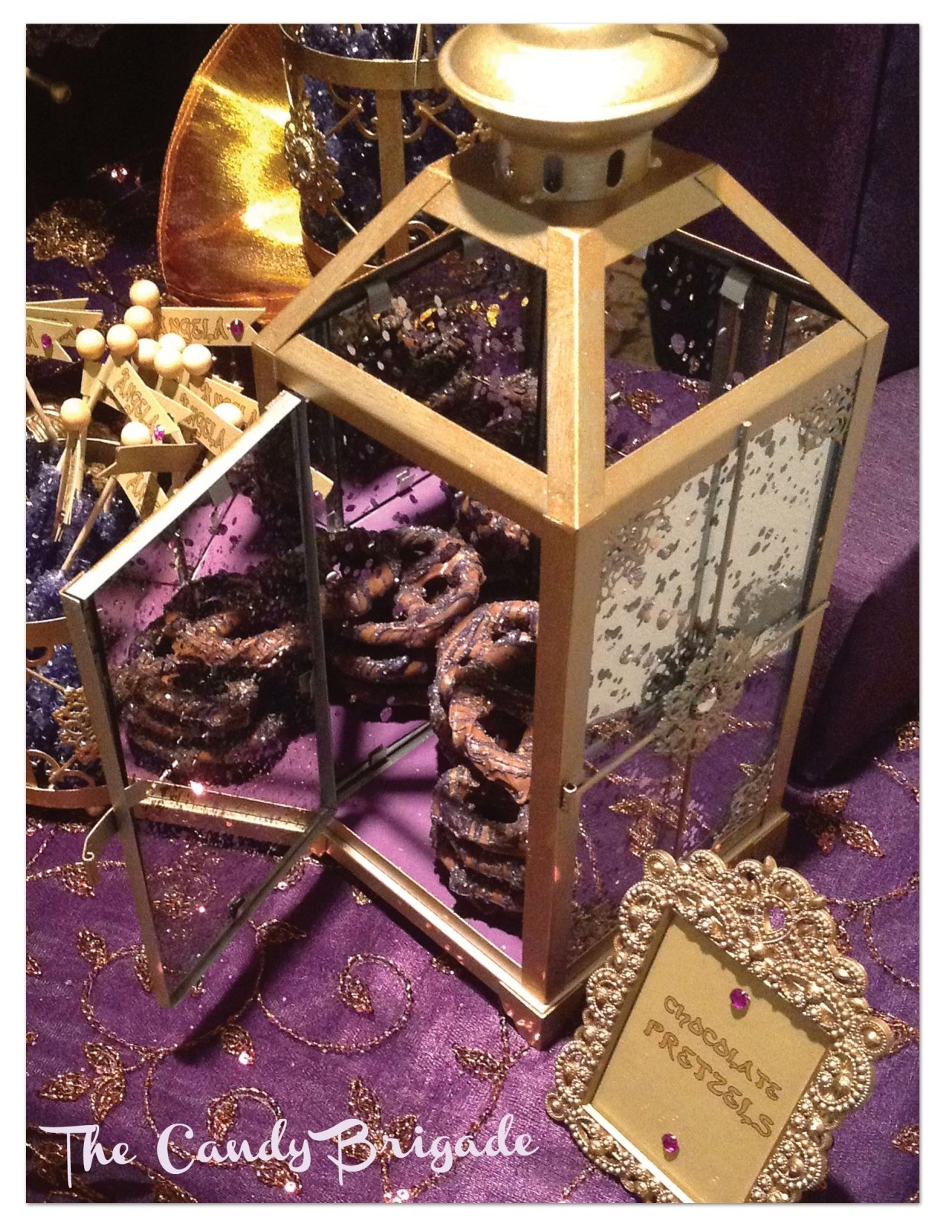 We created these Custom Gold Candy Boxes so Angela's guests could take their sweets home with them.  Perfect for a favor!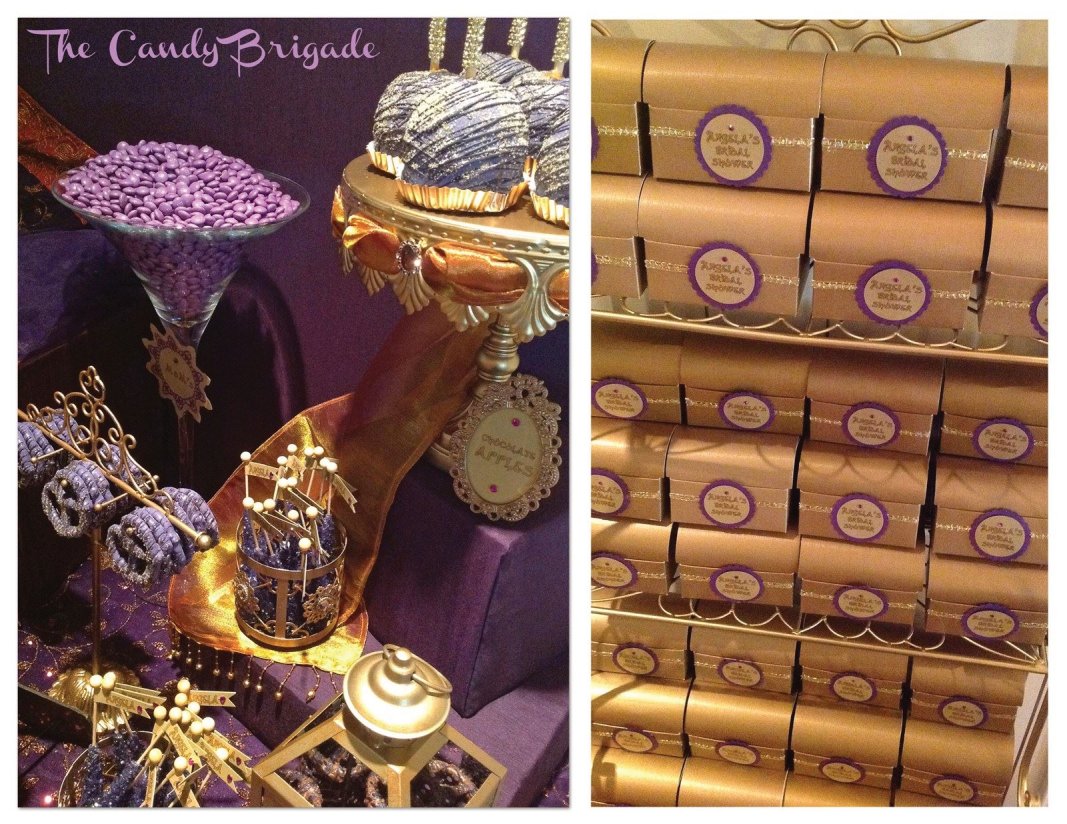 More pics of the table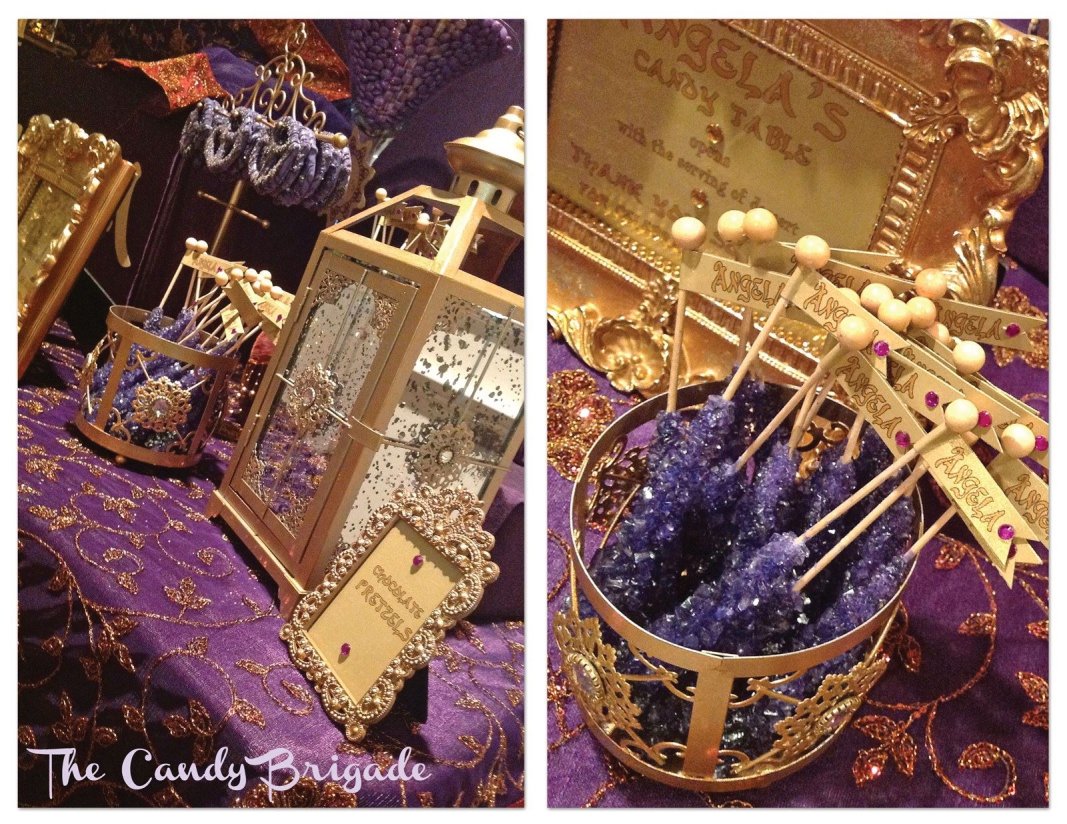 Custom sign to let Angela's guests know when the sweets table will open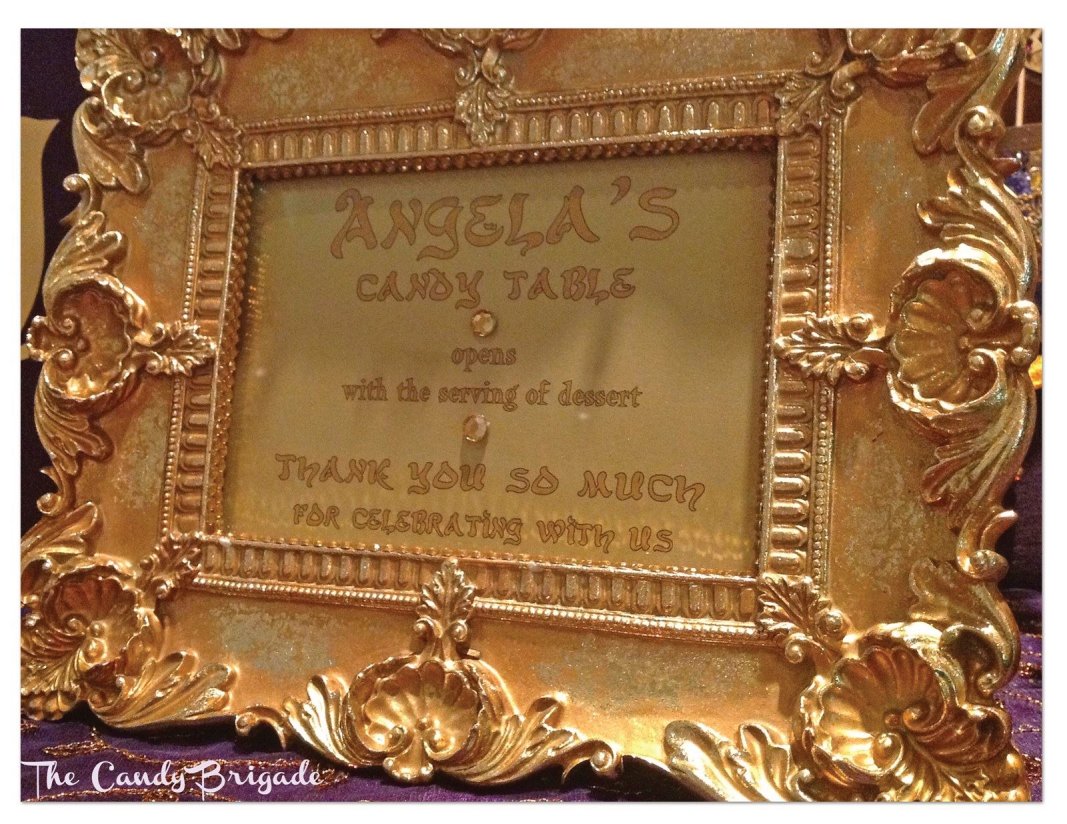 Thanks for stopping by our blog.   Be the first to see images of our candy & dessert creations, by liking us on
Facebook
.  You can also follow us on
Pinterest
for even more candy inspiration.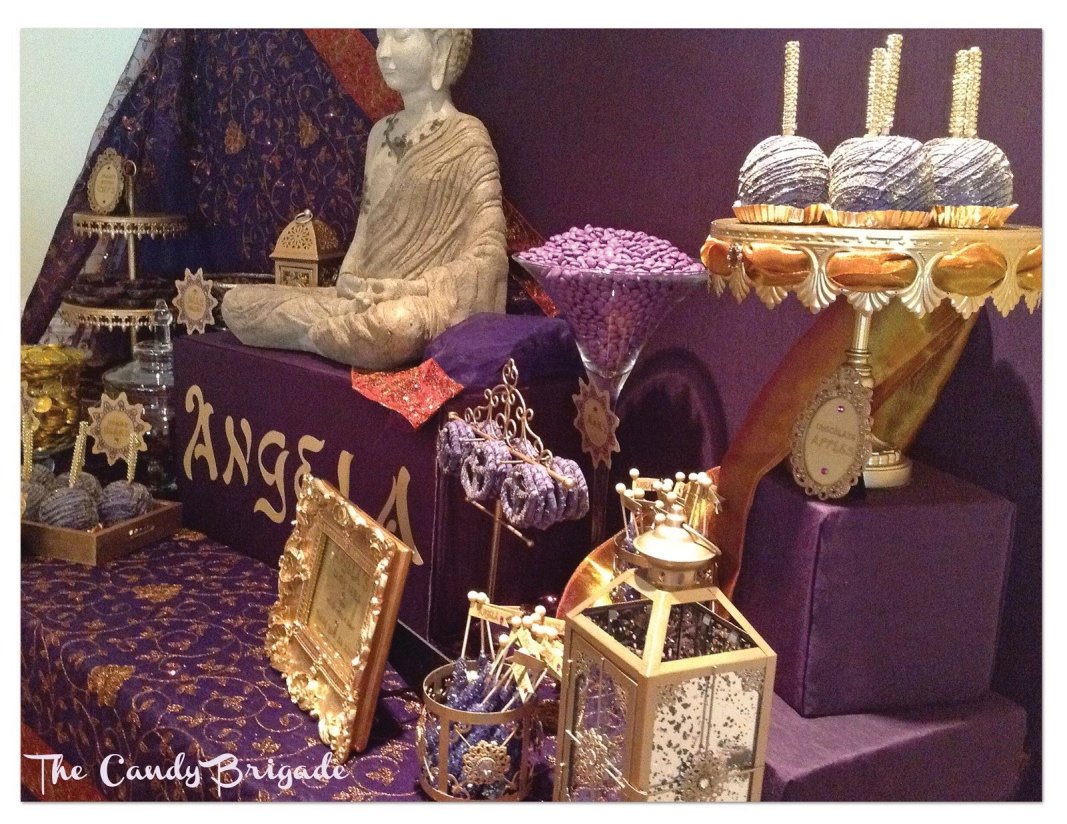 Would you like us to sweeten up your next event?  Please
contact us
for availability and pricing.
We're so excited to share photos of the white & silver candy & dessert table that we created for Stephanie & Michael's wedding at the
Saybrook Point Inn.
We met the beautiful bride, Stephanie at the Hartford Bridal Expo, where she fell in love with the glitzy white & silver candy table that we had on display.  Stephanie was envisioning something very similar for their elegant wedding at the Inn..........lots of bling, tons of glam & loads of goodies.    This wedding was right up our alley!
Take a look at the 12 foot spread of delicious desserts & candies that Stephanie & Michael provided to their wedding guests.  We heard the table was a huge hit!
Designer Chocolate Covered Oreos & Personalized Candy Buffet Sign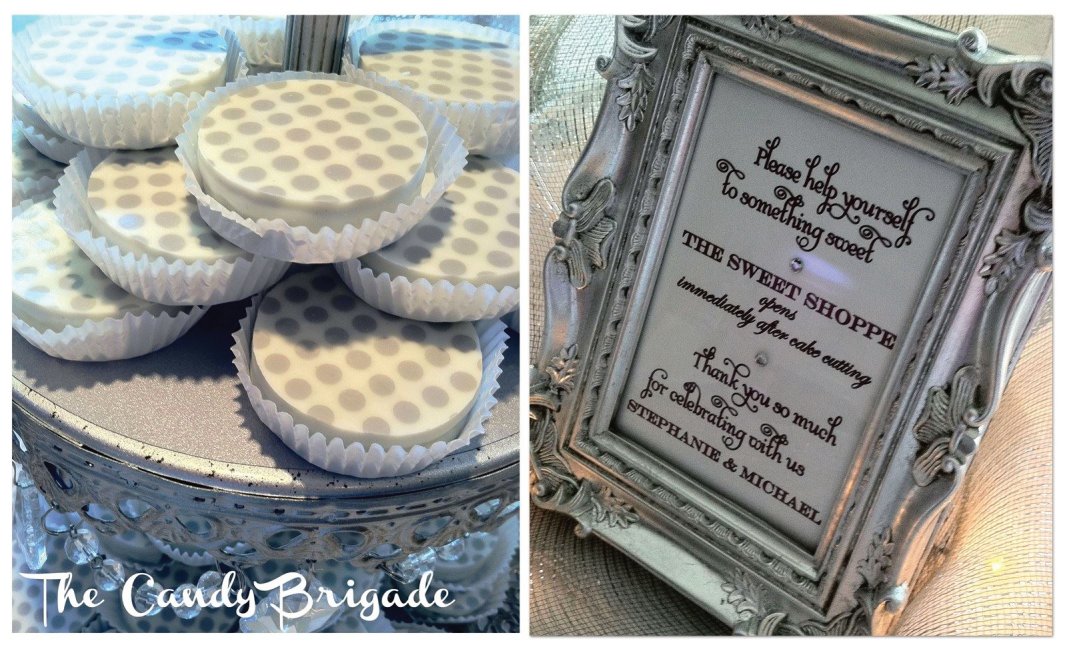 The very popular Jumbo Cupcakes......with cupcake wrappers & signs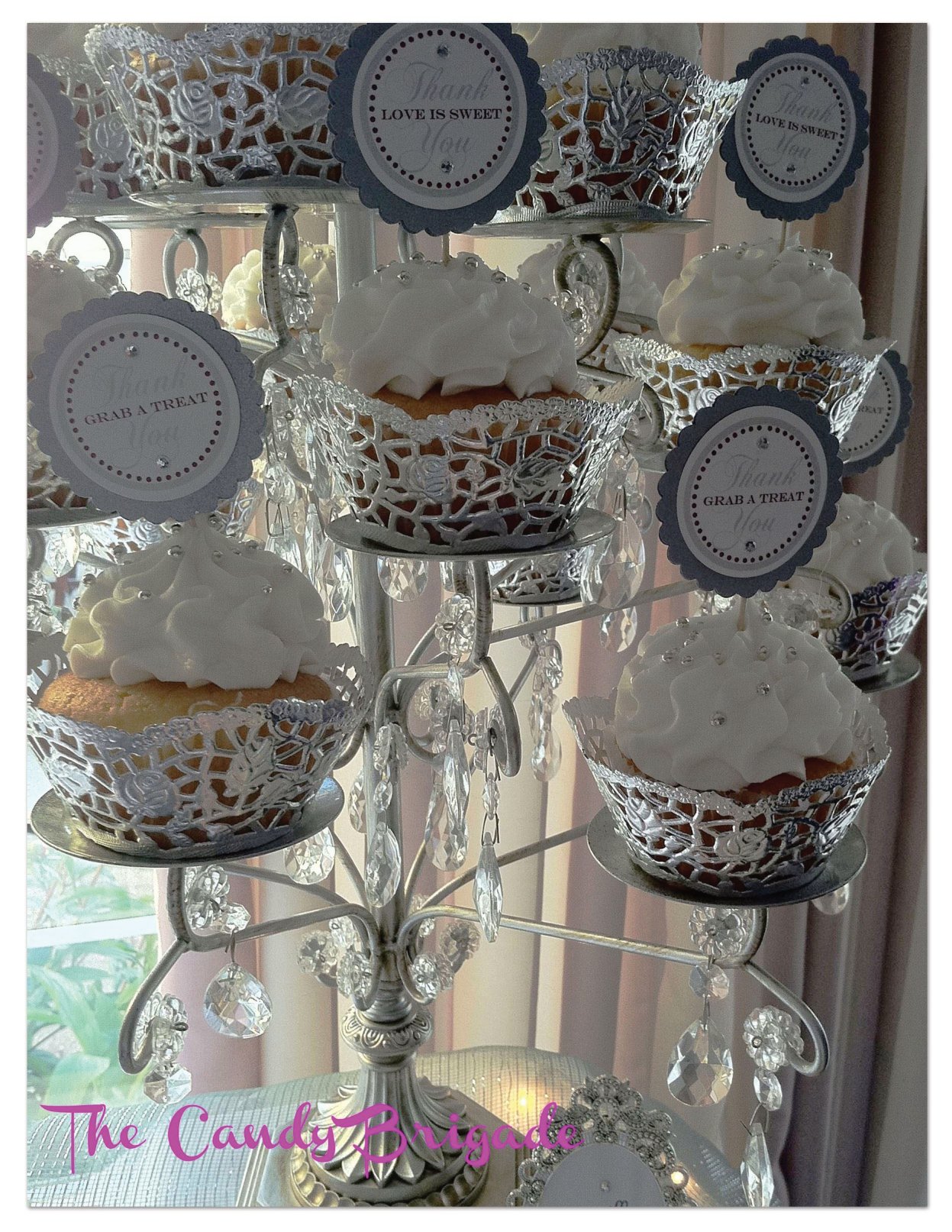 Polka Dot Oreos & Rock Candy Bling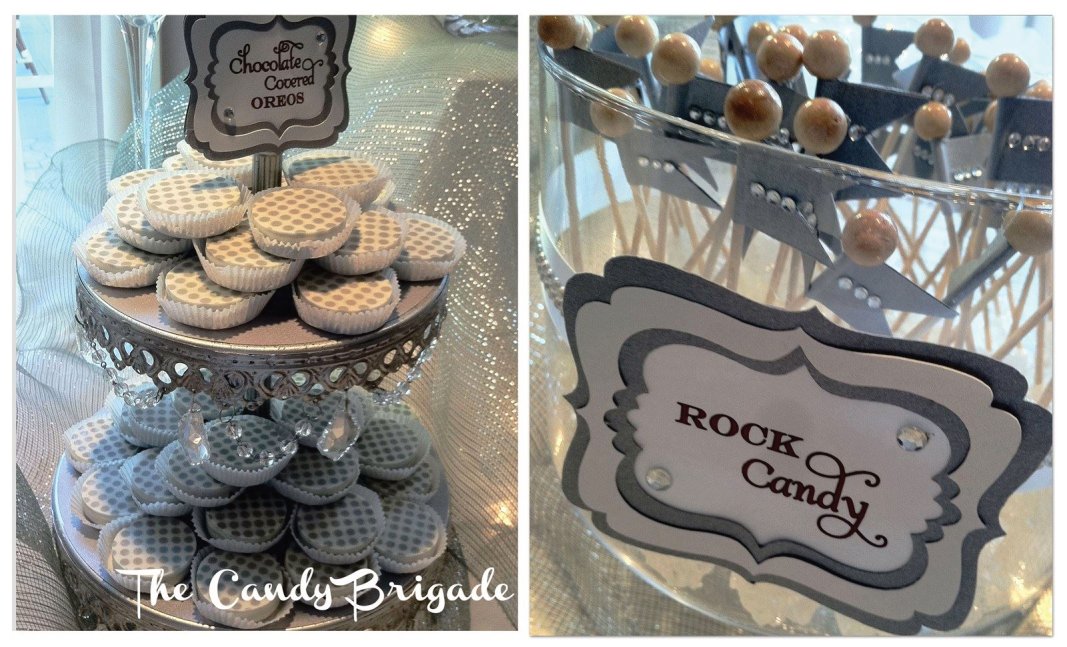 More pics of the table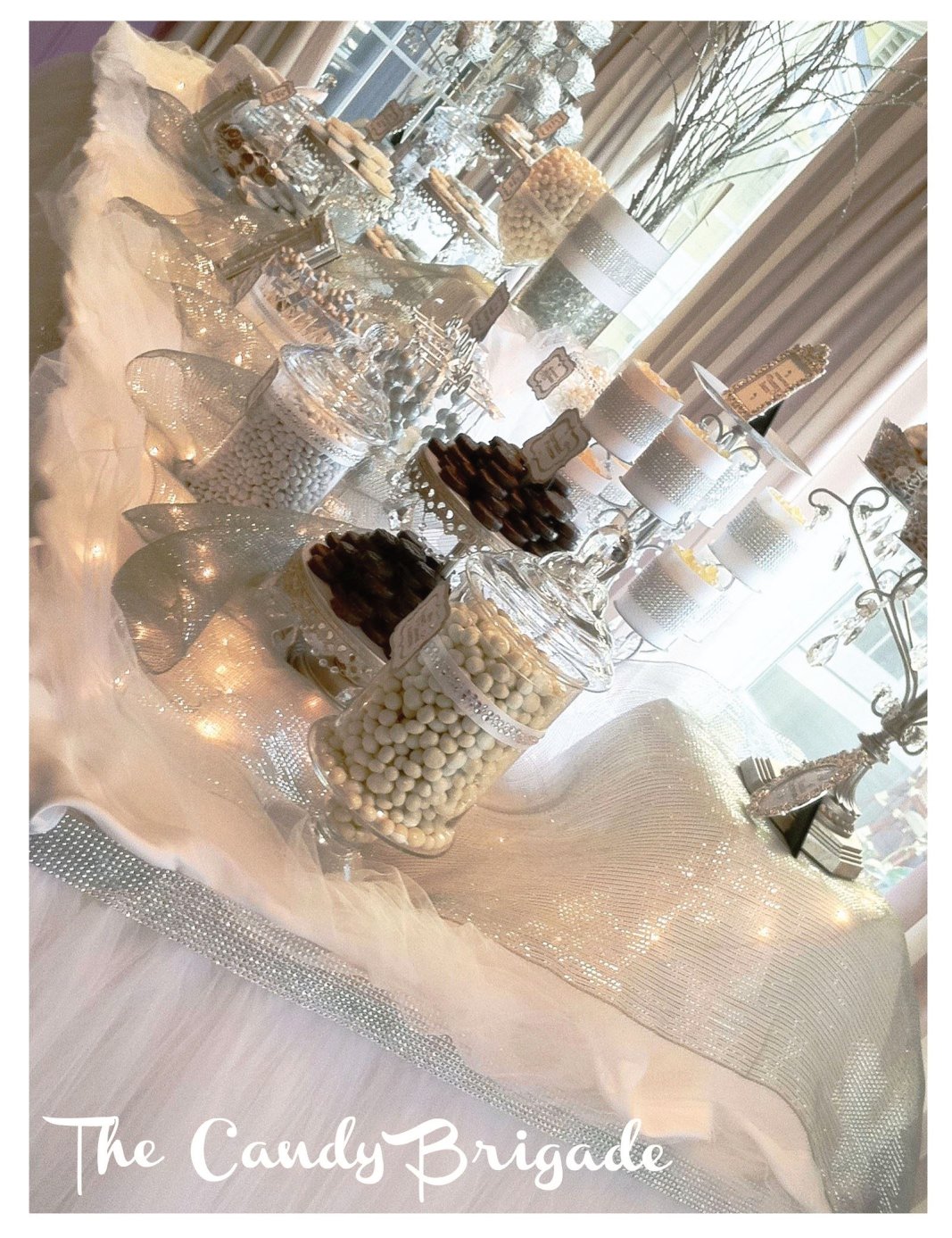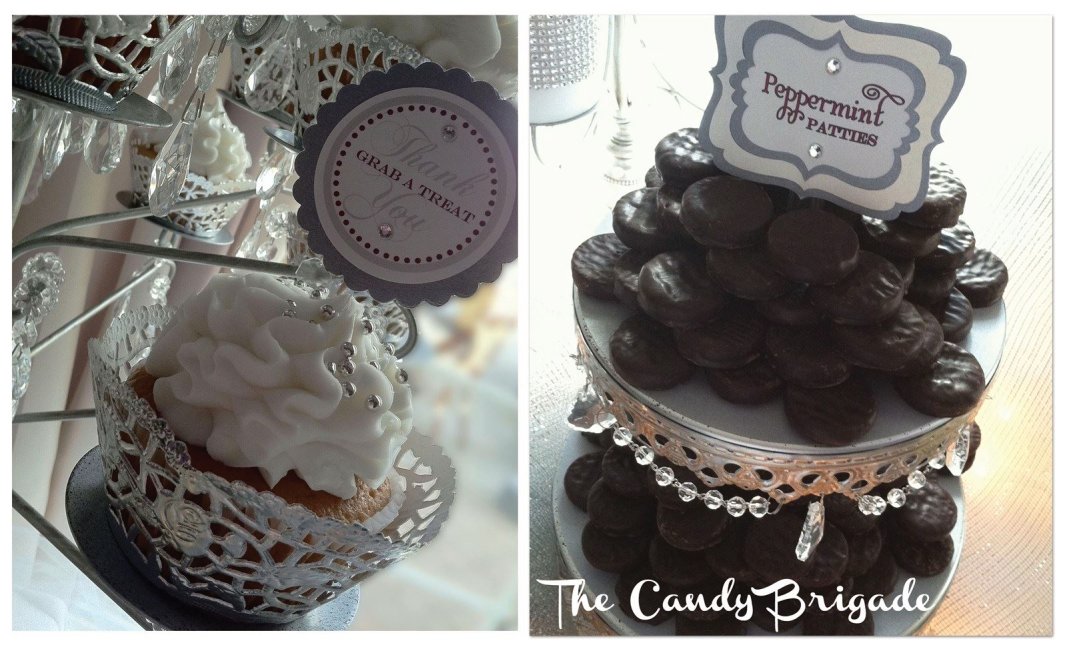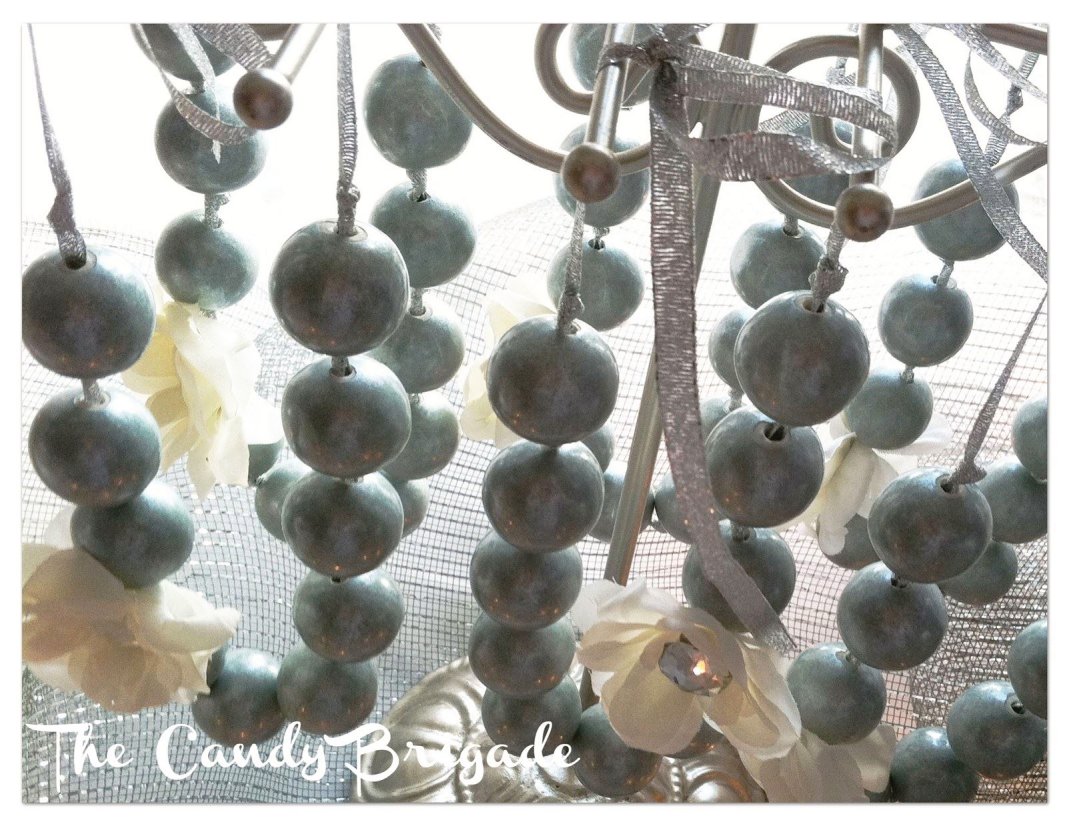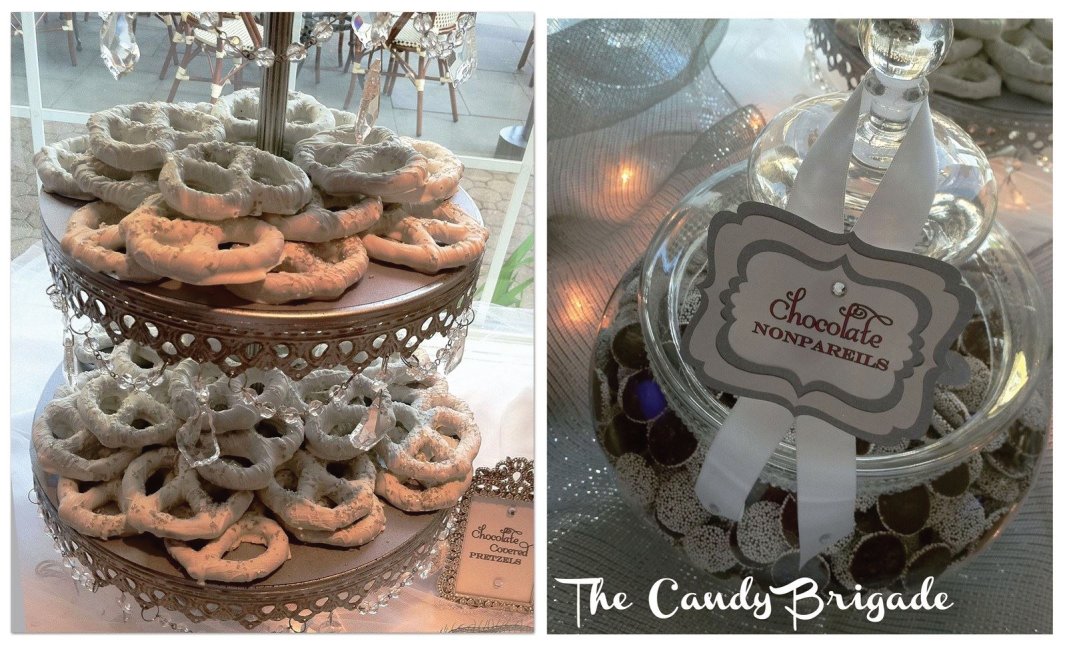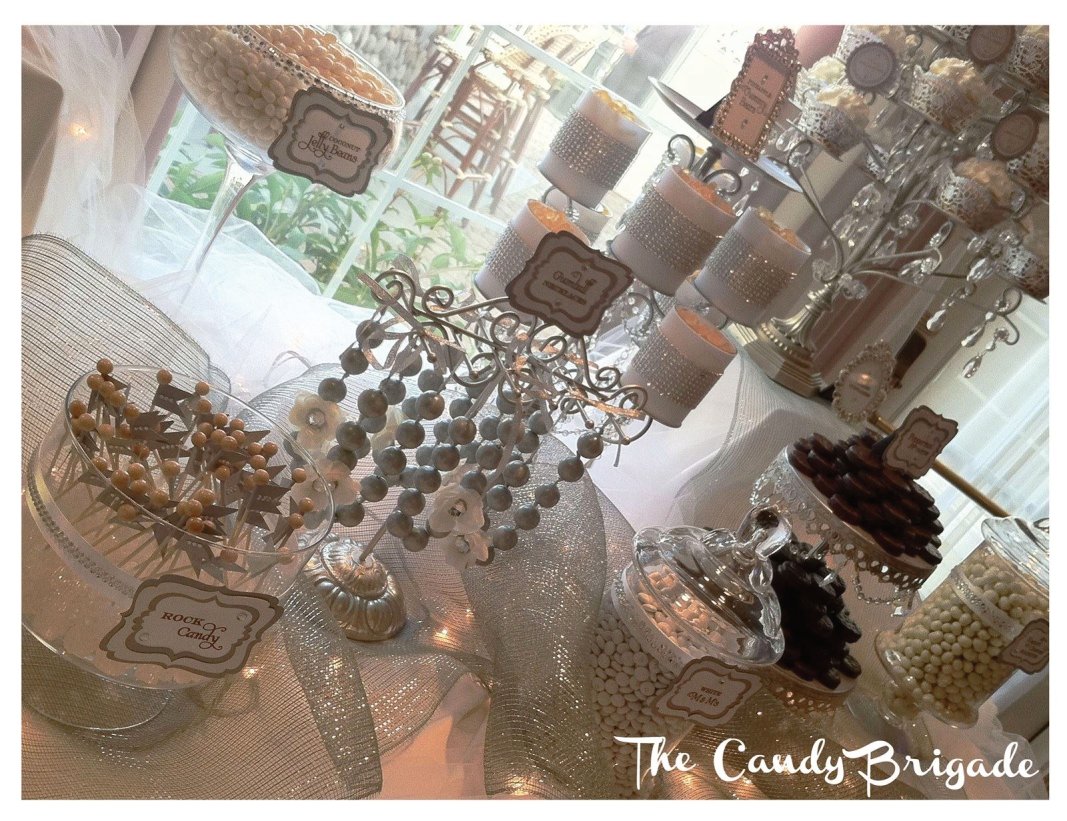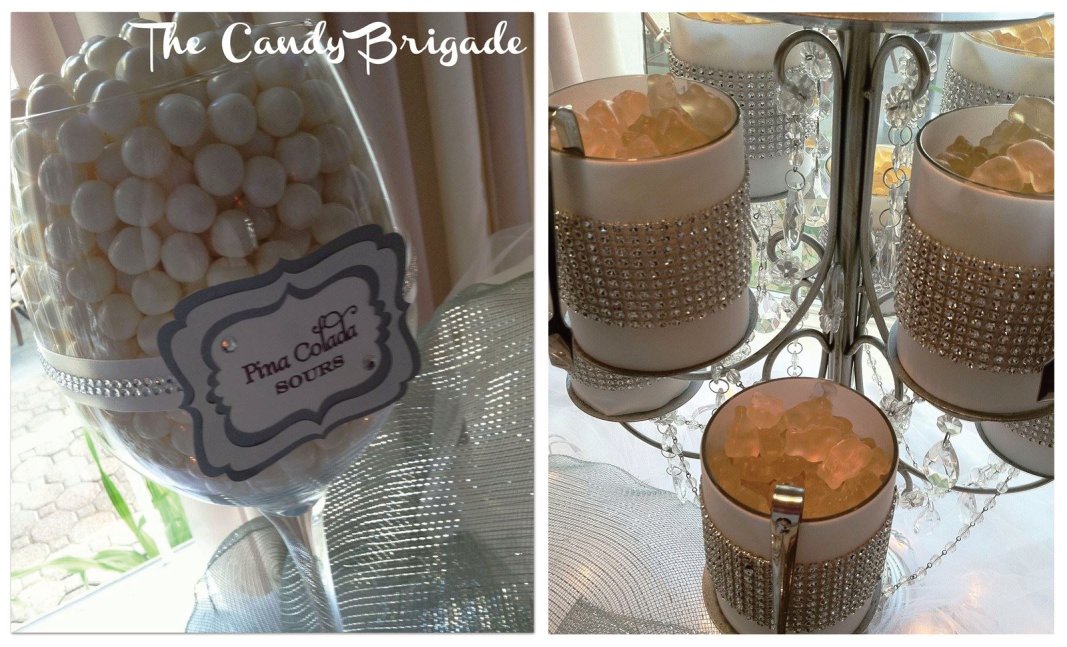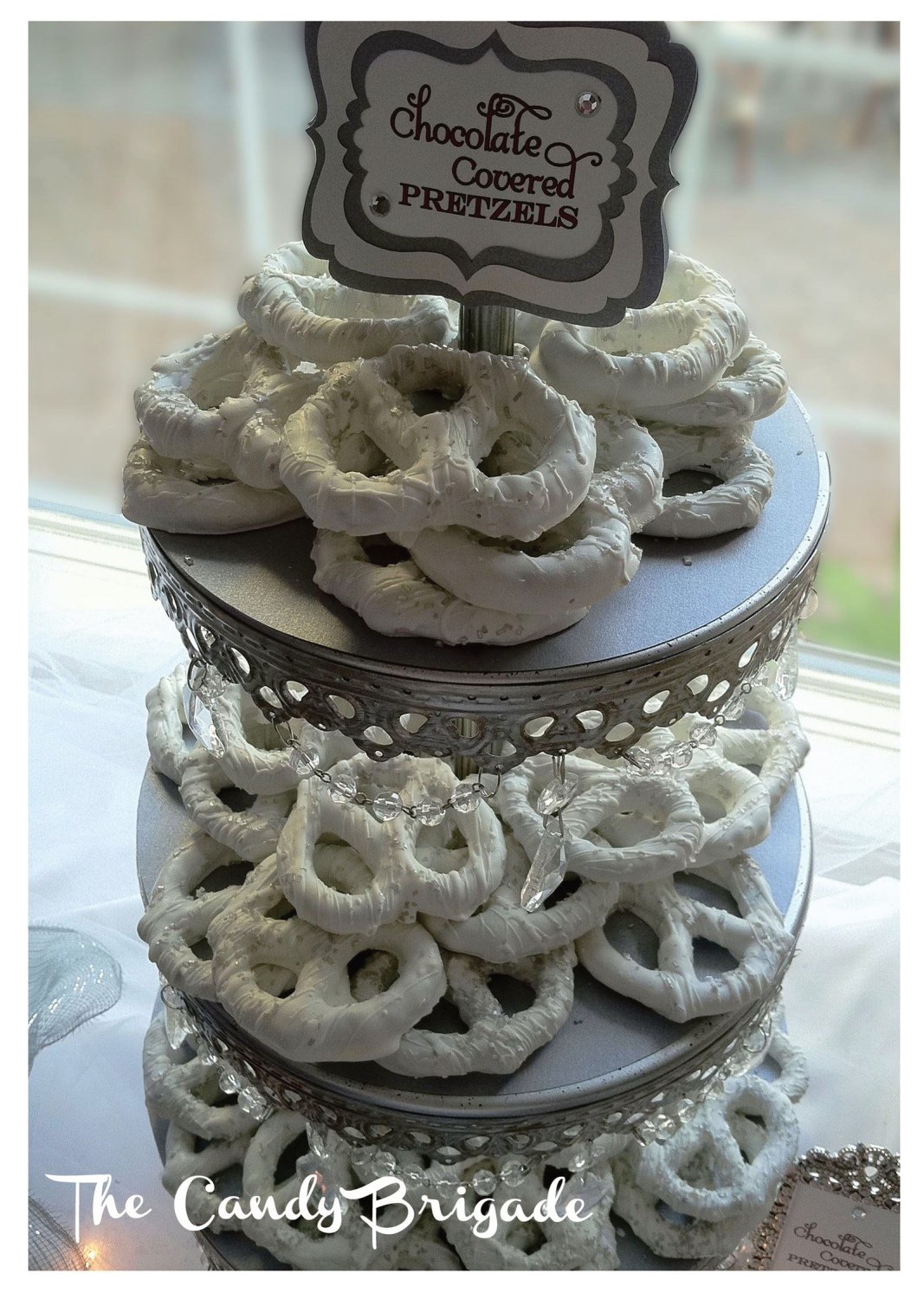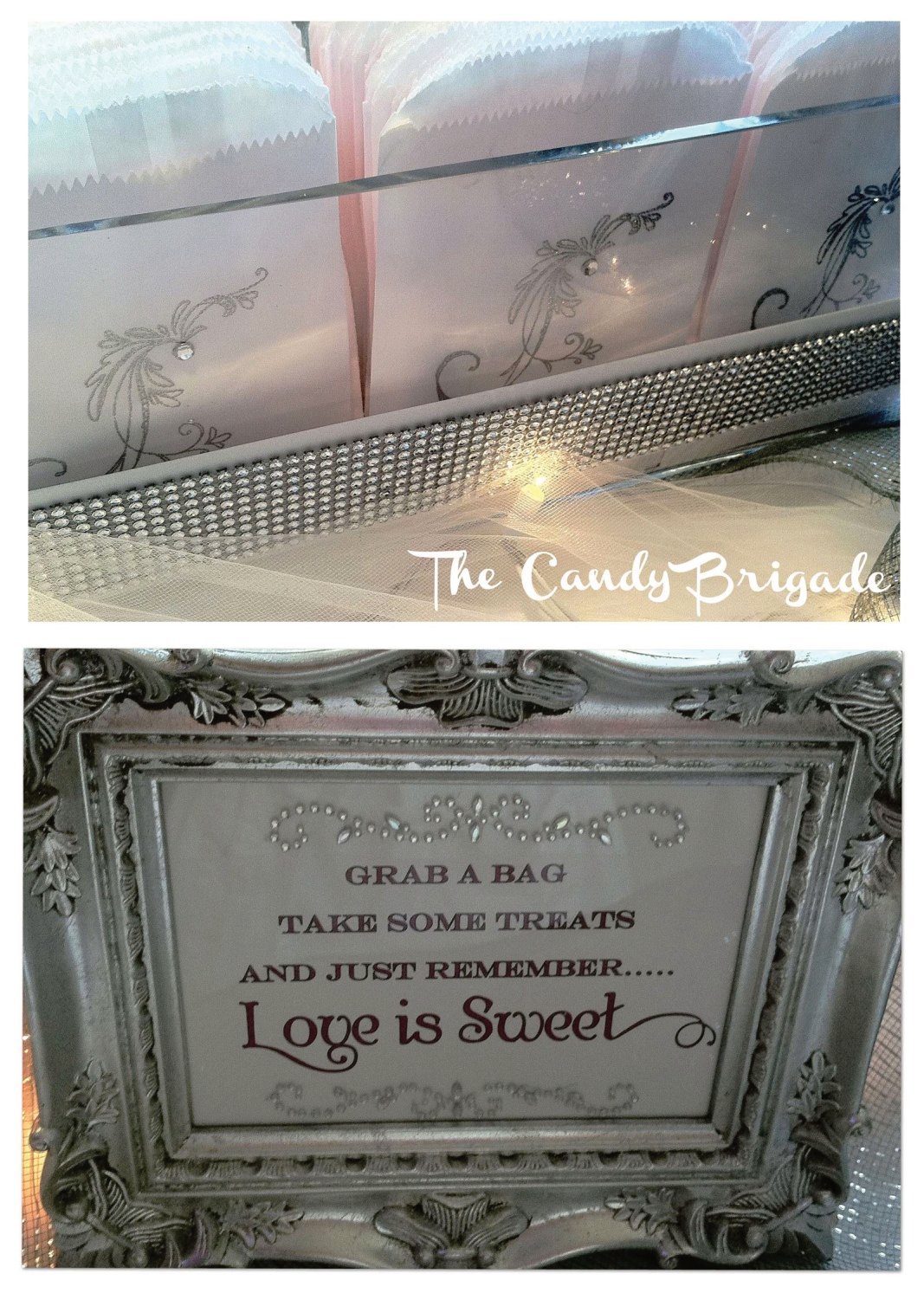 Would you like us to create a candy or dessert table for your next event?  Please e-mail us at 
[email protected]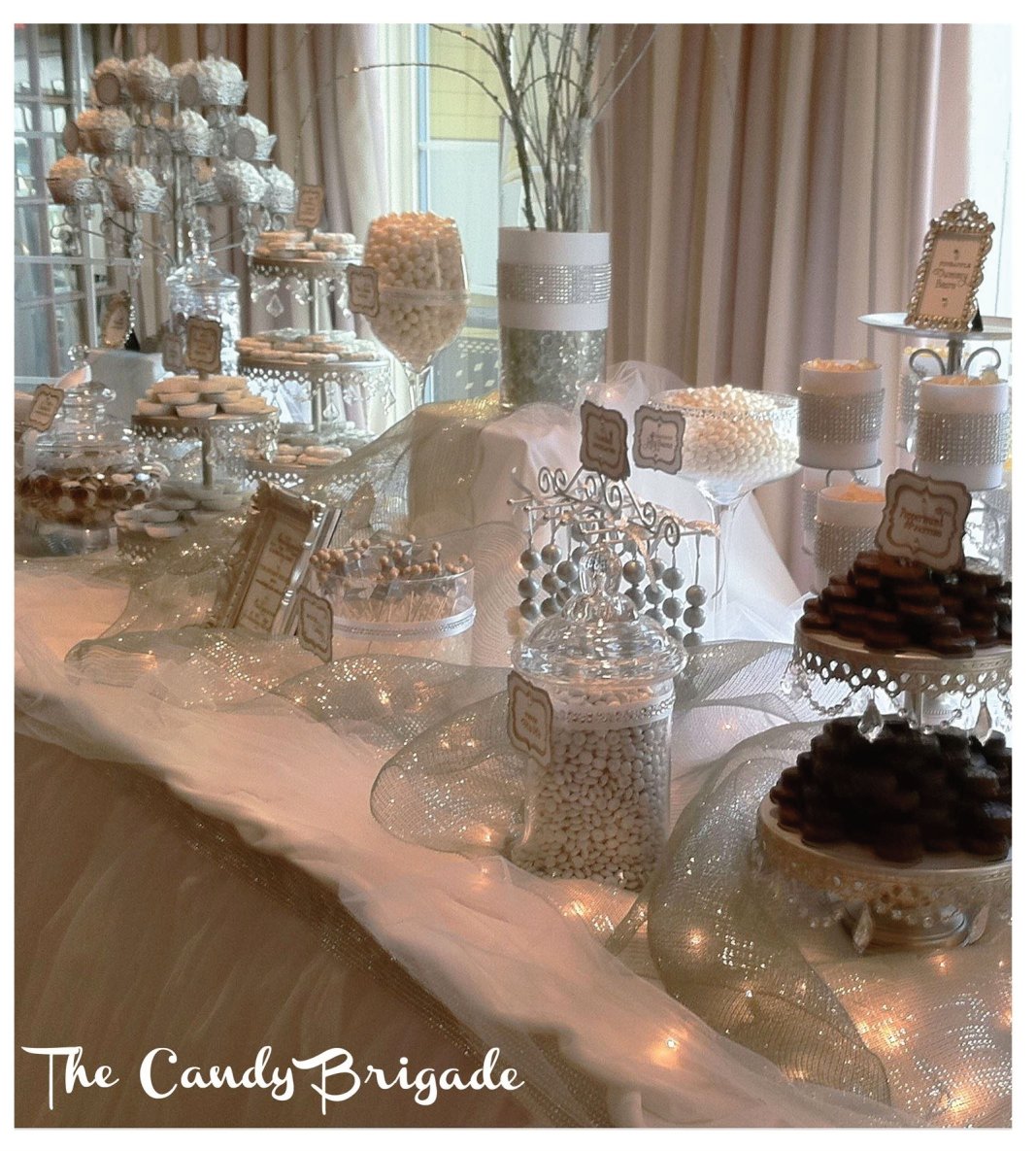 Only a few more weeks until spring & we cannot wait!  As I sit here under my warm fuzzy blanket, I can't help but daydream about the exciting trip we took to
Mamaroneck Beach & Yacht Club
in Mamaroneck, New York.  The club is located on a stunning multi-acre waterfront estate with breathtaking views of Long Island Sound.   Ahhhhhhh..... we must go back.
So, why did we make the trip?  We were contacted by Nareen, a fabulously fun mom who wanted to make her daughter, Adrianna's baptism a day to remember.  As soon as Nareen started telling us about Adrianna's celebration, we knew one of our custom designed candy buffets would fit in perfectly.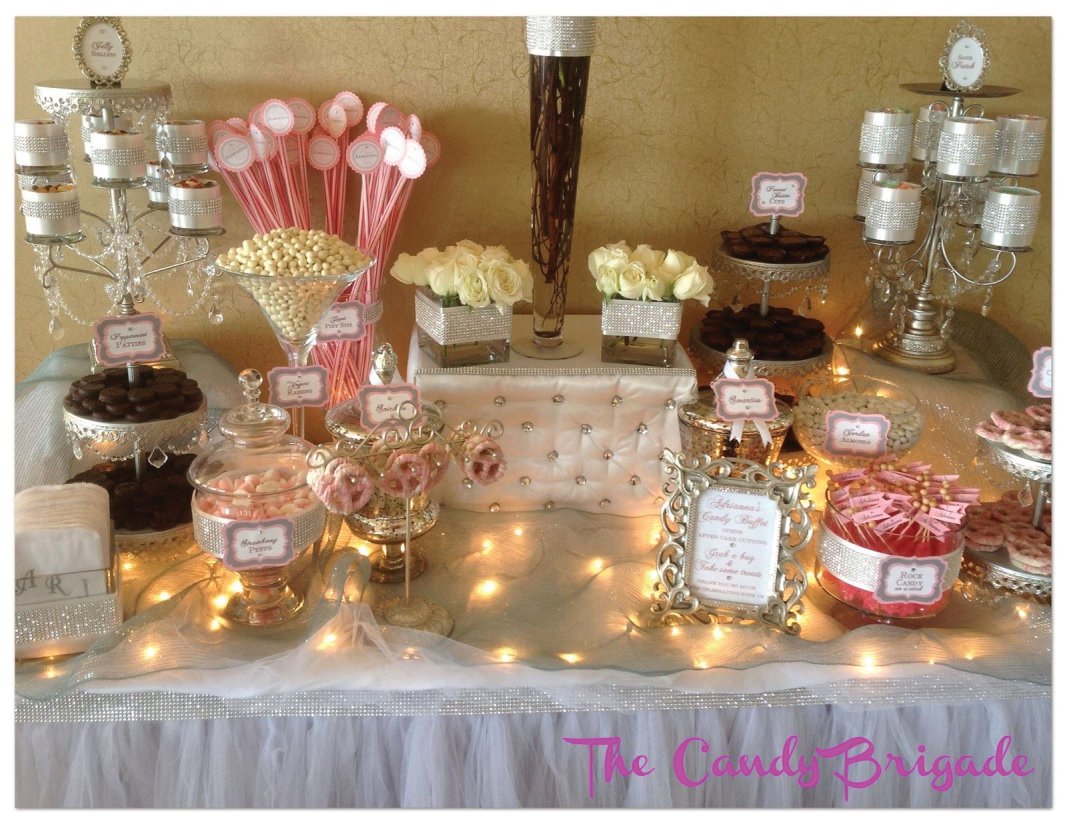 For Adrianna's party, we created a very sparkly, extremely elegant candy table all decorated in pink & white.   Some of yummy sweets included Chocolate Covered Pretzels, personalized Pixy Stix & Rock Candy (created especially for Adrianna).
We provided custom embossed candy favor bags so guests could enjoy themselves for days or weeks to come.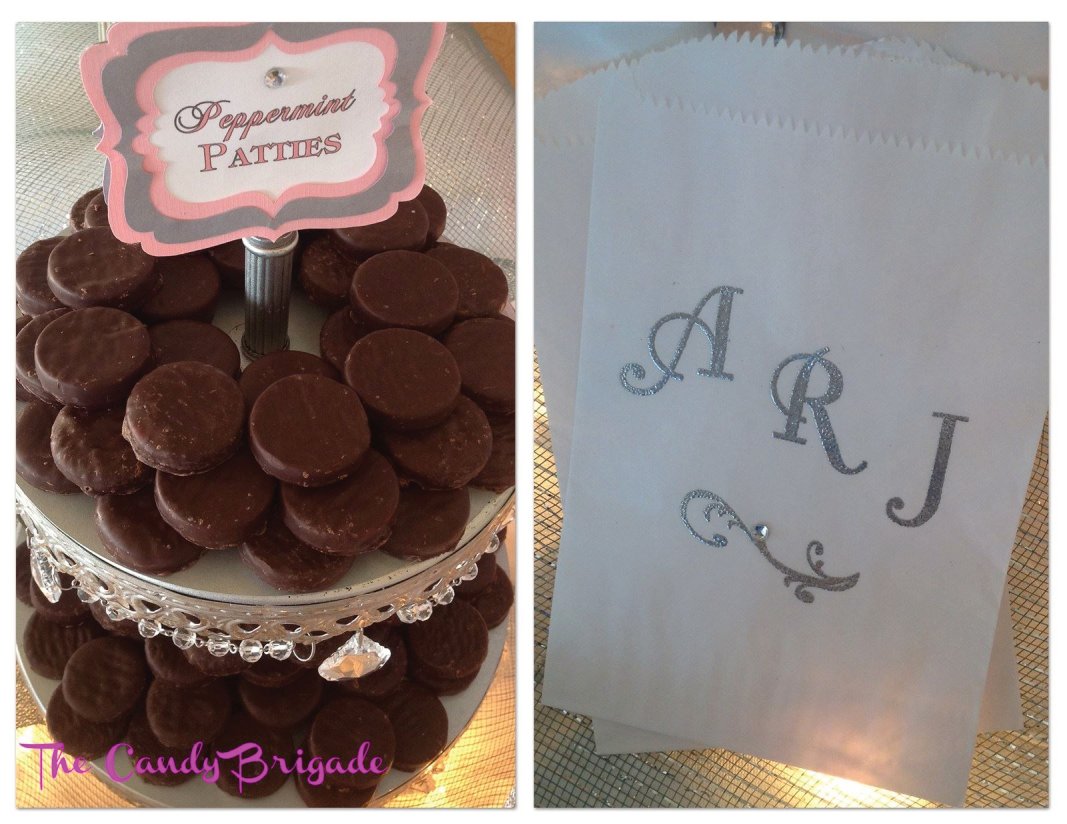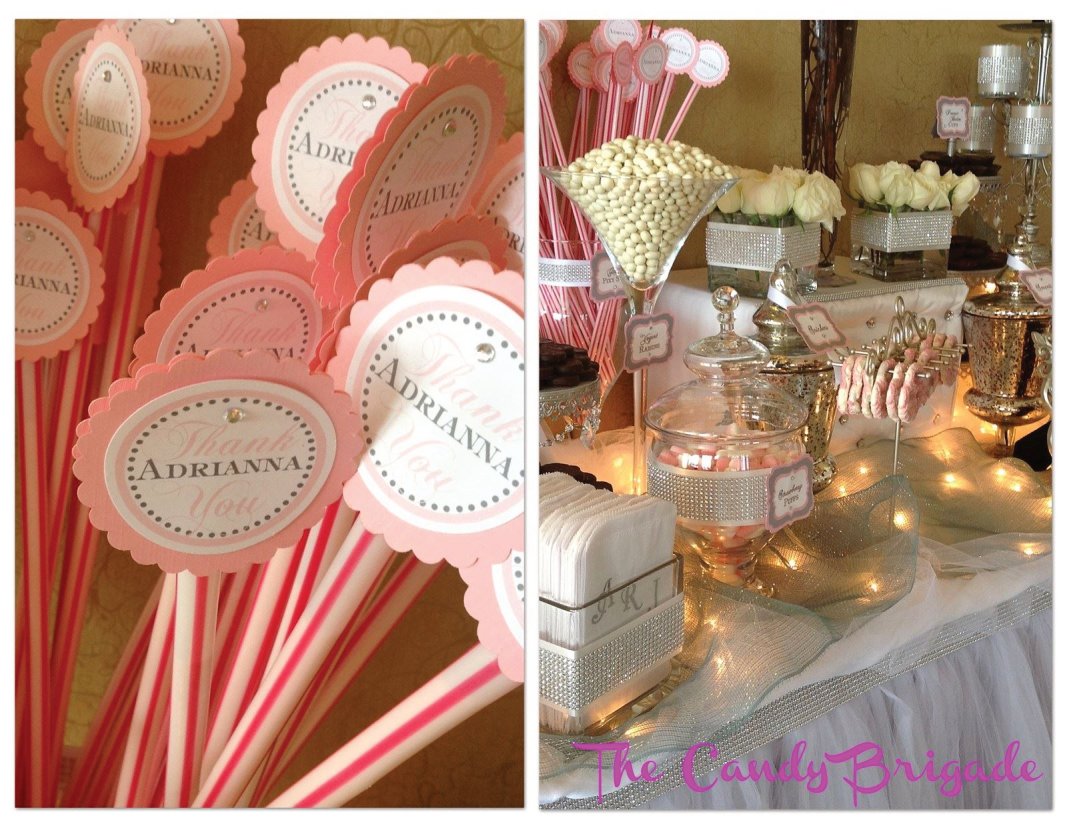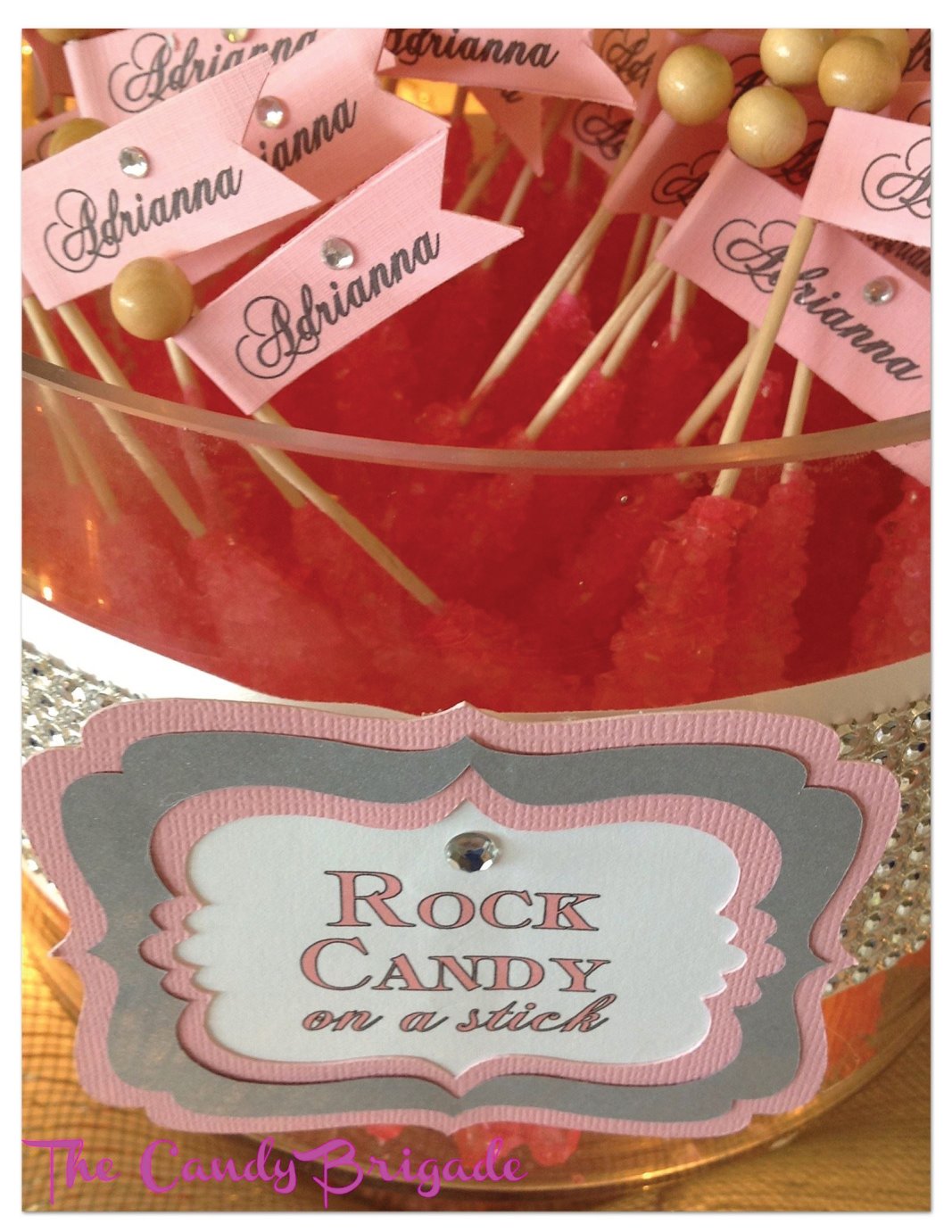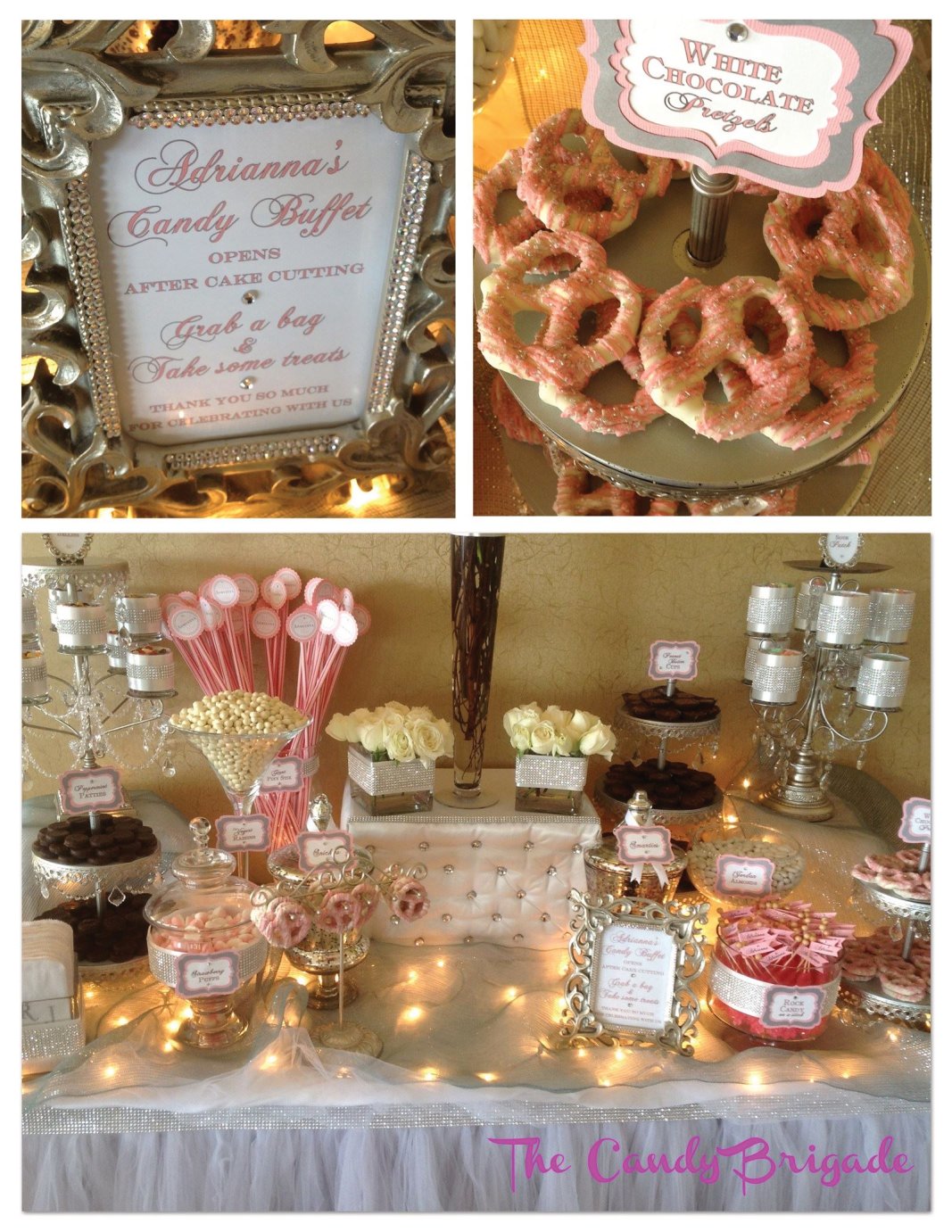 Is your bundle of joy having a special day? 
Contact us
to get more info on our custom designed candy & dessert tables.  Oh...and please make sure you like us on
Facebook
.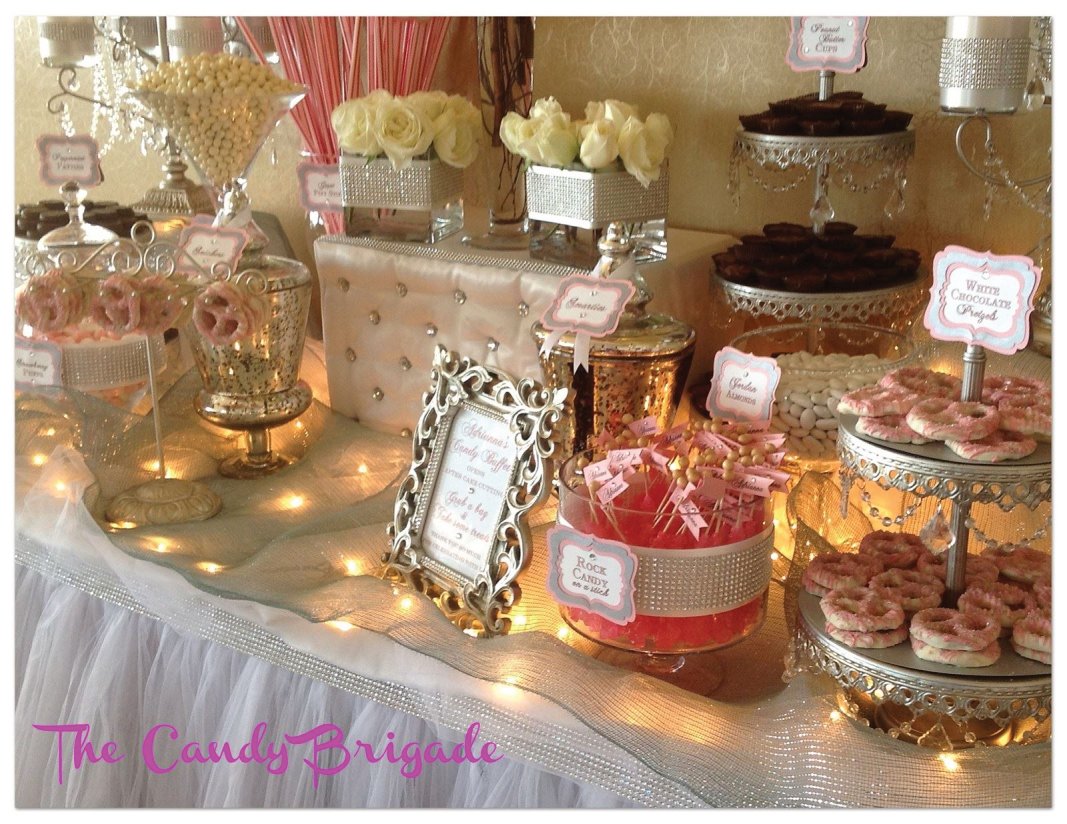 White Chocolate Covered Pretzels with silver sparkle.
Custom Centerpiece Box
Pink French Macarons with Raspberry Filling
Full Table
Strawberry Puffs
Custom Whirly Pops
Pearl Necklaces
More Candy......
Candice's Tiffany "Pink" Candy Table
What a great weekend!  We spent Saturday and Sunday at the CT Bridal Expo where we met so many awesome people!!  


We displayed our popular Tiffany Themed Candy Buffet.  The table contained all of our favorite sweets - Chocolate Covered Oreos, Custom Designed Gumball Necklaces, Chocolate Covered Twinkies, Rock Candy on a Stick, Giant Pixy Stix, Chocolate Covered Apples and more.
We're going to do this blog in 2 parts as we have so much to share.    Here are a few pics from the show.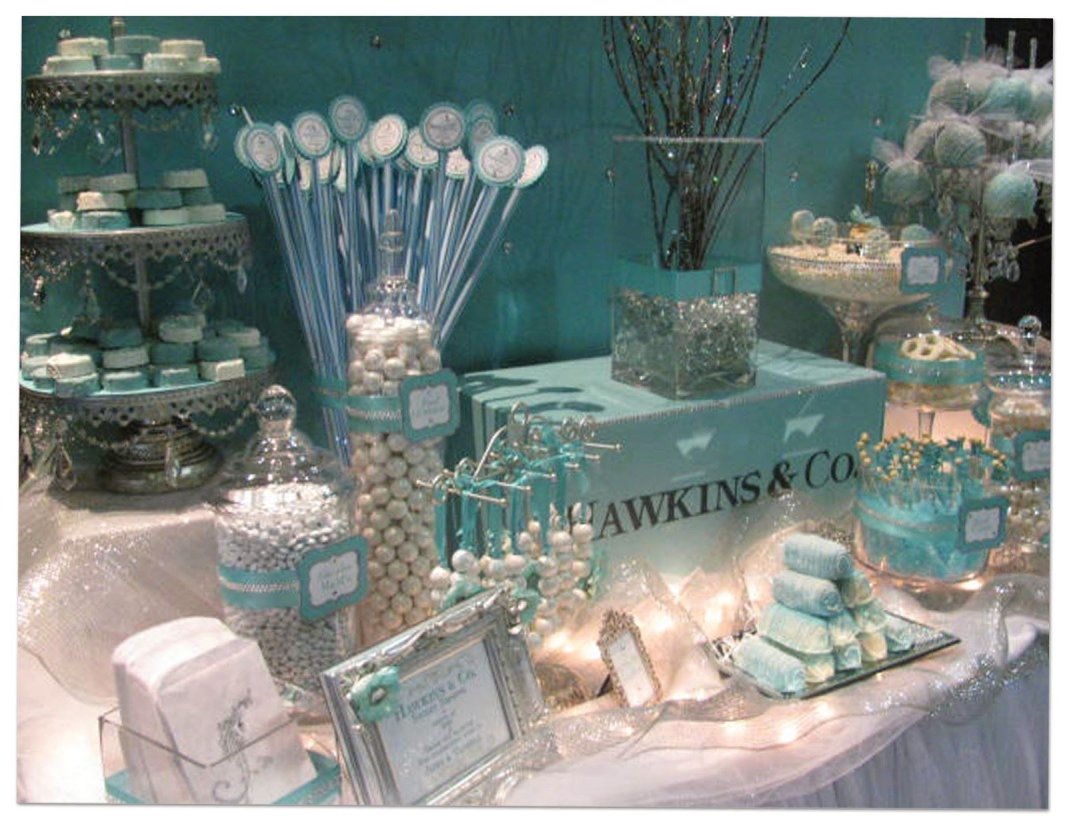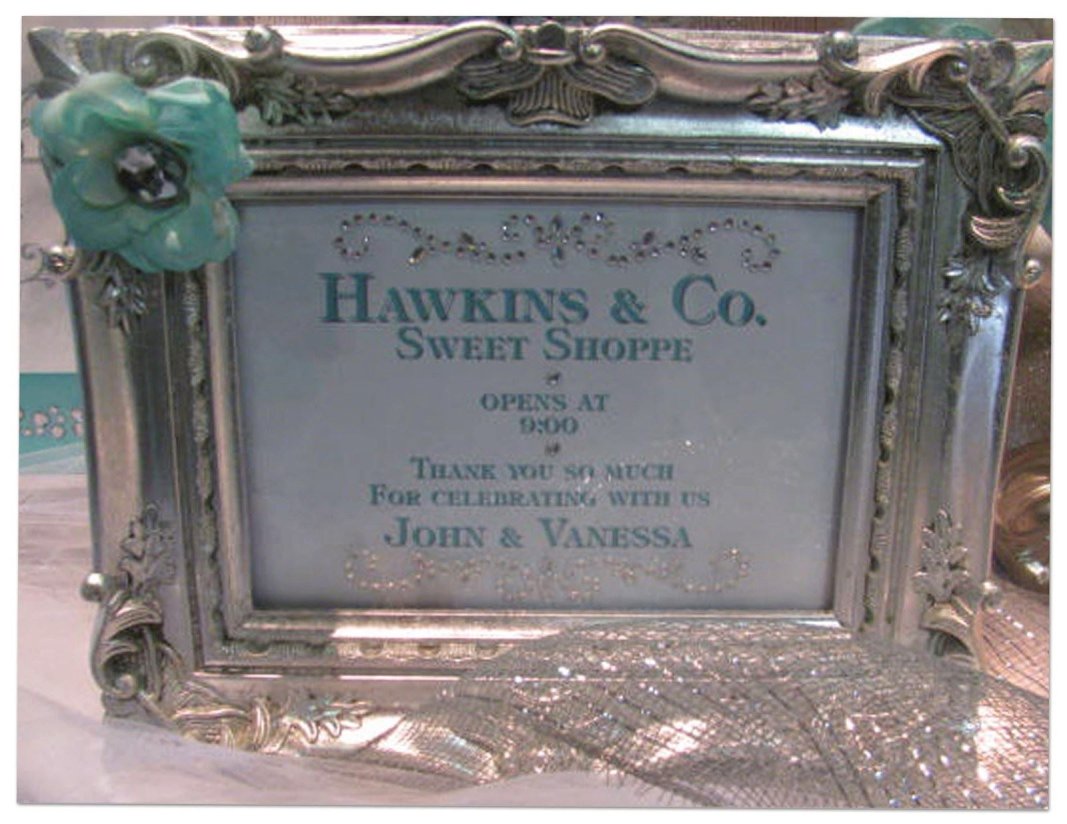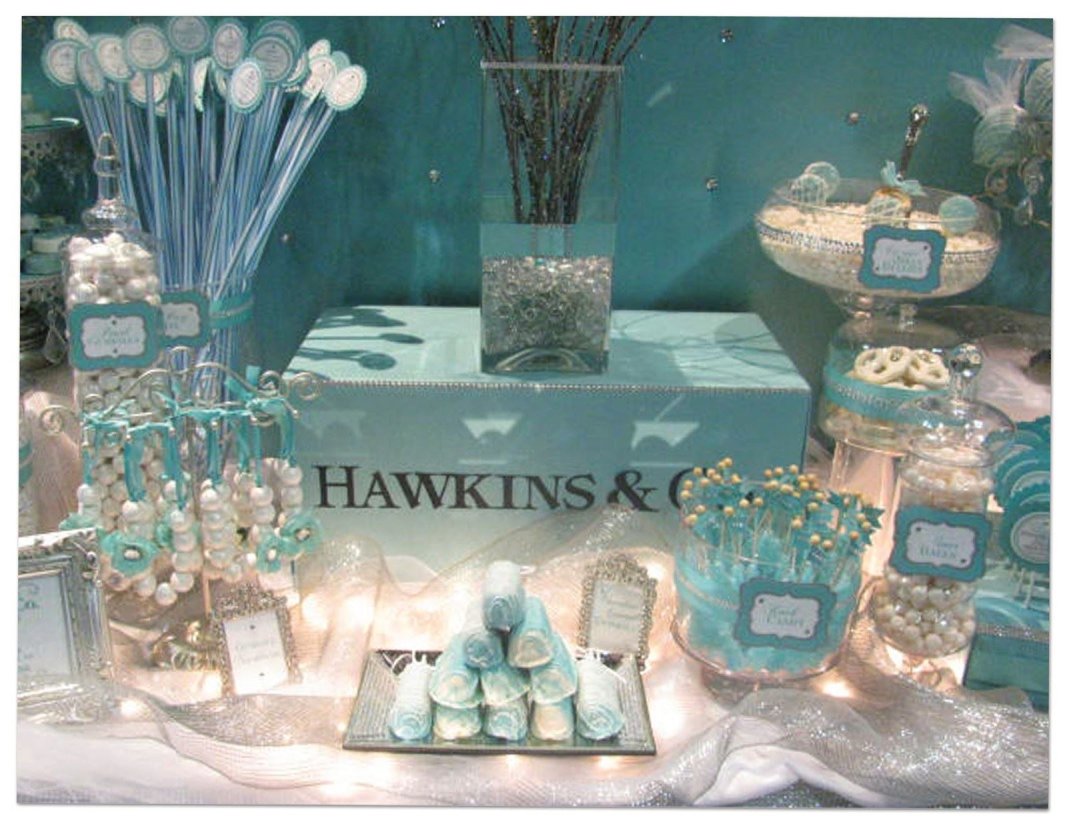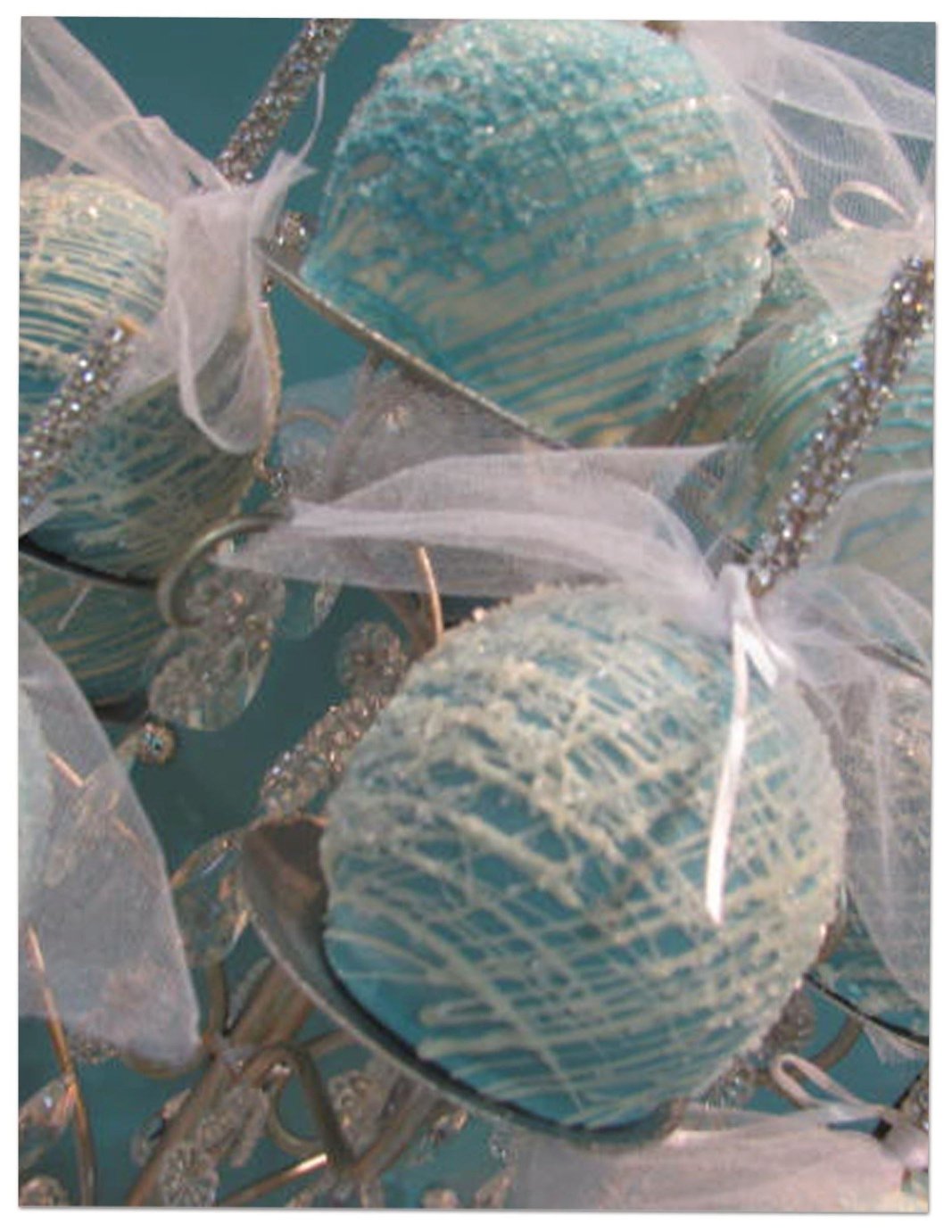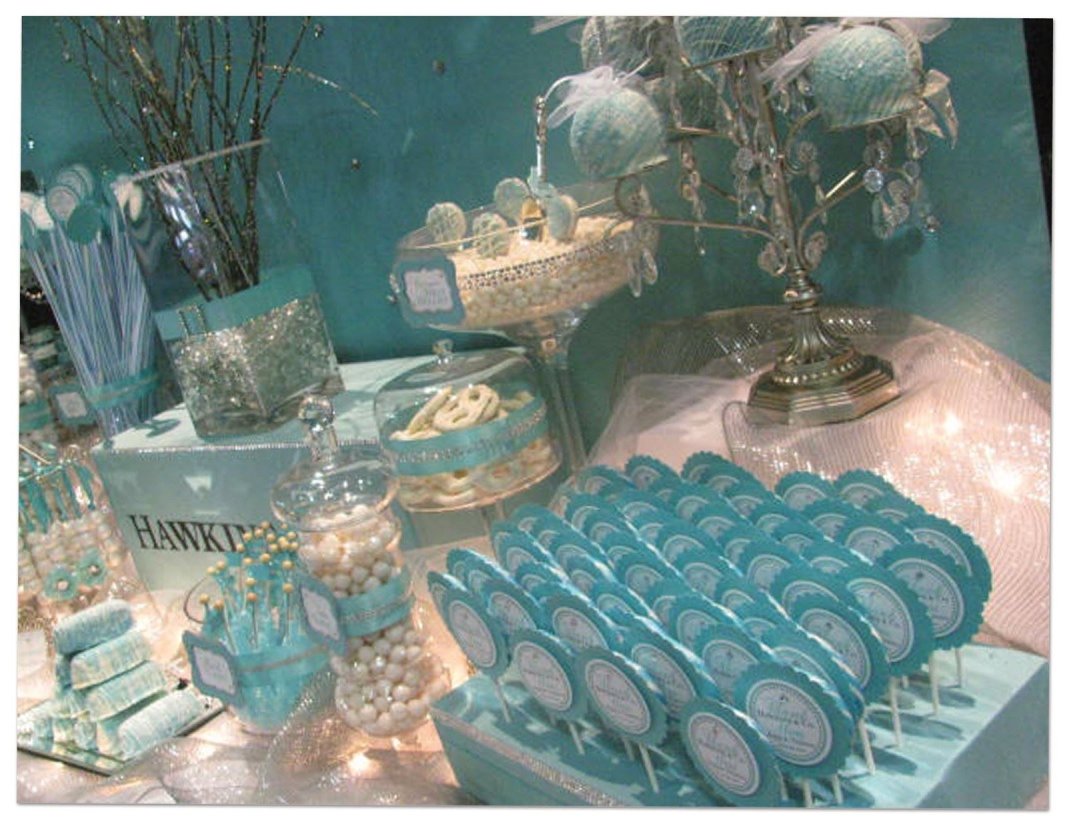 0

/