Shopping Cart
Your Cart is Empty
There was an error with PayPal
Click here to try again
Thank you for your business!
You should be receiving an order confirmation from Paypal shortly.
Exit Shopping Cart
We were so thrilled when Lee & Jessica Goldberg contacted us to design a candy buffet for their son Ethan's Bar Mitzvah.  A few years ago, we created an 18 foot candy table for their daughter, Emily's fashion themed Bar Mitzvah at The Loading Dock in Stamford, so we were so happy when they reached out to us again.  Jessica and Lee throw the most amazing parties so we knew this would be a great event.
Take a look at Ethan's Vintage Red Sox Candy Buffet.....
Custom Red Sox Whirly Pops
We used vintage baseball frames throughout the candy table
Since only half of The Candy Brigade was available for the party, I had to get an assistant for the night.  The party was on Valentine's Day and we were going to be hanging at the Ritz Carlton, so I thought it would be a good idea to bring my better half (who happens to be the  biggest New York Yankees fan that I know).  
dfdfd
dfdfddfd
Thank you for checking out Gizem's Chanel inspired candy & dessert buffet! Up next on the Blog are the Chanel inspired candy & cupcake tables we created for Chantal's Bridal Shower in Rhode Island.  
We woke up this morning to a little surprise.   S-N-O-W.  Yes, only a few more days until April and it's really snowing.  We can't believe it.  Everyone in New England is about ready for summer.
The unexpected snow fall and our dreams of summer are bringing us back to Alexa's Birthday Party last August.  This adorable little girl was turning 5 and her parents, Anthony & Jessica were throwing her a really cool Frozen Themed Birthday Party in their gorgeous backyard.   We were thrilled when Jessica & Anthony asked us to create a candy table for the celebration.  This was our first Frozen Themed Candy Buffet so we immediately got to work - researching fonts, downloading images, picking out candy, gathering snowflakes (all of the behind the scenes work that goes into creating our signature candy tables).  We have to say, we were quite happy with the results.   
Meeska Mooska Mickey Mouse.......Check out Nico's Farmhouse!   
But FIRST...we must tell you a little about Nico.  Nico is one of our FAVORITE clients.  He's SO adorable - with the perfect hair, trendy clothes and the most crazy cool parties. Thanks to Nico's parents, Richard & Lori, we've been lucky enough to attend three (Yes, THREE) of Nico's fabulous celebrations.......and he's not quite 3 yet!  
We were thrilled when we heard Lori's ideas for Nico's Mickey Mouse Farmhouse birthday.  Lori has amazing taste & she DEFINITELY knows how to throw a party.  Since Lori was using cow print and gingham print throughout the party decor, we made sure to incorporate those prints into the candy table - in the Centerpiece Box, Pixy Stix Labels, Banner, Candy Jars, and Rock Candy Sticks.  The talented, Kim at
Sweeties
made us some adorable cow print & gingham print Chocolate Covered Oreos.  We even called on our friend Carol at
Just a Little Something
to make us some cute little fudge pops - we went with a pig, chicken, cow and Mickey Mouse of course!  They were just perfect displayed in our hay filled box!
So...without further ado, we would like you introduce you to Nico's Mickey Mouse Farm House Candy Buffet.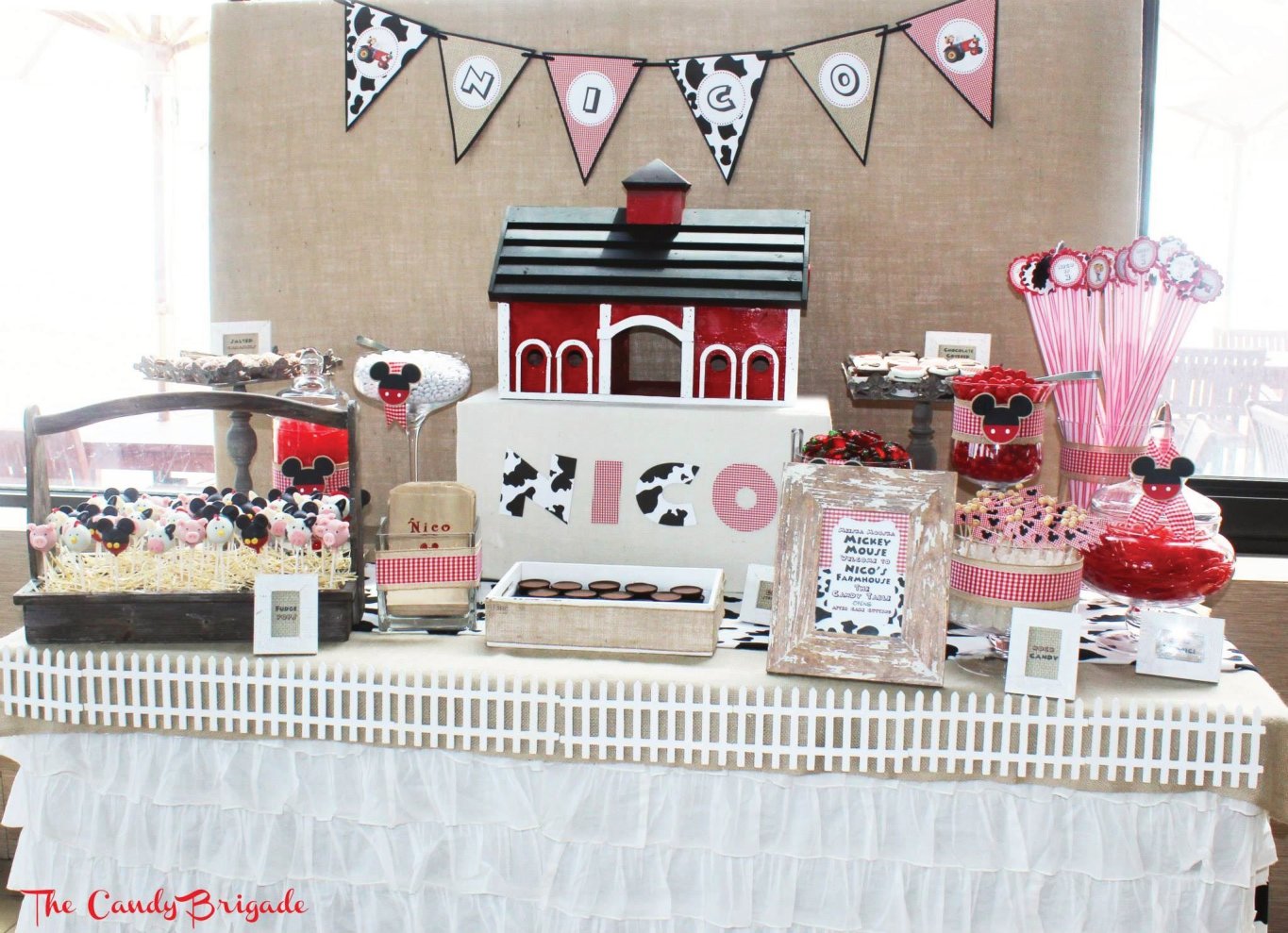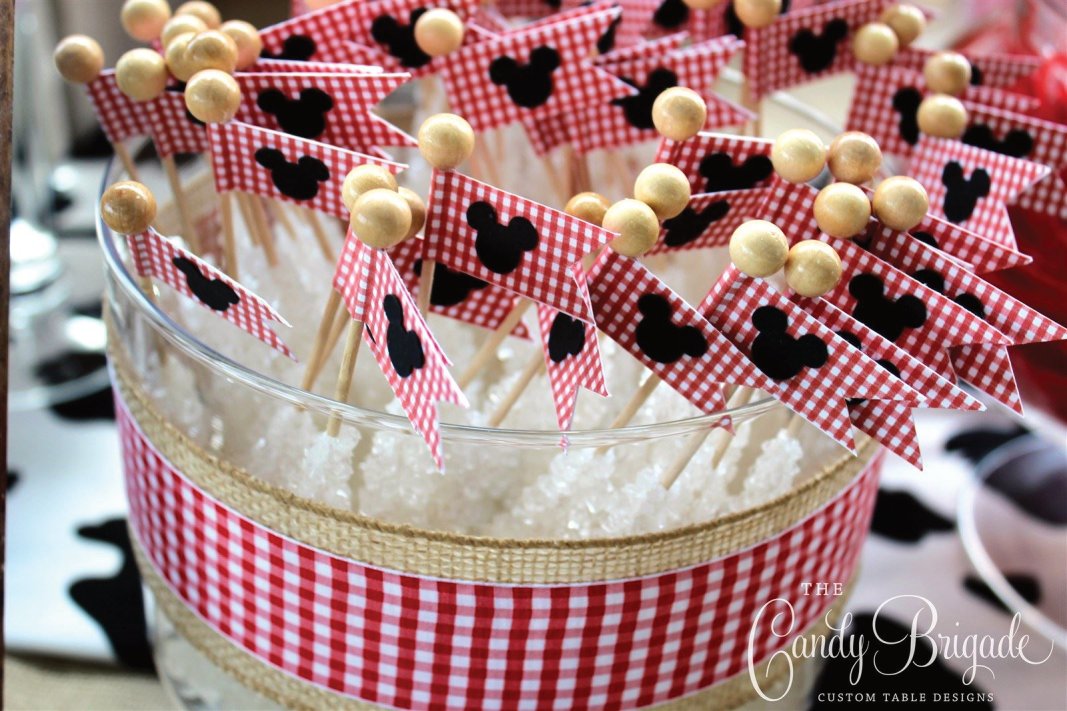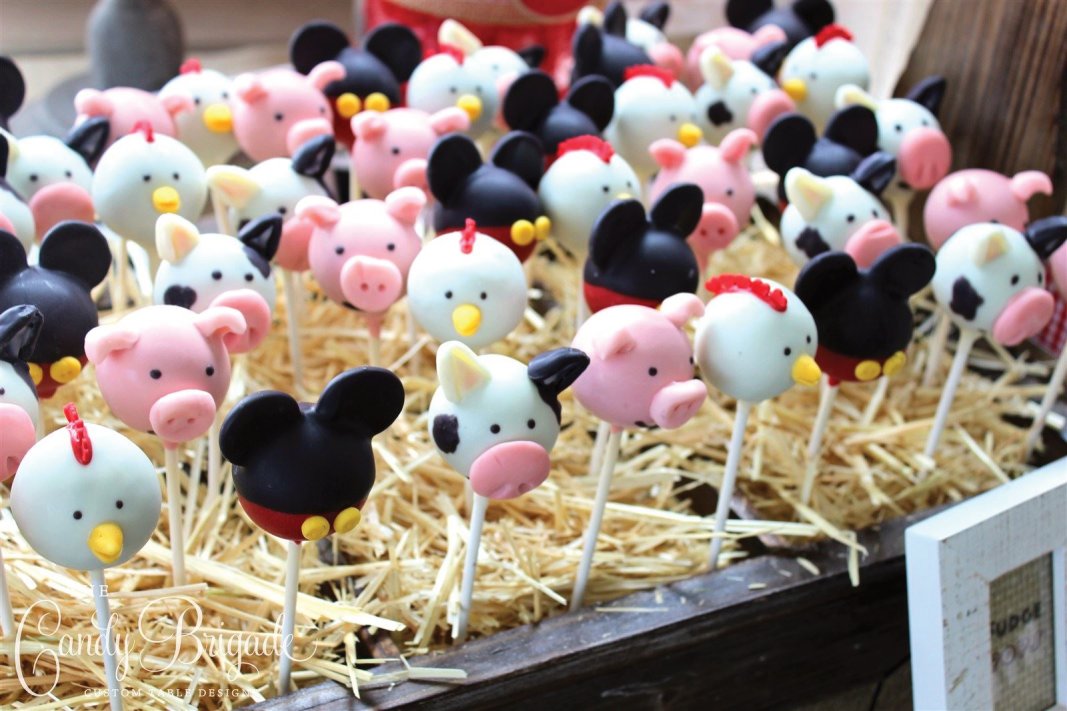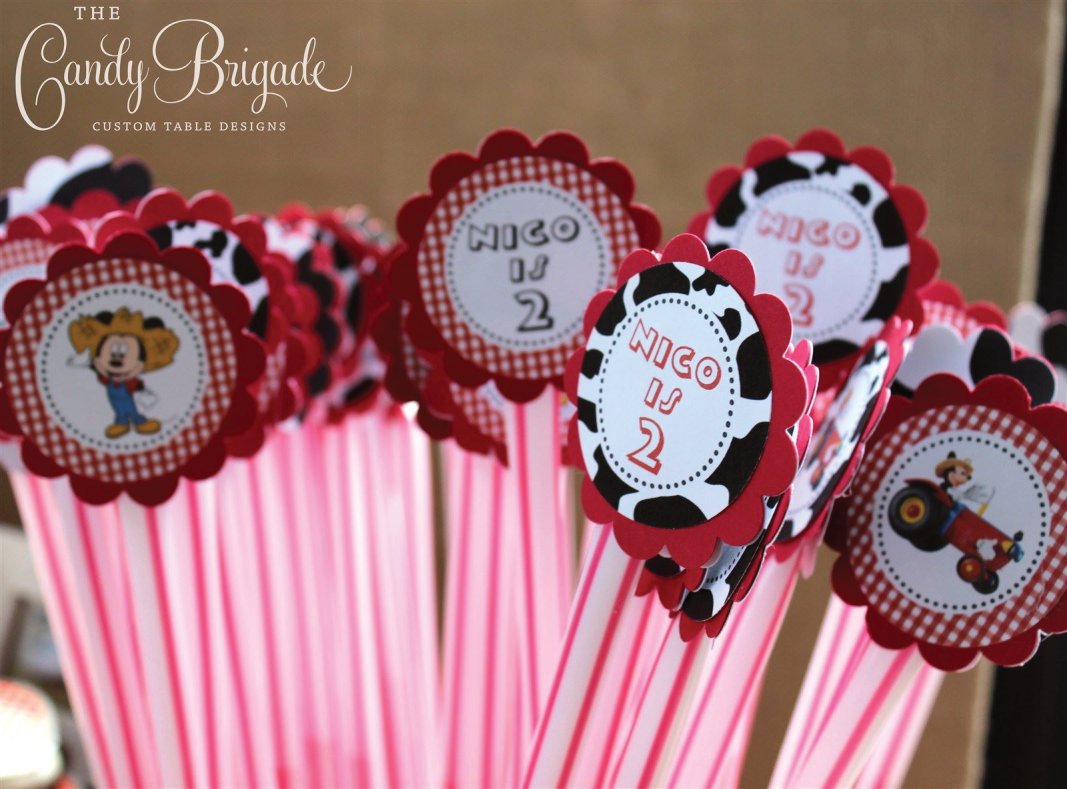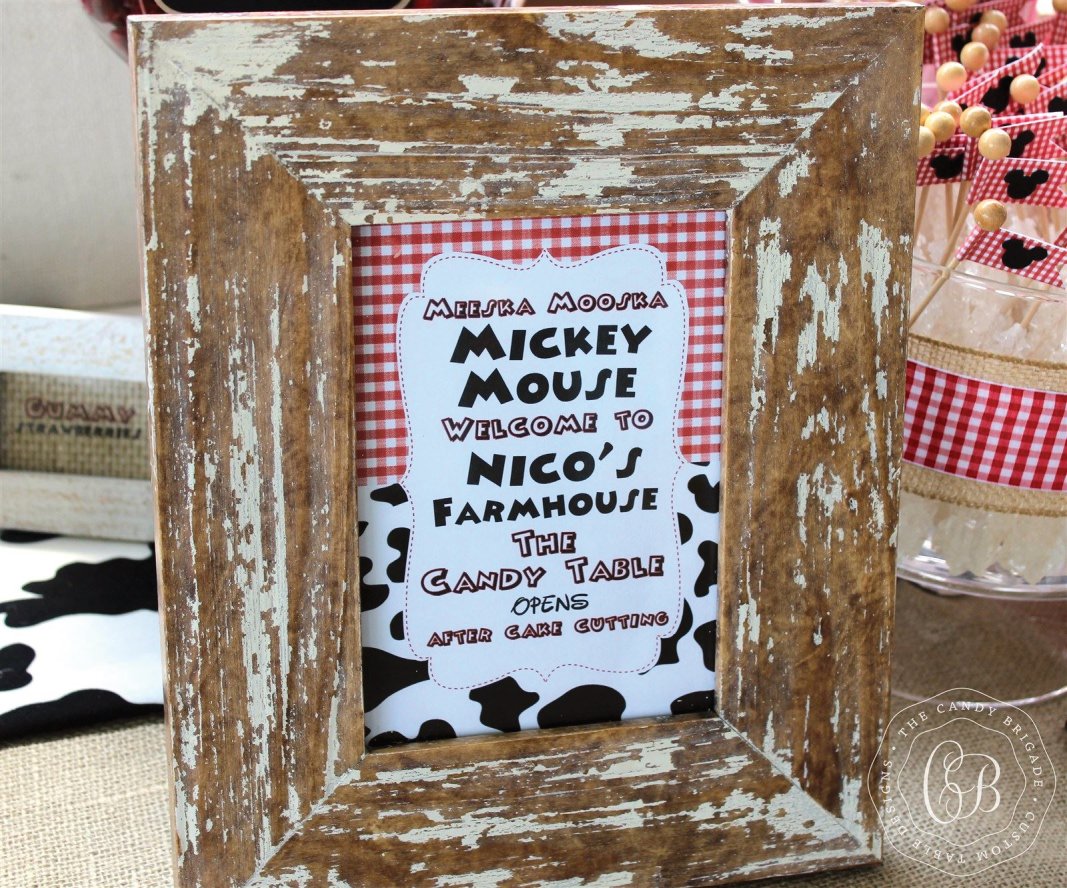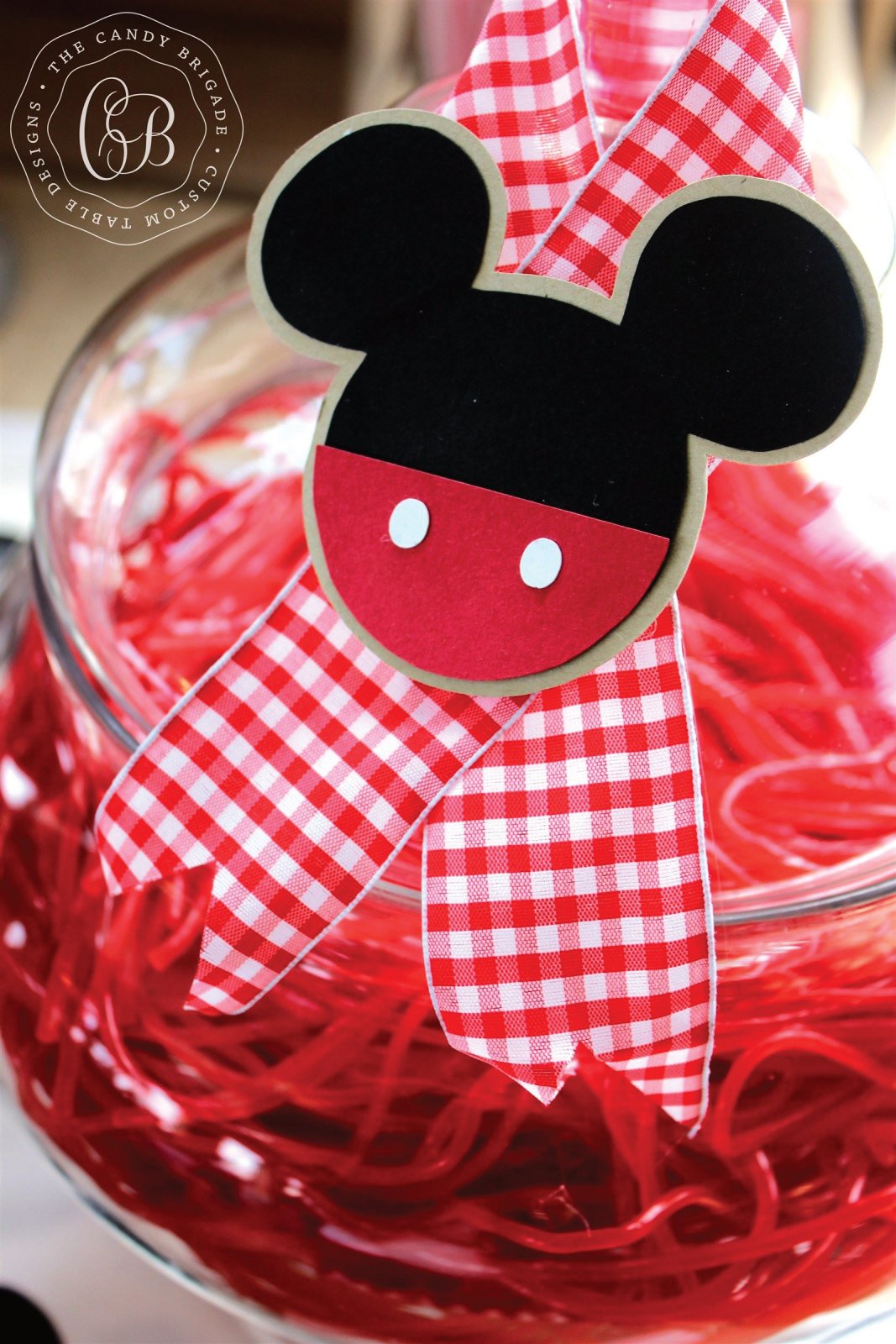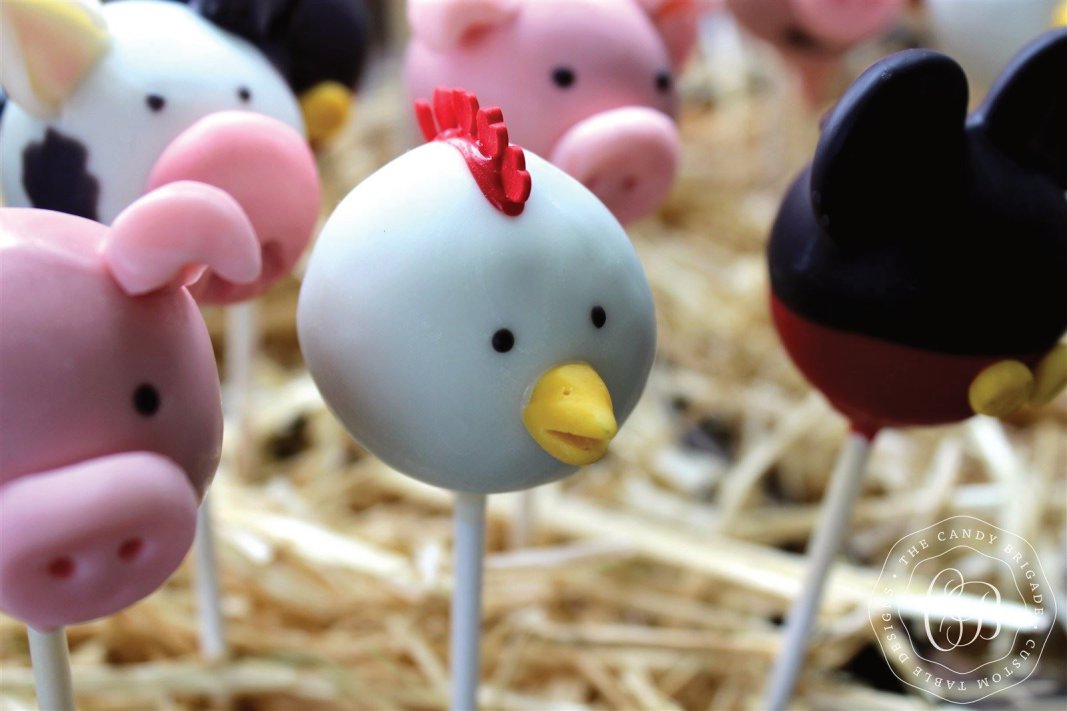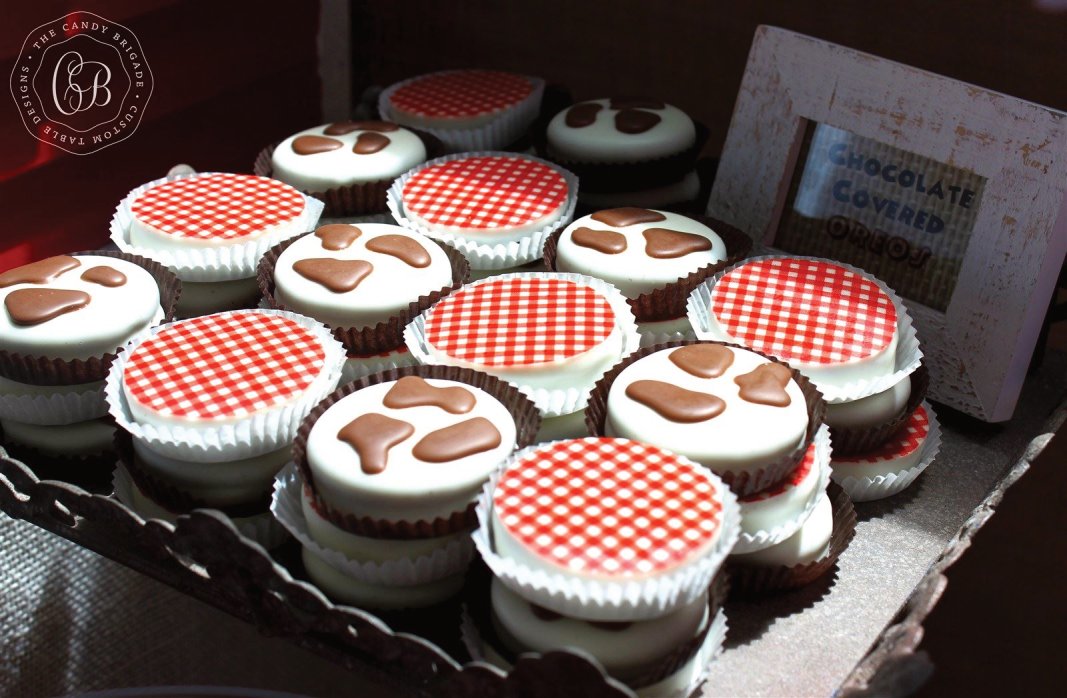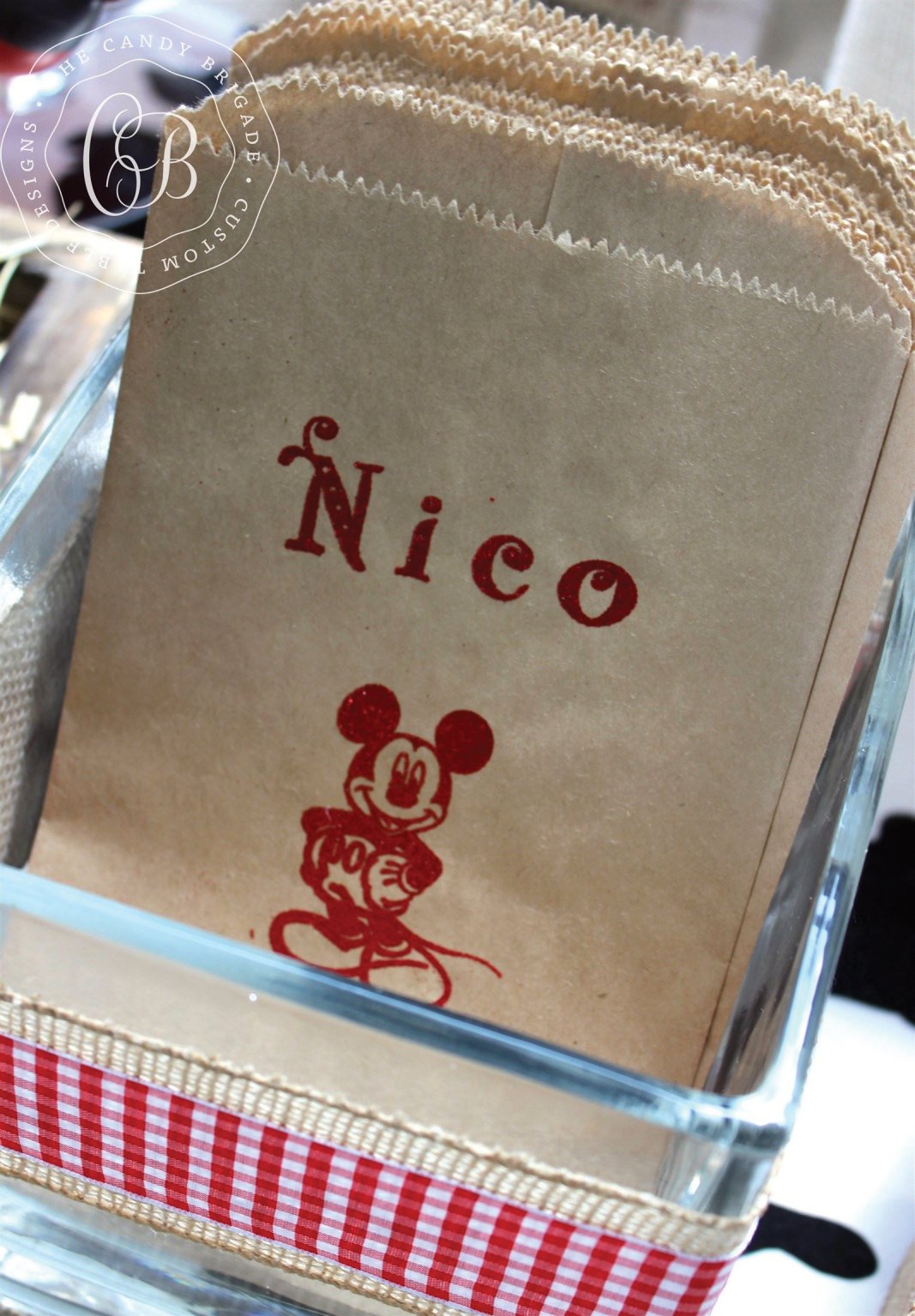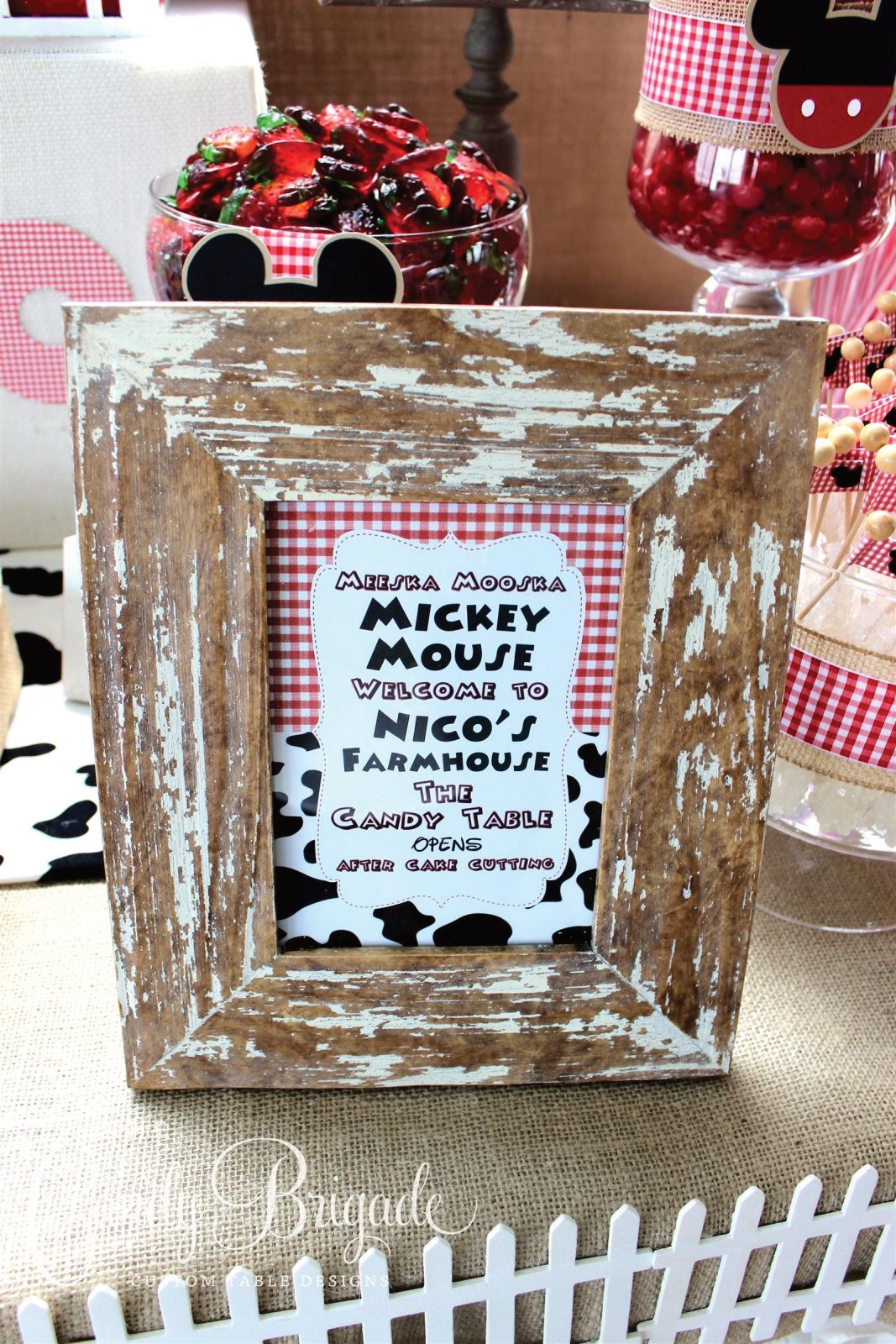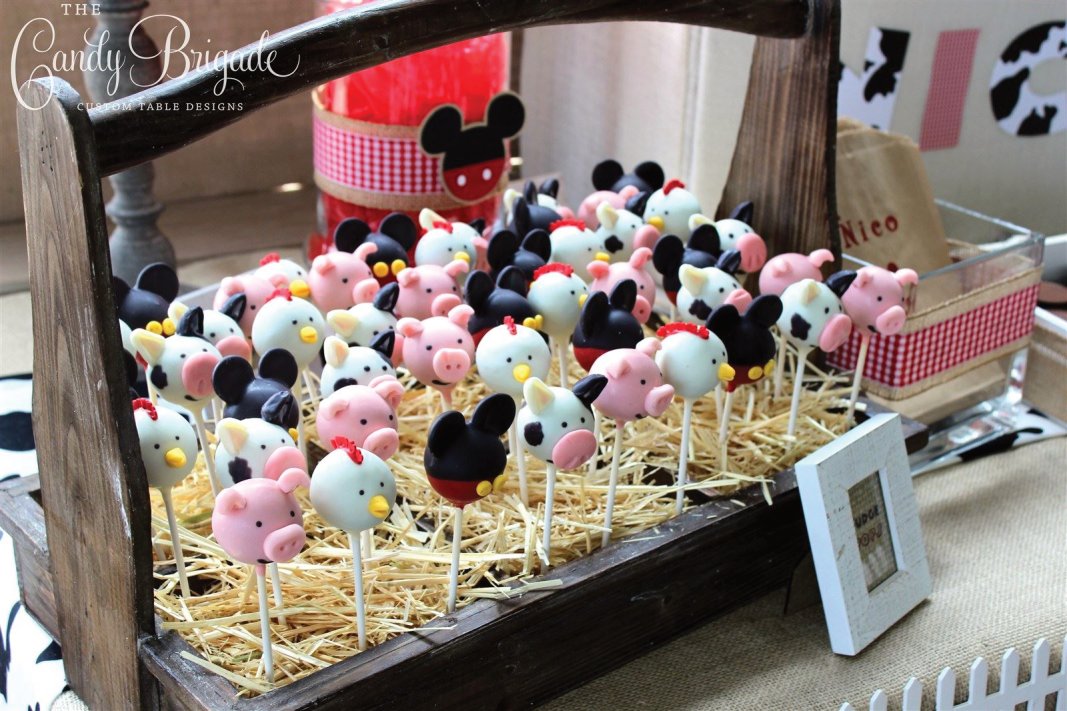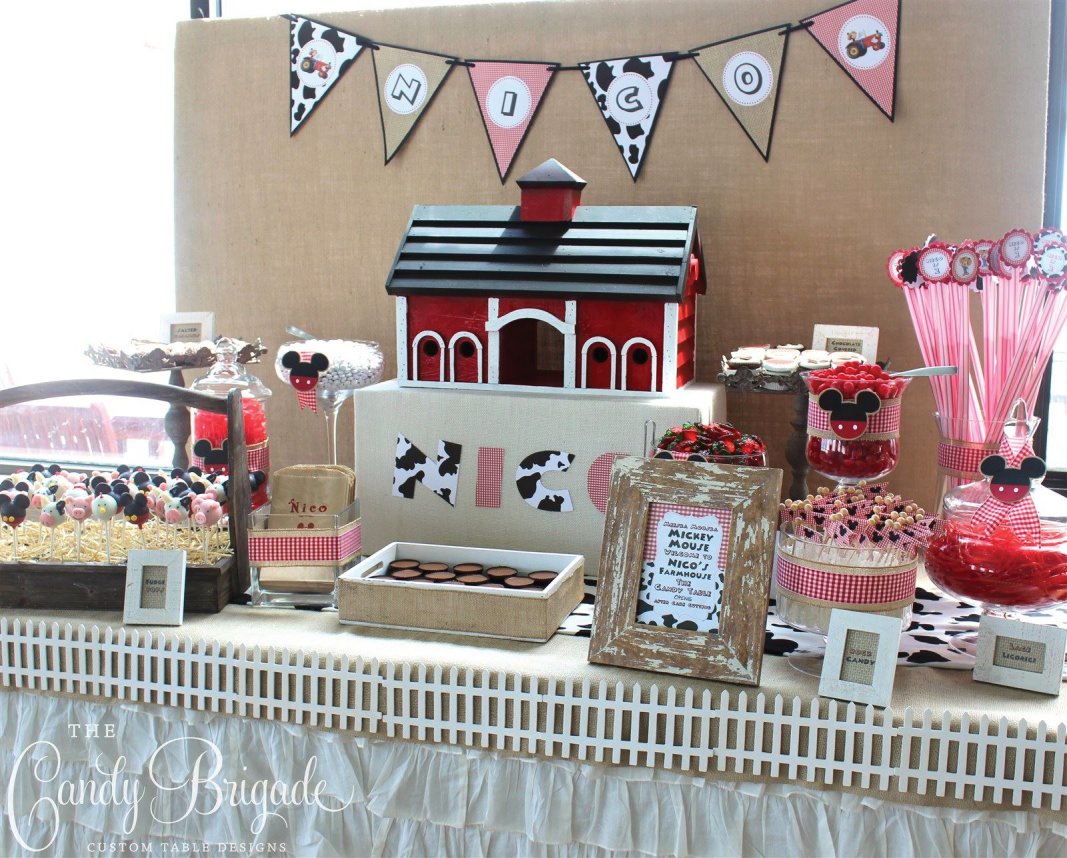 Thank you for checking out Nico's Mickey Mouse Farmhouse Candy Table.  We hope you enjoyed!
Over the past year, we've traveled throughout Rhode Island, New Jersey, New York, Massachusetts and Connecticut setting up Tiffany themed candy & dessert tables.  Everyone just LOVES a Tiffany & Co. party.  We've participated inTiffany themed bridal showers, baby showers, weddings, sweet fifteens & sweet sixteens.  Our Tiffany themed candy table is an absolute must for any Tiffany themed celebration. 
That leads us to Kaitlyn's Sweet Sixteen party at the Iberia Tavern & Restaurant in Newark, New Jersey.  This New Jersey tavern is quite the hot spot (we spent a little time on their outdoor patio, listening to live music & splurging on Portuguese food....we can't wait to go back).  The Iberia Tavern & Restaurant was also the perfect location for Kaitlyn's Tiffany Themed Sweet 16.  The entire venue was decorated in Tiffany Blue, White & Silver....our candy buffet coordinated just perfectly!  
The Tiffany Blue, Silver & White Sweets Table was filled with Kaityln's favorite candies & chocolates.  
Sweet 16 candy favor bags in white & silver
Giant Pixy Stix with custom labels
Chocolate Covered Candy Apples
Tiffany Blue Chocolate Covered Pretzels & Oreos
Our popular Tiffany themed custom centerpiece box
Custom signage
Tiffany Blue Gumball Necklaces 
We hope you enjoyed the pictures of Kaitlyn's Tiffany Themed Candy Table! 
Carilla's guests absolutely loved the elegant candy & dessert table.  We can't believe how many of her friends & family members asked us for business cards.....we actually ran out!  Carilla's baby shower was definitely a special day that her guests will always remember.  
Take a look at our Pink & Gold Royal Princess Candy & Dessert Table.....
Cake Pops perfect for a princess
Chocolate Covered Apples for Princess Gill
Custom embossed candy favor bags
Pink & Gold Chocolate Covered Pretzels
White & Pink Gumball Necklaces
We're so excited to share photos of the candy buffet we created for Elena's First Birthday Party in Durham, Connecticut.  Elena's fair themed party was over-the-top amazing.  Elena's mom, Alicia definitely knows how to throw a party.  From the face painter, food trucks, cotton candy, fried dough & 12 foot candy buffet, no detail was overlooked.   
Since Alicia was having a Vintage Fair Themed Party for her daughter,  we used burlap & lace throughout the table as well as our rustic boxes, vintage containers & ruffled table skirt.    We styled the candy buffet in shades of peach, orange & gold to coordinate with the rest of the party.   I'm sure you want to know about the sweets......the table was filled with French Macaroons, Gumball Necklaces, Chocolate Covered Pretzels, Chocolate Covered Oreos, Pumpkin & Apple Pies, Sour Patch, Pixy Stix, Jelly Bellies, Whirly Pops & more.  Take a look at Elena's Vintage Fair Themed Candy Buffet....... 
The French Macaroons were displayed on our adorable Ferris Wheel
Our custom burlap centerpiece box
Giant Pixy Stix with custom fair themed labels
Custom signage
Custom Whirly Pops
We absolutely love the colors that were used throughout Elena's table
French Macaroons
Apple cider mugs for the kiddos
More pics of the sweets table
Merry-go-round with yummy French Macaroons
Custom candy favor bags
Homemade Apple & Pumpkin Pies
We were ecstatic when Nico's parents asked us to create a candy table for his Prince Themed First Birthday .  We created a beautiful candy buffet for
Nico's Christening
, so we were thrilled when they reached out to us again.  In addition to the candy table, we decorated Nico's cupcake buffet, which was filled with cupcakes perfect for a prince.
Nico's Royal Birthday Bash was held at the Carousel at Lighthouse Point Park in New Haven, Connecticut.  It was the perfect location for this  fun birthday bash.
We made these beautiful light blue, white & damask print candy bar wrappers
We're so excited to share images of the
Moroccan themed candy & dessert buffet
we created for Angela's Bridal Shower at
Testa's
in Southington, Connecticut.   The purple & gold sweets table coordinated perfectly with the rest of the decor throughout Angela's Moroccan themed party.
The entire table was covered in purple, gold & chocolate sweets.  Some of our favorites included Chocolate Covered Apples & Pretzels, Rock Candy, Chocolate Coins, M&M's & Grape Gummy Bears.  Yum!  Please enjoy the pictures!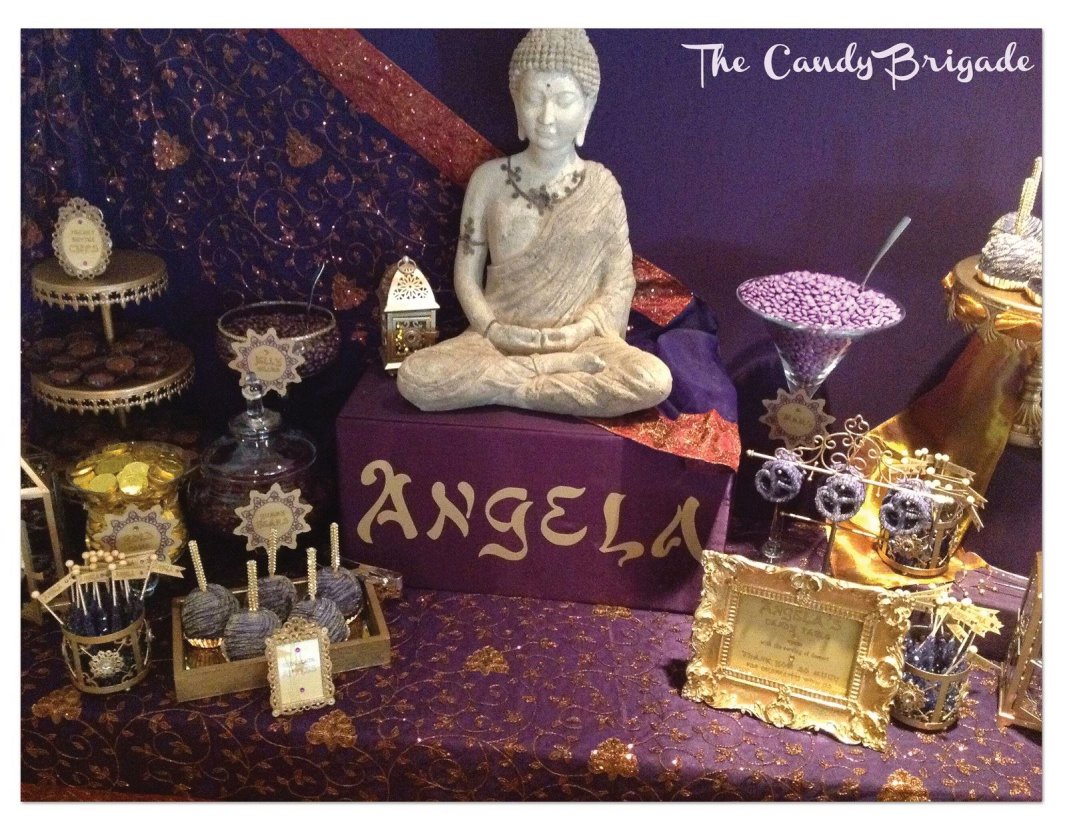 Angela's personalized rock candy sticks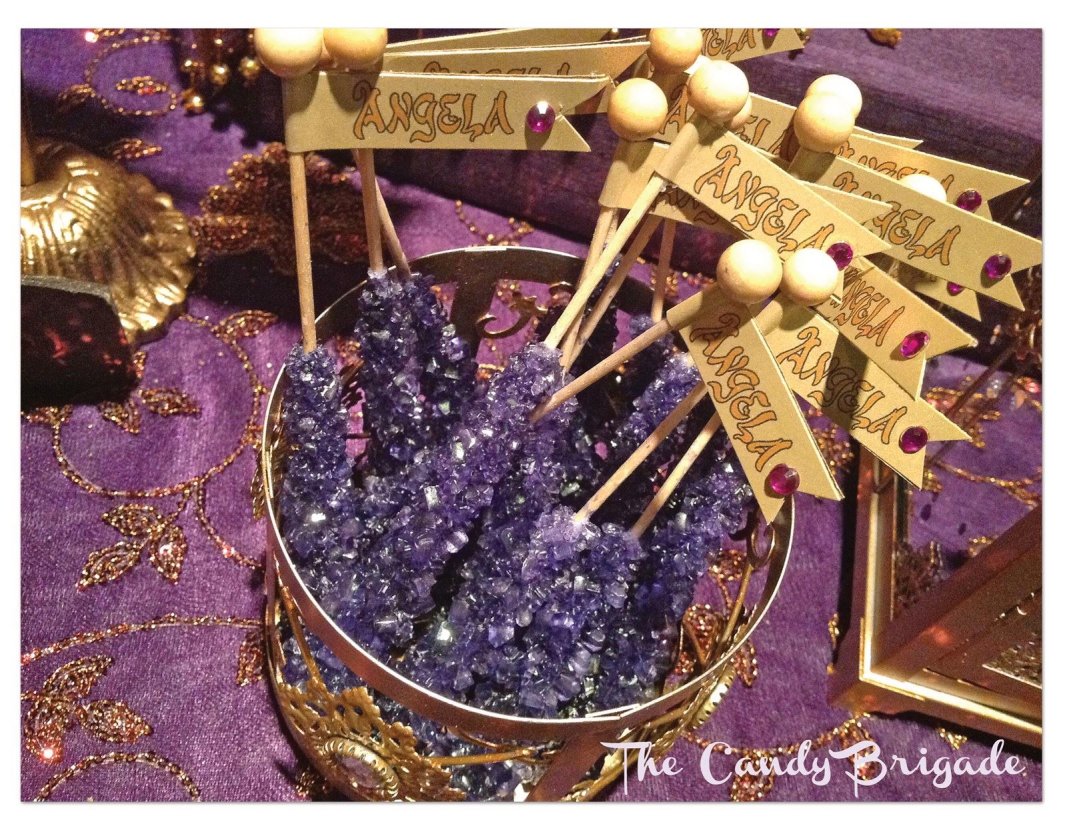 Chocolate Covered Apples in purple & gold
Chocolate Covered Pretzels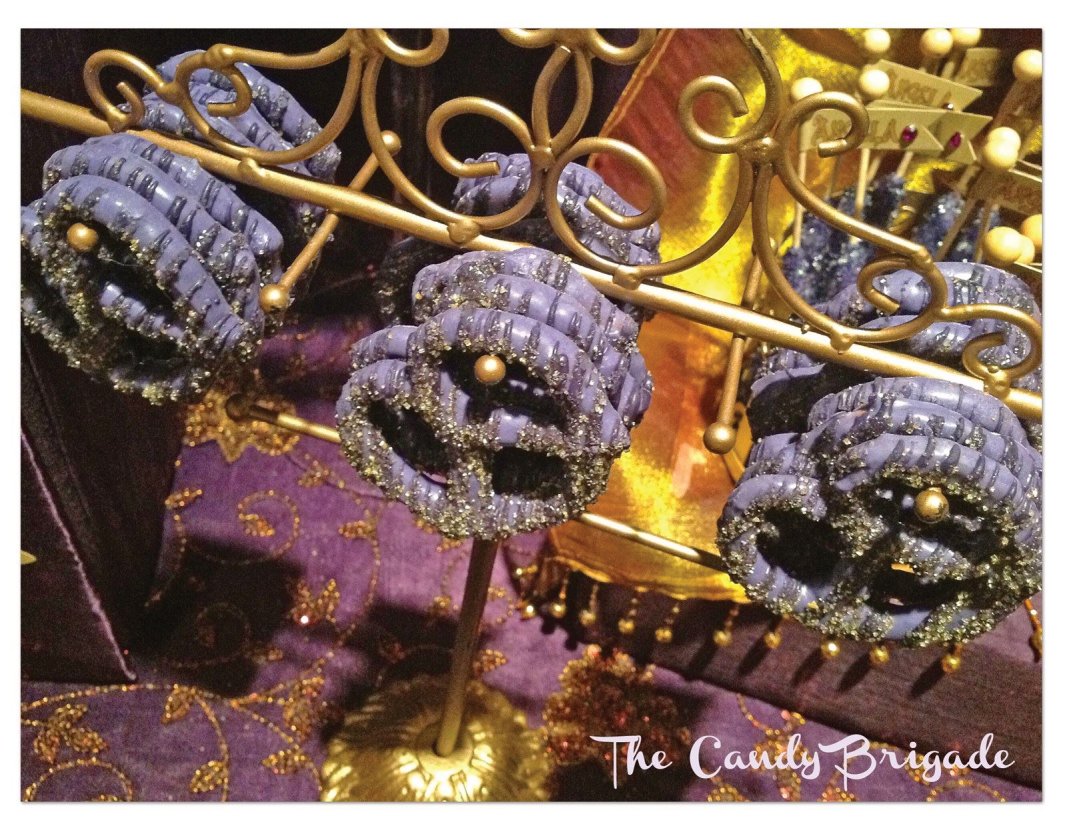 Milk Chocolate Covered Pretzels in lanterns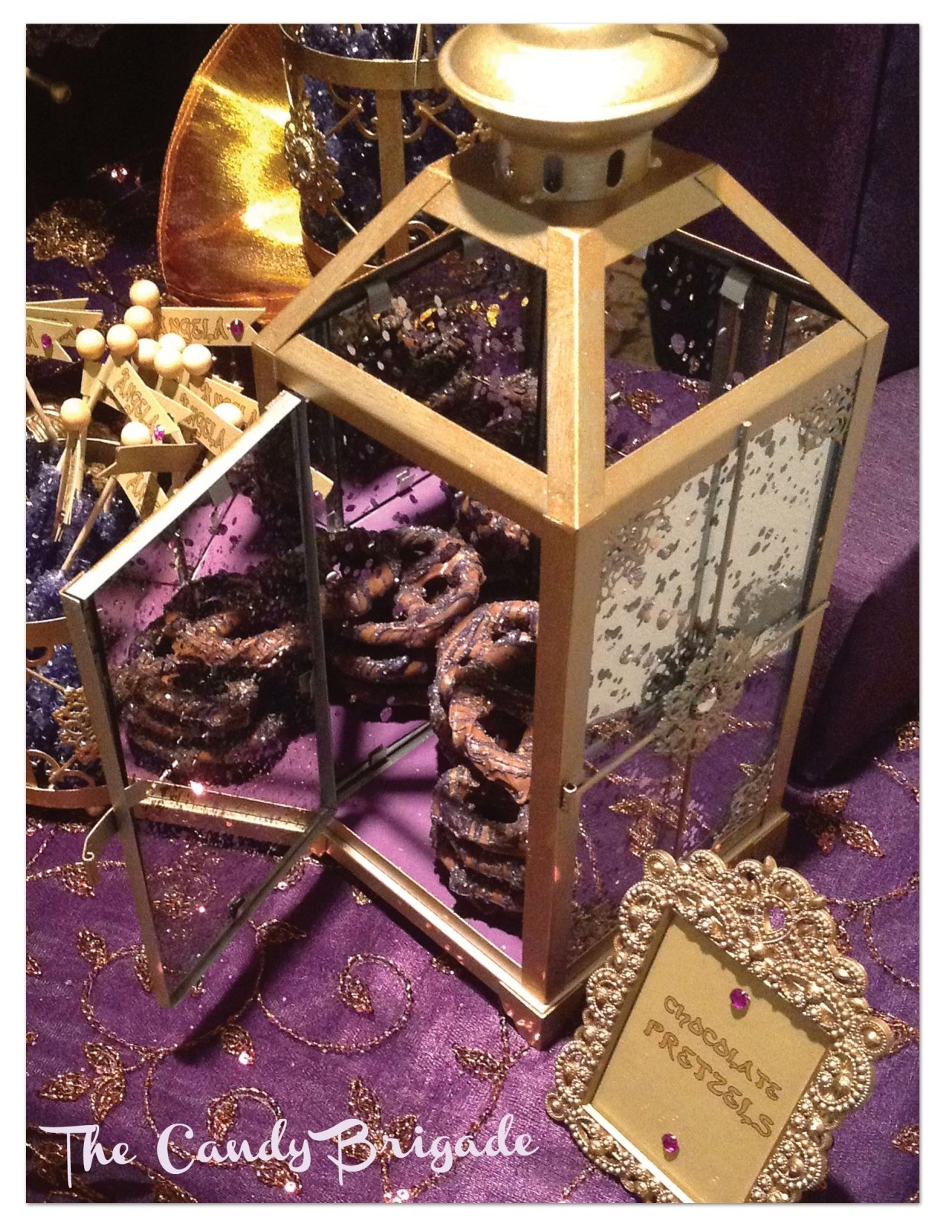 We created these Custom Gold Candy Boxes so Angela's guests could take their sweets home with them.  Perfect for a favor!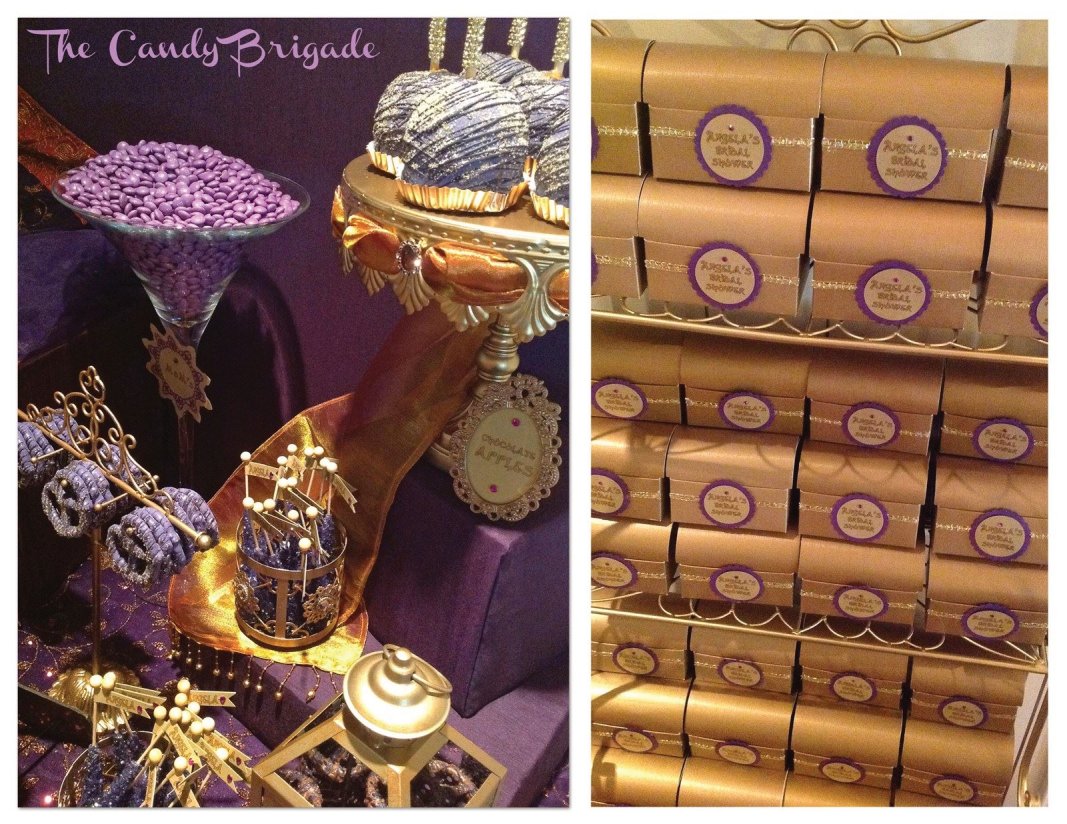 More pics of the table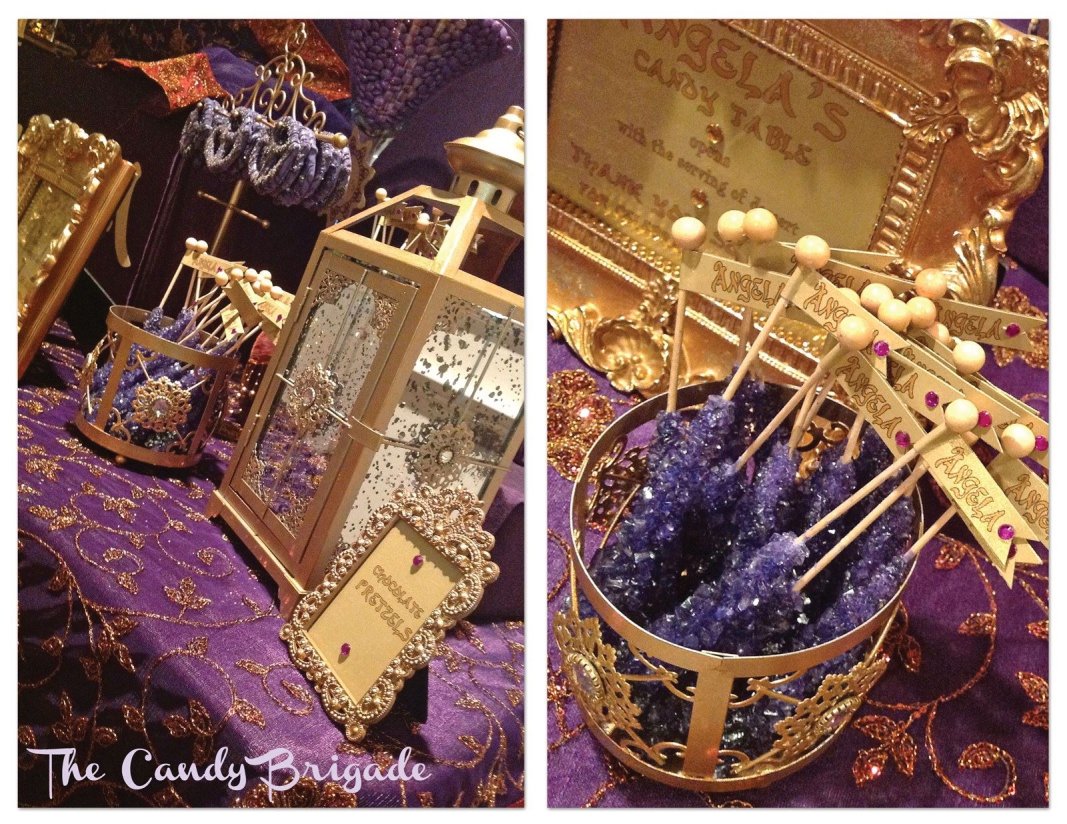 Custom sign to let Angela's guests know when the sweets table will open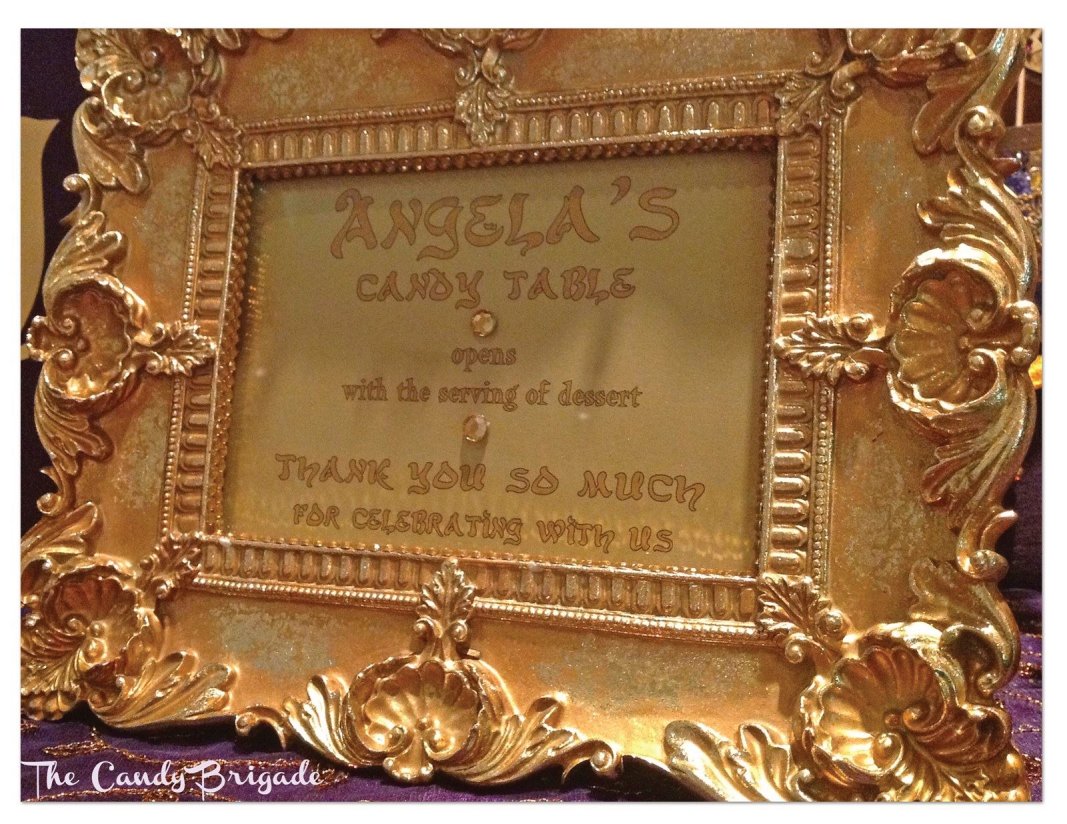 Thanks for stopping by our blog.   Be the first to see images of our candy & dessert creations, by liking us on
Facebook
.  You can also follow us on
Pinterest
for even more candy inspiration.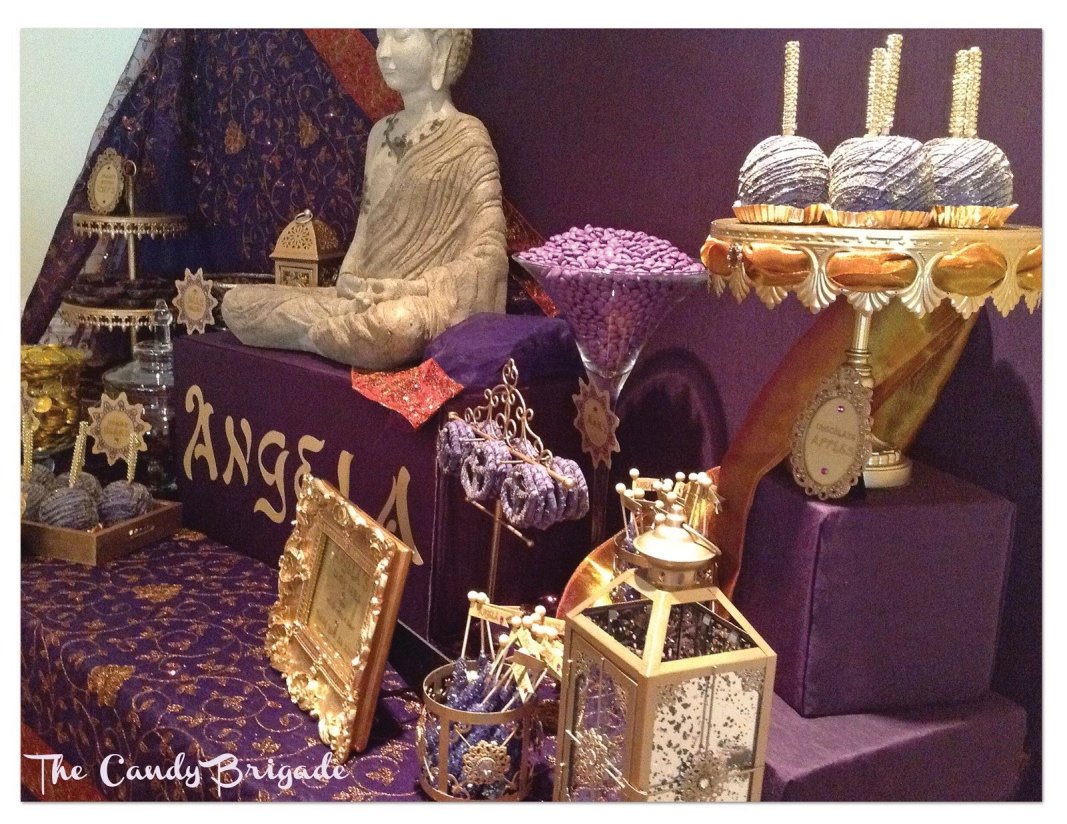 Would you like us to sweeten up your next event?  Please
contact us
for availability and pricing.
Only a few more weeks until spring & we cannot wait!  As I sit here under my warm fuzzy blanket, I can't help but daydream about the exciting trip we took to
Mamaroneck Beach & Yacht Club
in Mamaroneck, New York.  The club is located on a stunning multi-acre waterfront estate with breathtaking views of Long Island Sound.   Ahhhhhhh..... we must go back.
So, why did we make the trip?  We were contacted by Nareen, a fabulously fun mom who wanted to make her daughter, Adrianna's baptism a day to remember.  As soon as Nareen started telling us about Adrianna's celebration, we knew one of our custom designed candy buffets would fit in perfectly.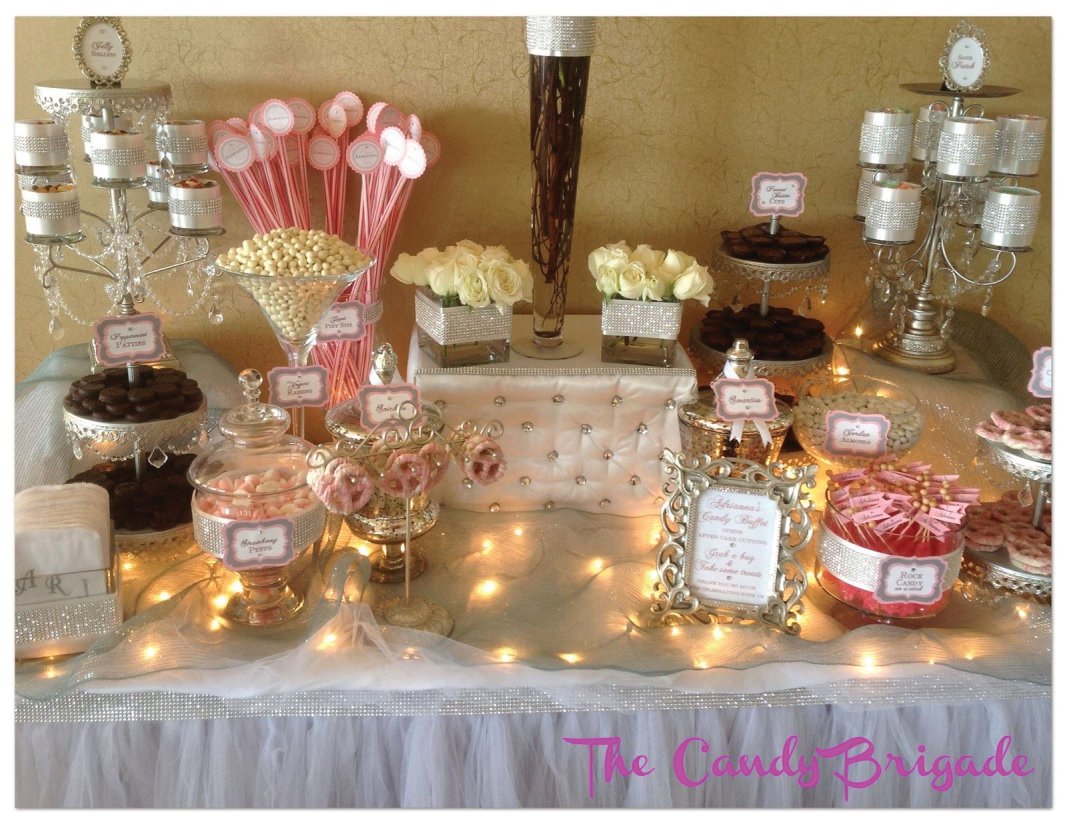 For Adrianna's party, we created a very sparkly, extremely elegant candy table all decorated in pink & white.   Some of yummy sweets included Chocolate Covered Pretzels, personalized Pixy Stix & Rock Candy (created especially for Adrianna).
We provided custom embossed candy favor bags so guests could enjoy themselves for days or weeks to come.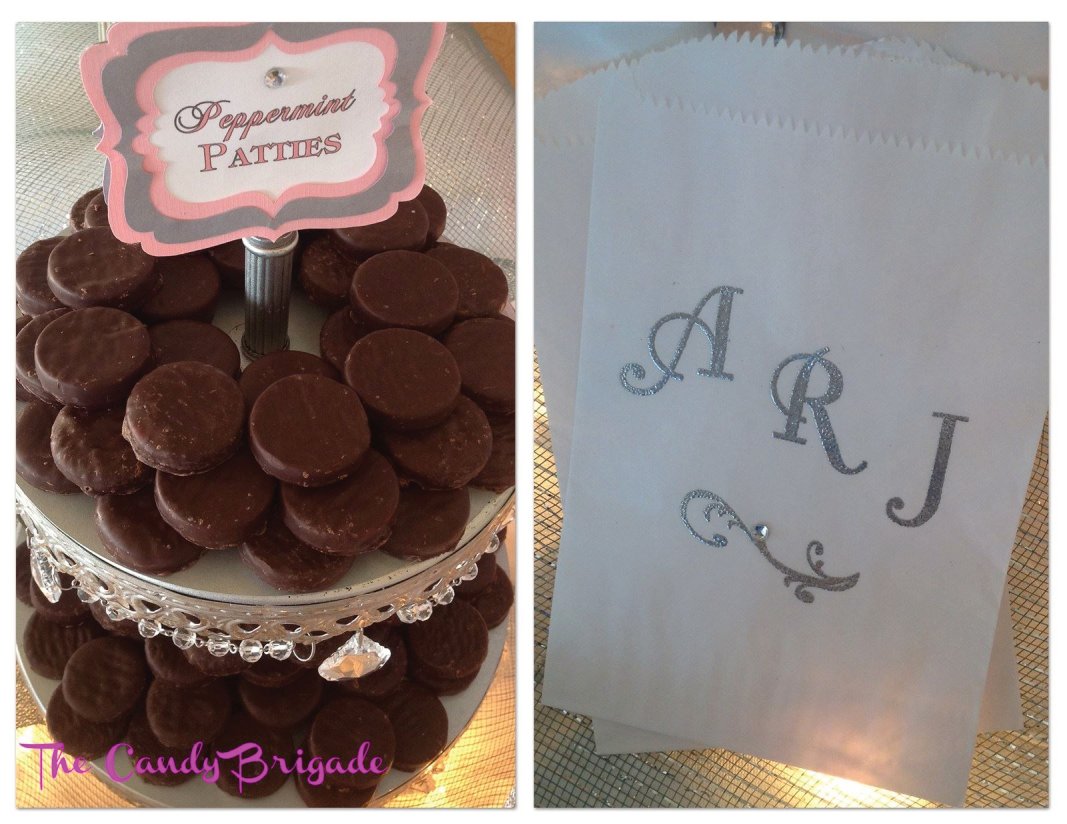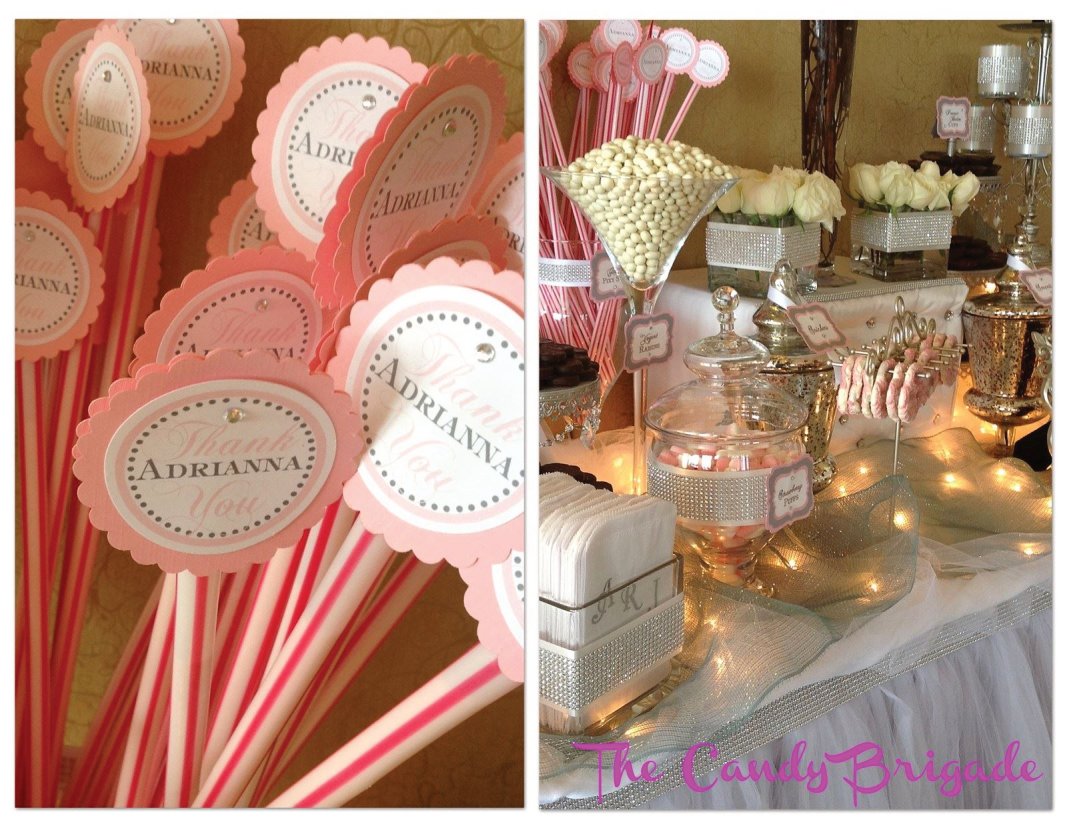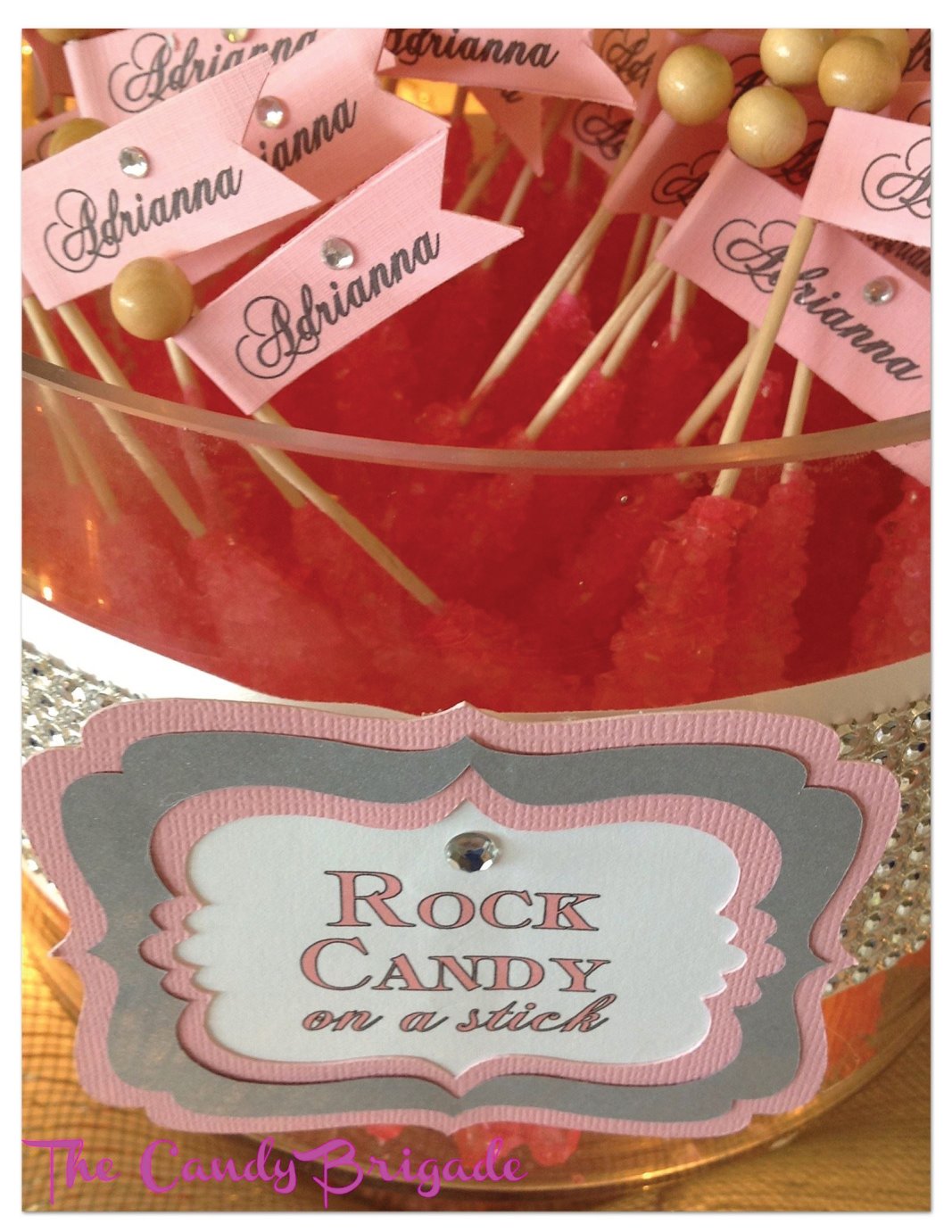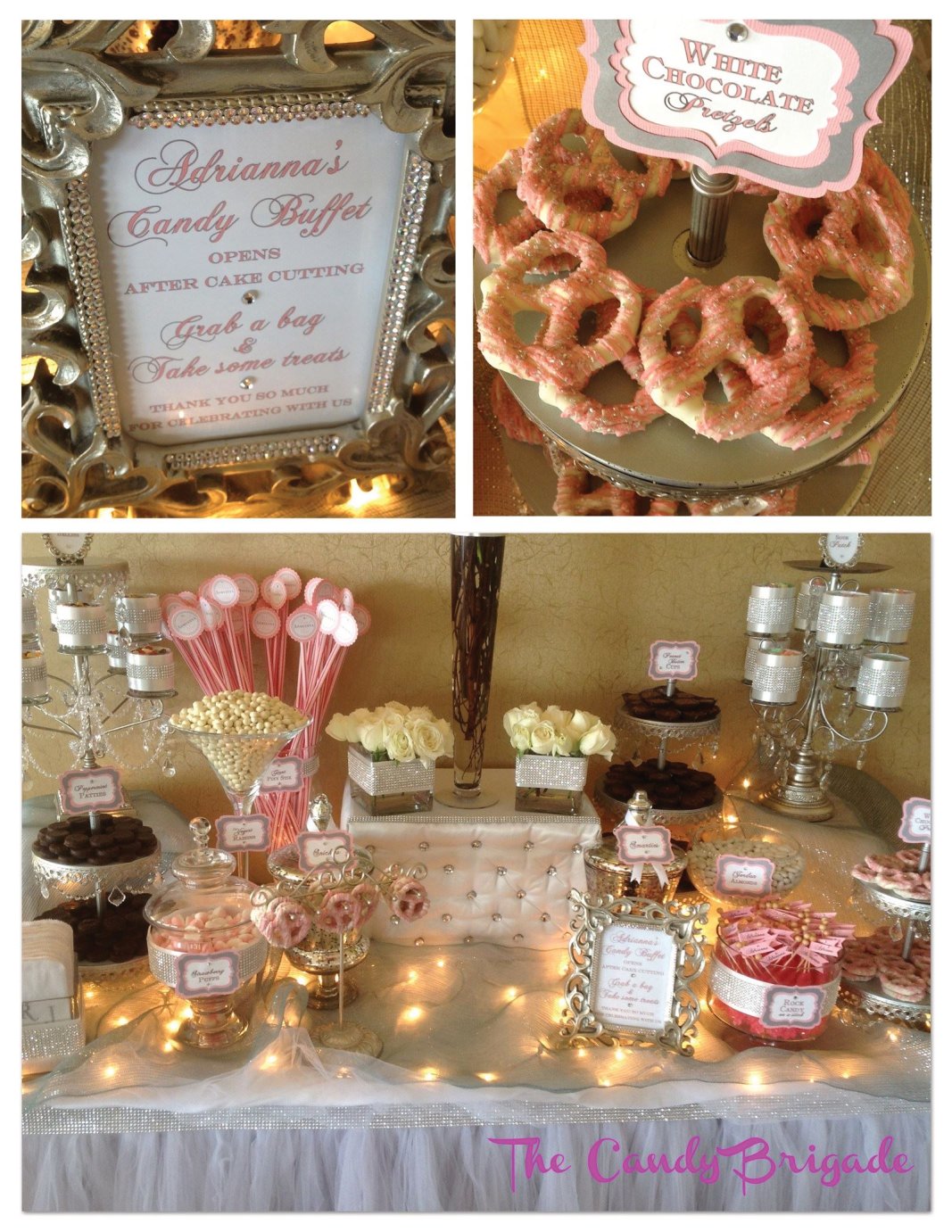 Is your bundle of joy having a special day? 
Contact us
to get more info on our custom designed candy & dessert tables.  Oh...and please make sure you like us on
Facebook
.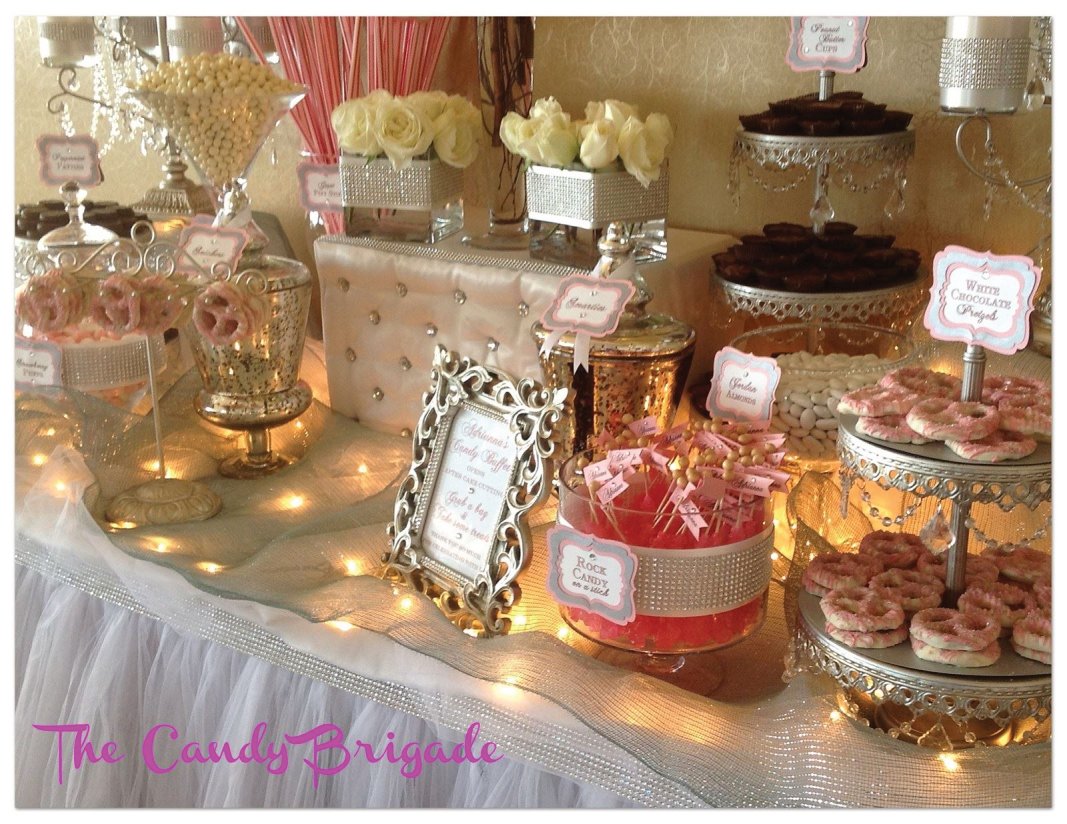 0

/